Posted by Mandy on December 19th, 2011. Filed under:
Birthday Party Ideas
,
Christmas
,
Cookies & Bars
,
Gifts from the Kitchen
,
Halloween
,
Holiday Favorites
,
Kids Can Help
,
Snacks
,
Thanksgiving
.
This recipe is another one that goes way back. My sweet aunt, Fran, has been making these cookies for our family every year for Christmas for as long as I can remember. Fran is married to my mom's brother, Buster, and they have lived away from home more often than not over the years. Even when they lived as far away as Saudi Arabia, I still remember Fran making these cookies and shipping them to us! What a special treat it always is to see them on the goodie table at Christmas time! Thankfully, Fran was kind enough to allow me to share this recipe with all of you. Thank you Fran for all of the memories made over the years with these yummy cookies in our kitchens!
These can be decorated a countless number of ways. You can simply sprinkle the colored sugars on top of the cookie dough itself, you can ice them (like I have done here, Fran recommends Pillsbury ready-made frosting), you can top them with a glaze made of powdered sugar and milk, or if you want to go all out you can make a royal icing to top them with. The possibilities are literally endless with these! I can't think of a more perfect reason to get in the kitchen with little ones than making Santa a big plate pull of these!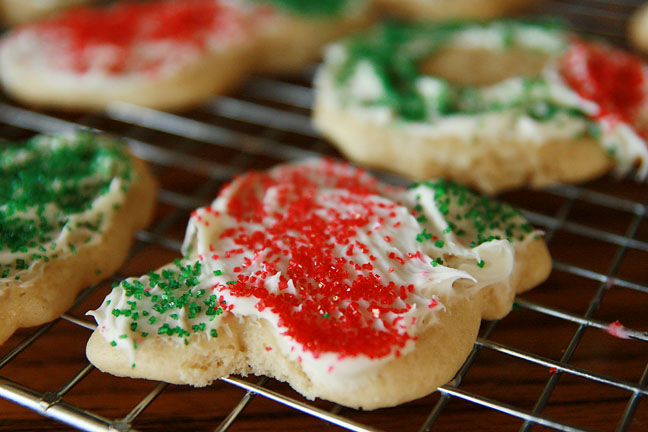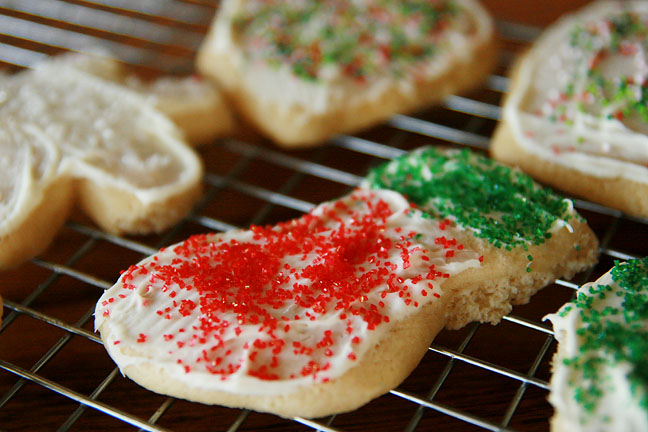 Fran's Sugar Cookies
2 cups all-purpose flour
1/2 teaspoon salt
1 1/2 teaspoons baking powder
1/2 cup margarine, melted
1 teaspoon vanilla extract
3/4 cup granulated sugar
2 eggs
In a medium bowl, mix flour, salt, and baking powder; stir and set aside. In a large bowl, mix margarine and vanilla, then add sugar and eggs. Pour dry mixture into wet mixture; stir until completely combined. Dough works best if chilled overnight. When rolling dough out, sprinkle with extra flour if it's too sticky to work with. Roll dough and cut out with cookie cutters of your choice. Bake at 375 degrees F for 5-8 minutes. Cooking time will depend on the size of the cookies that you make. Cool cookies; add icing, sprinkles, and/or colored sugar. Enjoy!