Posted by Mandy on December 18th, 2011. Filed under:
Candies
,
Christmas
,
Desserts
,
Gifts from the Kitchen
,
Holiday Favorites
,
Snacks
.
Mmmmm…peanut brittle! The perfect combo of sweet and salty, wouldn't you say? Peanut brittle always reminds me of my sweet Paw Paw (my mom's dad). I grew up in Canton, Mississippi, where the Canton Flea Market happens each spring and fall. Each and every flea market, we'd head to the square with only one request from my Paw Paw, to bring him back some homemade peanut brittle. That same both that sold it back then still sells it today, but I tell you what…if I'd have known that it was this easy to make I'd have made it a lot more often for him. Since Paw Paw's not here any longer to taste my new-found recipe for this, I shared it instead with my hubby. He gave this recipe his highest approval!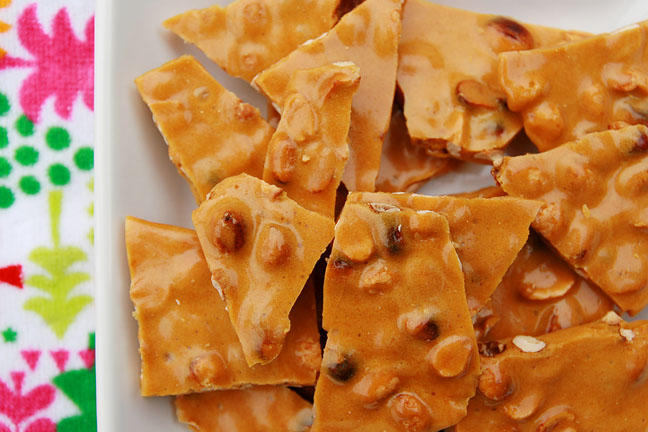 Peanut Brittle
1 cup granulated sugar
1/2 cup light corn syrup
1/4 teaspoon salt
1/4 cup water
1 cup peanuts
2 tablespoons butter, softened
1 teaspoon baking soda
Prepare a large sheet pan by lining it with foil; set aside. In a medium sauce pan set over medium-high heat, bring sugar, corn syrup, salt, and water to a boil. Stir until sugar is dissolved. Stir in peanuts. Set candy thermometer in place, and continue cooking. Stir frequently until temperature reaches 300 degrees F, or until a small amount of mixture dropped into very cold water separates into hard and brittle threads. Remove from heat; immediately stir in butter and baking soda; pour at once onto sheet pan. Spread into a rectangle and allow to cool. Break into pieces.
Recipe adapted from: http://allrecipes.com/recipe/moms-best-peanut-brittle/