Posted by Mandy on November 10th, 2011. Filed under:
Beef
,
Main Dishes
,
Slow Cooker
.
A couple months ago a sweet friend of ours from church made our family dinner to help us through a tough time. We had just returned home from Boston for my son's 18th surgery and we were all exhausted round-the-clock. Let me just tell you that it completely made my day to not have to make dinner that night! And to make it even better, the dinner was absolutely amazing! The roast that Dawn brought us was so tender and flavorful that my kids literally couldn't get enough…well, at least not the two that were well at the time. My son's appetite (after a bowel surgery) wasn't really up to par that night. But my girls ate more meat than I've ever seen them eat in one sitting. Needless to say, I had to have that recipe and thankfully Dawn was happy to share with me.
I'll go ahead and tell you that this isn't the most healthy meal you can prefer, but just forget about the calories for one night and enjoy yourself. Trust me, it's worth it! And if you want to try to lighten it up a little, you might try substituting a little beef broth for some of the butter. I plan to do that next time I make this roast, which will no doubt be soon. I love a good chuck roast sale at Kroger! I know, I'm a dork…who really gets excited over a sale at a grocery store? Anyway, now that you know I'm a huge dork that lives for sales at Kroger I'll go ahead and get right to the recipe. Hope your family enjoys it as much as mine did!
Oh, and just for the record the leftovers of this roast make a killer sandwich the next day!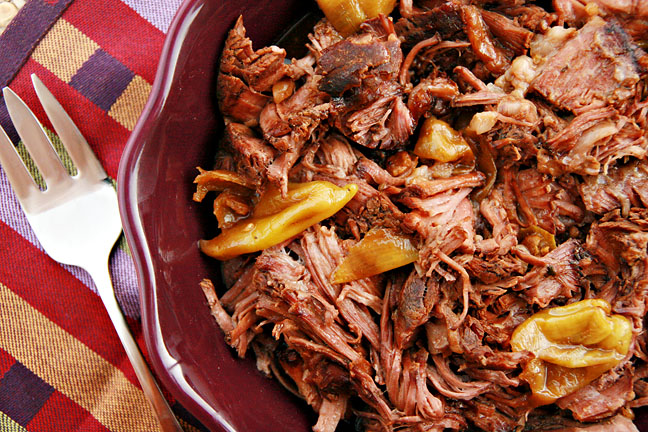 Mississippi Roast
1 chuck roast
1 packet dry Ranch dressing mix
1 packet Au Jus mix
1 stick butter
5 pepperoncini peppers
Add all ingredients into a slow cooker; cook on low for 8-10 hours. Shred and serve with your favorite sides (mashed potatoes and/or rice are delicious!)