Posted by Mandy on October 21st, 2011. Filed under:
Breads
,
Breakfast
,
Brunch
,
Chocolate
,
Kids Can Help
,
Muffins
,
Quick Breads
,
Snacks
.
Please forgive me, but I'm going to do it again. I'm passing you all another muffin recipe that is pretty much just an excuse to eat dessert for breakfast. Chocolate is good for you, though, right? At least that's what I've read (I throw away the magazines that say otherwise, don't you?). Those are the kind of magazine articles I actually like to read.
So if you are one of those picky moms that feeds your kids nothing but sprouts and granola, you might wanna just skip this recipe. Heck, who am I kidding? You may as well skip my whole blog (LOL!) but for the others of you that think chocolate for breakfast is your idea of wonderful, read on because these babies are gonna knock your socks off!
And I'm only teasing about the granola and sprouts thing…I happen to like both, but I just prefer chocolate. 😉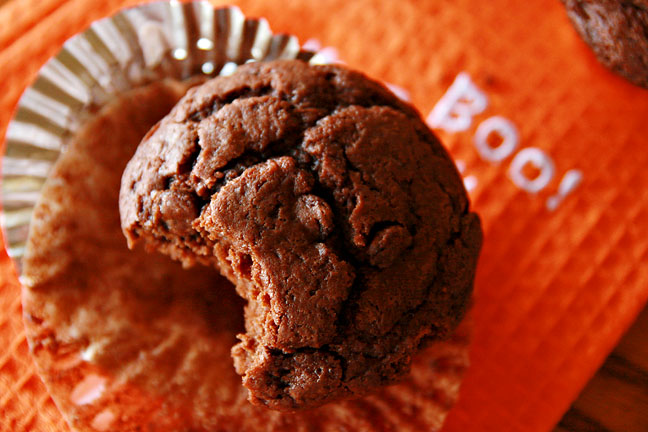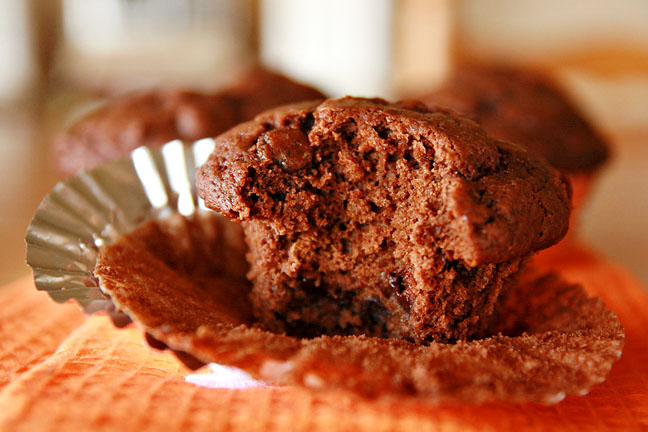 Double Chocolate Buttermilk Muffins
1 3/4 cups all-purpose flour
1 cup granulated sugar
1/2 cup cocoa
1 tablespoon baking powder
1/4 teaspoon baking soda
1 egg, lightly beaten
1 1/4 cups buttermilk (lowfat works great)
1/2 cup butter, melted
1 teaspoon vanilla extract
3/4 cup milk chocolate chips
Preheat oven to 375 degrees F. In a large mixing bowl, mix together flour, sugar, cocoa, baking powder and baking soda. In a medium bowl, mix together the egg, buttermilk, butter and vanilla. Add the milk mixture to the dry ingredients and mix lightly, just until combined (it may still be a little lumpy). Stir in the chocolate chips. Spoon into the muffin tins (I use a 1/4 cup ice cream/cookie dough scoop) lined with paper muffin cups. Bake for 20-25 minutes or until done. Cool completely and store in a paper bag until ready to serve.
Recipe adapted from: http://food-4-my-soul.blogspot.com/2007/08/buttermilk-double-chocolate-muffins.html