Posted by Mandy on October 12th, 2011. Filed under:
Appetizers
,
Candies
,
Desserts
,
Halloween
,
Holiday Favorites
,
Kids Can Help
,
Snacks
,
This & That
,
Uncategorized
.
Wow, can you believe it's been a full year of wonderful recipes? I can't, it seems like just yesterday I was sitting with my hubby talking about possibly starting my own recipe blog. I wonder how many dishes I've washed over the last year while preparing recipes for this blog? About 3 gazillion five hundred million three hundred forty five thousand six hundred eighty two. Well, it was actually more than that but that's about where I lost count.
So, after a year of posting recipes I sure hope that all of you folks out there are finding them useful. If you are, please leave me a comment with a little blog love to let me know. I'd hate to be washing all those dishes for nothing, ya know?
I'll bet you are here today for yet another recipe too, right? Yep, I thought so. Well since my hubby's favorite combination of flavors is sweet mixed with salty, I'll post a recipe today in his honor. If you are feeling a little frisky, eat a handful of peanuts and candy corn all in one bite. Oddly, it tastes almost just like a Pay Day candybar. And let's face it, who doesn't love those?
P.S. If you don't like Pay Days, DO NOT tell me you don't because I will have to forcefully block you from this blog because not liking Pay Days just makes you a freak! I'm only kidding…but really, you aren't right if you don't like them! 😉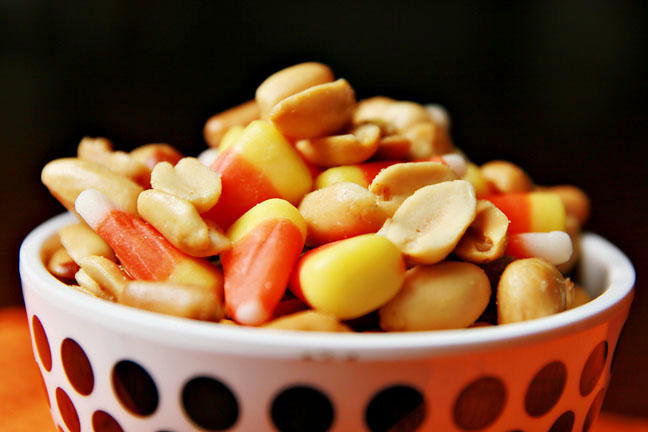 *hand slap* Back off! Go make your own, this bowl is all mine!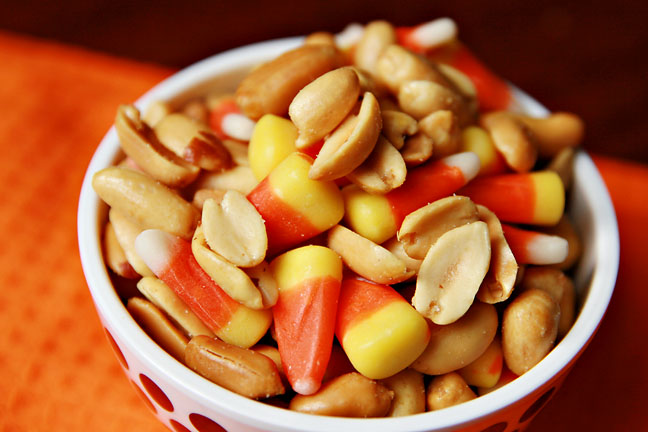 Sweet & Salty Snack Mix
2 cups candy corn
2 cups salted cocktail peanuts
Mix both together in a large bowl; store in a zip-top plastic bag until ready to serve.