Posted by Mandy on October 10th, 2011. Filed under:
Side Dishes
,
Vegetables
.
This is yet another recipe from my sweet, sweet Mae Mae. She used to go through phases with these potatoes (actually, with every recipe she used). She'd make them over and over for a while and then go for months without making them. It's like she'd forget about them and then once she remembered them she'd make them all the time for a while. Looking back, if I had to guess it was probably because she got certain things on sale and would make sure to use up all the items she bought before she'd move on to the next recipe and sale. I could be completely off base with that guess, but knowing her that was the real reason. These are simple to make and only require a few ingredients so they are perfect for a weeknight. My kids love them, which is always a huge plus for me. If it's something my kids will eat, I'll most likely make it often just to make them happy.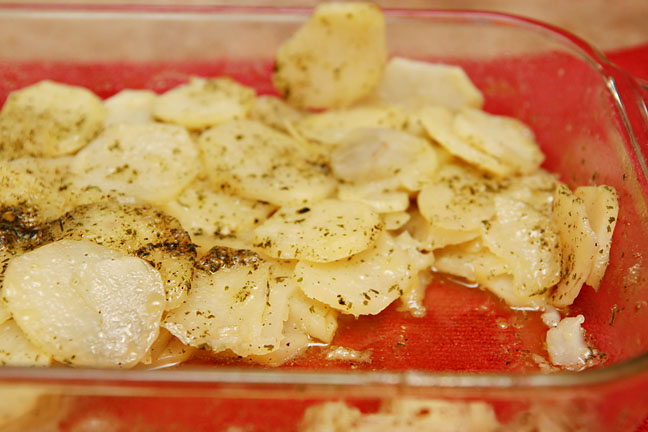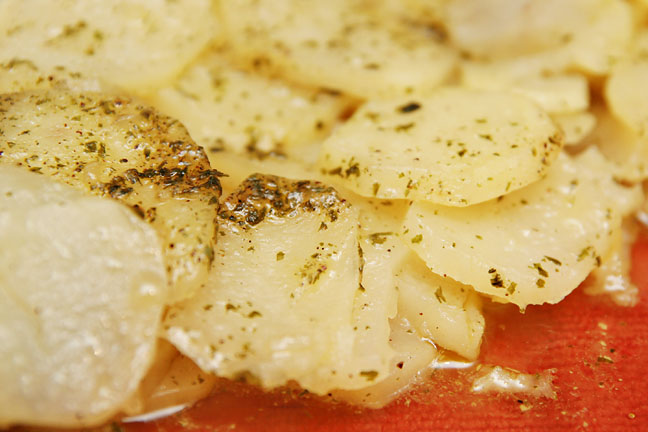 Mae Mae's Sliced Potatoes
potatoes, whatever kind you have on hand (I used about 6 small russets)
1 packet dry Ranch or Italian dressing mix
1/2 stick butter or margarine, cubed into small pieces
Preheat oven to 350 degrees F. Wash, rinse, and peel potatoes. Slice potatoes thinly, making sure to keep all slices approximately the same size (I use a mandoline for this to make it easier). Spray a glass baking dish with non-stick cooking spray. Line the dish with the potatoes in layers, sprinkling each layer with the seasoning mix. Top the potatoes with the cubed butter. Bake, covered with foil, until the potatoes are tender (the amount of time will depend on how thick/thin you slice your potatoes).