Posted by Mandy on August 28th, 2012
What is couscous, you ask? To be completely honest, I'm not all that sure. I know it's a grain, and a very healthy one at that. It's commonly used in middle-eastern cooking if I'm correct. But the bottom line is, it's practically one of the easiest things you can make, and it's absolutely delicious. So that's pretty much all you need to know.
I've heard about couscous for years but have never actually thought to throw any into my basket at the grocery store. I'm sorry now that I've waited so long! It's so easy to flavor however you choose (sub different flavor broths for the water, change the flavors of the vinagrette, add different veggies). The possibilities are endless! I must say that I was even surprised with the flavor of the couscous before I made it into a salad. Just the couscous with the broth for flavor/cooking was superb!
So please don't wait any longer. Give couscous a try and you won't be sorry!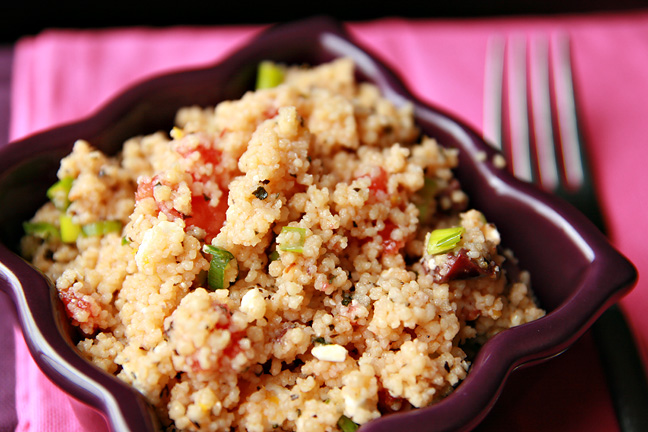 Summer Couscous Salad
2 cups chicken broth
1 1/2 cups whole wheat couscous, uncooked
1/4 cup extra virgin olive oil
1/3 cups red wine vinegar
1/4 teaspoon crushed red pepper flakes
1/2 teaspoon salt
1/2 teaspoon paprika
1/8 teaspoon black pepper
6 green onions, white and green parts, chopped
1 tablespoon dried basil
1 pint cherry tomatoes, halved (I used one large tomato, peeled, seeded, and diced)
zest of 1 lemon
1 cup feta cheese
sliced Kalamata olives
In a medium saucepan, bring the broth to a boil. Stir in the couscous. Cover the pan, remove from the heat and let stand for five minutes. Transfer the couscous to a large bowl and fluff with a fork. Allow the couscous to cool to room temperature.
In a small bowl or liquid measuring cup, whisk together the olive oil, vinegar, red pepper, salt, paprika, and pepper. Set aside.
Add the chopped green onions, basil, tomatoes, lemon zest, Kalamata olives and feta cheese to the cooled couscous and toss. Pour the vinaigrette over the salad and stir or toss until combined. Serve chilled or at room temperature.
Adapted from: http://www.melskitchencafe.com/2012/08/summer-couscous-salad.html