Posted by Mandy on September 21st, 2011. Filed under:
Brownies
,
Desserts
,
Holiday Favorites
,
Kids Can Help
,
Trifles
.
Here's another one of the easiest, most delicious dessert recipes you'll ever find. If you can bake box mix brownies, you can make this because that's pretty much the only cooking involved here. I've been making this dessert since shortly after I got married and no matter how many times I've made it, I always come home with an empty dish. That's always a good sign to me! I always keep the ingredients needed for this recipe on hand, for those times when we get invited to last minute gatherings and I have to bring something but don't have time to make something labor intensive. This has been a long-time family favorite in our house and I know it will be in yours as well.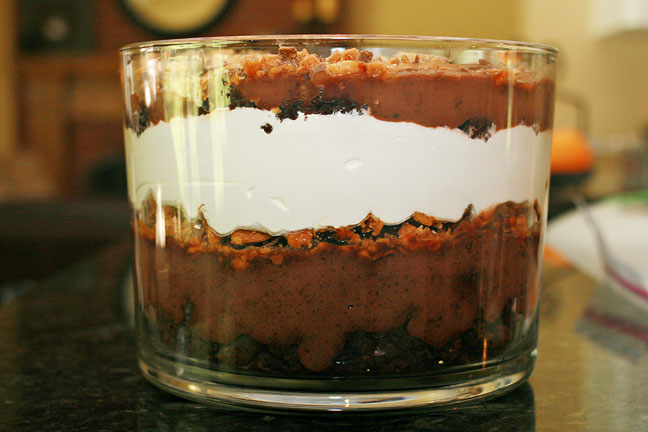 Butterfinger Trifle
1 family size box brownie mix (and the ingredients needed to make it according to package directions)
2 (3.4 oz) boxed instant chocolate pudding mix (and the milk needed according to package directions)
1 (16 oz) package frozen whipped topping, thawed
6 Butterfinger candy bars, crushed
Bake brownies according to package directions and set aside. Once completely cooled, crumble the brownies. Mix pudding according to package directions. Place half of crumbled brownies in the bottom of a trifle dish. Layer with half of the pudding, crushed candy bars (reserve a small amount for a garnish for the top of the dish), and whipped topping (in that order). Repeat all layers and garnish with remaining candy crumbs. Refrigerate until time to serve.