Posted by Mandy on September 16th, 2011. Filed under:
Desserts
,
Fruit Desserts
,
Holiday Favorites
,
Kids Can Help
.
My goodness it was killing me! I am totally a sweets person and have had this recipe ready to blog for a few weeks now, but thought maybe y'all were getting tired of sweets so I've been trying to be more diverse with my recipes lately. I couldn't take it anymore and had to post this one today though! This is one of those recipes that has never gotten a bad review for as long as I've been making it. I believe this recipe is another that comes from my cousin Mel, although I can't be sure because I've had the recipe for so long now. It's creamy and cruch (crust), sweet and tart, all at the same time. You simply cannot go wrong with this recipe!
Some people may be concerned about the raw egg in the recipe, but we've never had any problems with it. I was once told that by mixing egg with lemon, the acid "cooks" the egg so that it's safe to eat. If you're still feeling uneasy about it I'd suggest using pasteurized eggs or either an equivalent of egg yolk substitute. I've been eating raw eggs my entire life (cookie dough, brownie batter, etc.) though and have never gotten sick. Now I'm not saying you can't get sick from it, because goodness knows with our foods the way they are now anything is possible so this is basically just a warning for you just in case. Don't want anyone blaming me for making them sick!
Yeah, it's every bit as good as it looks.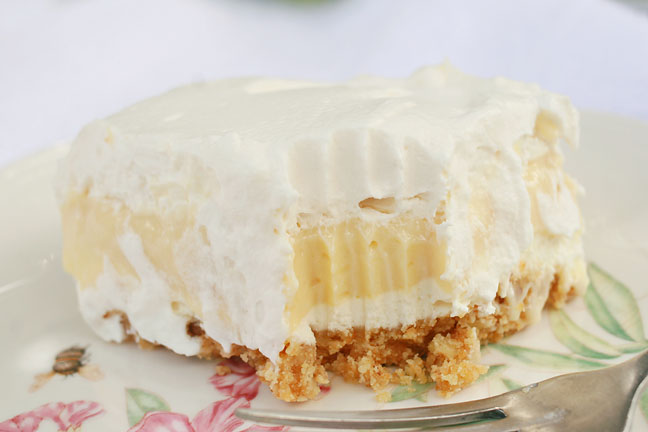 You want some now don't you?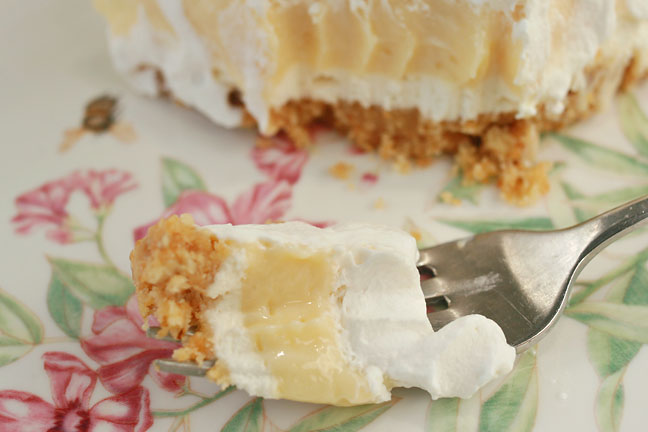 Lemon Surprise
2 cups vanilla wafer crumbs
1 cup finely chopped pecans
1 stick butter or margarine
1 (8 oz) package cream cheese
1 cup powdered sugar
2 cups frozen whipped topping, thawed
4 egg yolks
2 can sweetened condensed milk
3/4 cup lemon juice
additional frozen whipped topping, thawed
Combine vanilla wafers, pecans, and butter or margarine. Sprinkle into the bottom of a 8×13″ baking dish, pressing to form a crust. Combine cream cheese, powdered sugar, and 2 cups whipped topping. Spread on the crust layer. Thoroughly mix egg yolks, sweetened condensed milk, and lemon juice. Spread on top of the cream cheese layer; top the entire dish with additional whipped topping, to cover. Refrigerate until ready to serve.