Posted by Mandy on September 14th, 2011. Filed under:
Chicken
,
Main Dishes
,
Pasta
,
Quick & Easy Weeknight Meals
.
If you didn't know I'm living in the South just by knowing me, then you'd dang sure know it by the names of people that I mention. Most everyone has a double name, which as we know is almost mandatory down here. I myself don't have a double name but a good many of my family members do. Take today's title recipe, for example. Doris Ann is my aunt, my mom's sister. She's actually my Godmother too, bless her sweet little ole heart! Anyway, apparently we don't pronounce the name Doris Ann quite like it's written. Doris Ann used to work at a school as a kindergarten teacher, and one time she got a note written to her about a phone call taken in the office for her. It was written: "To: Darsan". I still find that story funny because if you think about it we do pronounce it more like "Dars" than the typical name Doris. Now I gotta go dig a grave because she may just kill me for my post picking at her name. Nevermind, she hates computers so she probably doesn't know how to see my blog anyway.

Now, onto the food. I called this Doris Ann's Chicken Spaghetti because it's all hers. She is well known in our family for this particular spaghetti and it gets requested quite often for family gatherings. She actually made this delicious dish for our family a couple of weeks ago when we got home from Boston (along with a Chess pie that I simply could not resist!). So I thought maybe y'all would like the recipe so you would be able to make it for your families. Doris Ann is nice and usually makes two dishes, one with the Rotel and one without for those picky eaters, but I've never been accused of being nice enough to do that.
I'll also go ahead and apologize for the bad photo. I was starving when I took this dish out of the oven so I just snapped quickly. Oops!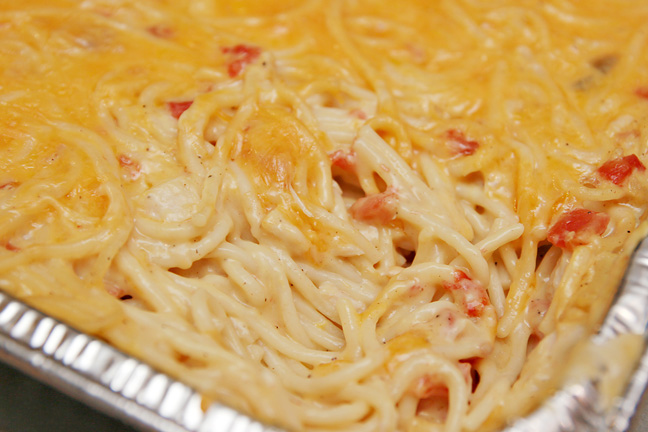 Doris Ann's Chicken Spaghetti
2 cans cream of chicken soup
4 tablespoons (1/2 stick) butter
chicken, as much as desired
1-2 cans Rotel
grated Cheddar cheese
chicken broth
salt & pepper, to taste
Preheat oven to 350 degrees F. Cook chicken by boiling in water until tender; remove, cut into small pieces. Cook noodles in the remaining broth leftover from cooked chicken. In a 9×13″ baking dish, mix the soup, butter, salt and pepper. Add chopped chicken and noodles. Add Rotel (if using). Stir all ingredients together. Add enough chicken broth to moisten the dish so that it's not too dry; stir again to incorporate. Sprinkle with shredded Cheddar cheese. Cover with foil and bake until the casserole is cooked through and the cheese is melted.