Posted by Mandy on September 9th, 2011. Filed under:
Appetizers
,
Holiday Favorites
,
Kids Can Help
,
Snacks
,
Southern Classics
,
This & That
,
Vegetables
.
Let me just start by saying that I'm posting this recipe, which will (next week) be followed by another recipe that uses these pickles as an ingredient.  You don't want to miss out on that one! It's super easy and delicious so don't forget to check back for that one.
Now, on to the pickles! This is another recipe that came from my sweet Mae Mae. I still remember seeing her big old Pyrex dish sitting on her formica (white with dark greyish spots) countertop. I remember she'd keep them covered with a rag and uncover them a couple times a day to stir them. Just smelling them the other day while making them brought back so many memories. It took me right back to her tiny old kitchen. Do you remember those old timey dishwashers that you had to move around to the sink, and hook up to the faucet? She had one of those. Never in my life have I ever seen one in other place other than her home. Ahhh, the memories!
Anyway, these pickles are the good old-fashioned ones that you probably remember. Super sweet, with just enough garlic flavor. They are super delicious on their own or you can add them in anything that you'd add store bought pickles to. Recipe you wanna make call for sweet pickle relish? Chop some of these up fine and you've got some! These are also great to make-and-give because one recipe makes several jars. Make the pickles and pour into jars, tie with a pretty bow around the top of the jar, and you'll have perfect inexpensive teacher gifts!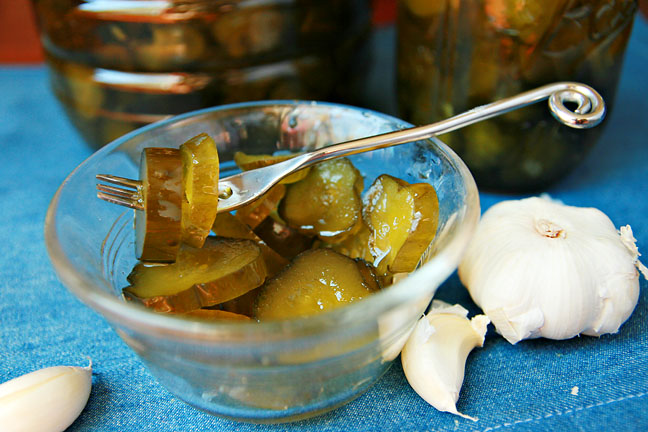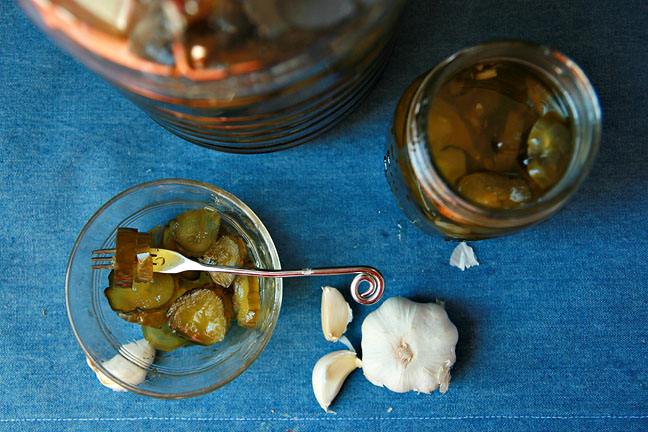 Mae Mae's Sweet Garlic Pickles
1 gallon jar whole dill pickles
1 (5 lb) bag sugar
1 large box pickling spice*
2-3 cloves garlic
Pour off pickle juice (disgard) and slice pickles into thick (about 1/3″) slices. Place into a large mixing bowl. Tie the pickling spice into small bundles using cheese cloth (or a t-shirt cut into small squares), and tie to hold the spices in. Peel garlic and lightly mash with the side of a large knife. Pour the sugar over the pickles and add the pickling spice bundles and garlic. Stir, cover, and set aside for 5-7 days, stirring at least two times a day. Remove garlic and pickling spice bundles. Pour into jars and refrigerate until ready to serve.