Posted by Mandy on September 5th, 2011. Filed under:
Cookies & Bars
,
Desserts
,
Holiday Favorites
,
Kids Can Help
,
Snacks
,
Uncategorized
.
We've discussed the cookie issue before, and you all know that I am a soft cookie kind of gal. So naturally these are my all-time favorite peanut butter cookies. As a matter of fact, I've made these at least four or five times and each time I ate them so fast that I wasn't able to get a photo of them to post. Selfish and shameful, I know, but dangit I like cookies! These are also a favorite of everyone else that's ever tried them. I feel sure you'll enjoy them just as much!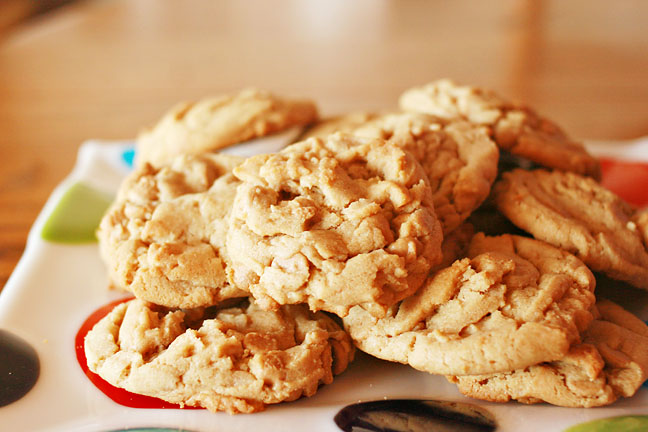 I wanted to do the traditional "hand-from-the-side-grabbing-a-cookie-off-the-platter" shot and asked for my  hubbies help. This is what I got. Yep, he's a smart-ellick, but for some reason I love him!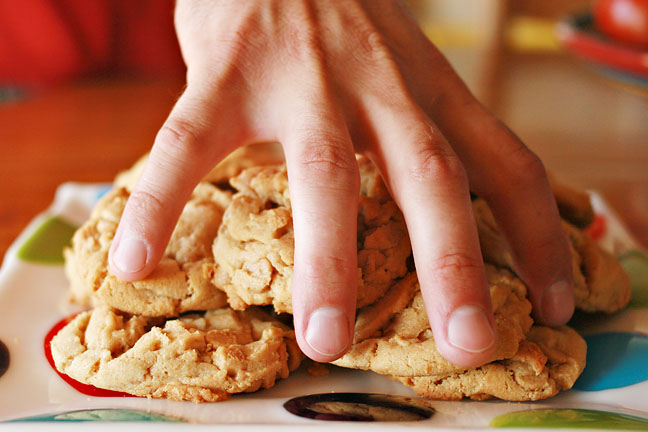 I promised him I'd give him a cookie if he'd cooperate, and then this is what I got. Much better!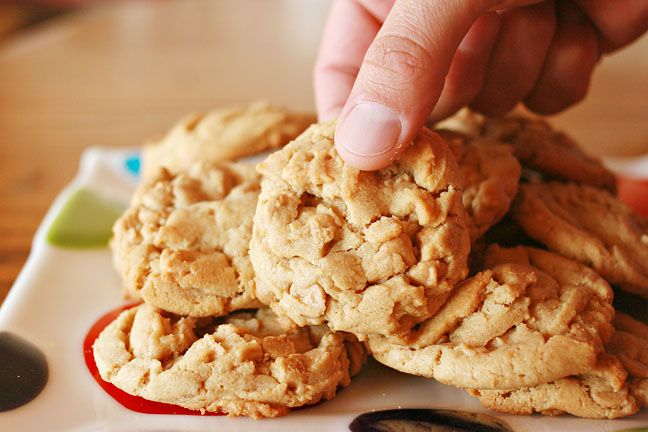 Favorite Peanut Butter Cookies
1 1/4 cup all-purpose flour
3/4 teaspoon baking soda
1/2 teaspoon baking powder
1/4 teaspoon salt
1/2 cup butter, softened
 1 cup creamy peanut butter
3/4 cup granulated sugar
1/2 cup brown sugar
1 whole large egg, room temperature
1 tablespoon milk
1 teaspoon vanilla
1 (11 oz) package peanut butter chips
Preheat oven to 350 degrees F. In a medium bowl, combine flour, baking soda, baking powder, and salt; set aside. In a mixing bowl fitted with the paddle attachment, beat together the butter and peanut butter until fluffy. Add the sugars and beat until smooth. Beat in the egg, milk, and vanilla. Gradually pour in the flour mixture, with mixer on low speed, increasing speed to medium until the mixture is completely combined. Stir in the peanut butter chips. Using a cookie scoop, scoop out cookies the size you prefer and place on a cookie sheet lined with parchment paper. Bake for 10-12 minutes, being careful not to overbake. The cookies do not appear completely done but will continue to cook as they cool on the cookie sheet for 1 minute, then remove to a rack to cool completely.
Recipe adapted from: http://tastykitchen.com/recipes/desserts/soft-peanut-butter-cookies/