Posted by Mandy on August 1st, 2011. Filed under:
Appetizers
,
Dips
,
Greek
,
Snacks
,
Vegetables
.
Stop right there! Do I have your attention? No, really, do I have your full attention? You're going to wish I did if I don't because this dip is so flavorful, so unbelievably delicious that it's just indescribable. And isn't it just beautiful? Beautiful, I tell ya! I know, I'm wiggin' out a bit over this dip but it's just that good! So simple to throw together yet so indescribably flavorful that even those that claim they "can't cook" (I'm gonna change you folks yet!) can make it. I made it for a girl's day of sewing (which I myself CANNOT do) and although there were only four of us there, we somehow managed to almost eat the entire dish. And we weren't one bit ashamed of that either. If you like Greek flavors, this dip will become your new favorite. Promise!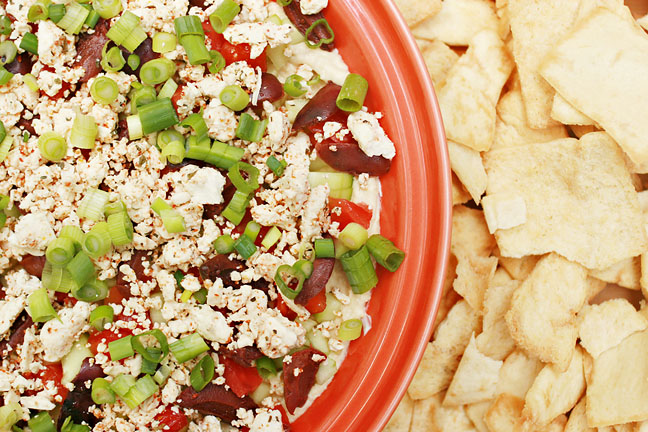 What I'd give for another taste of this yummy dip right this moment!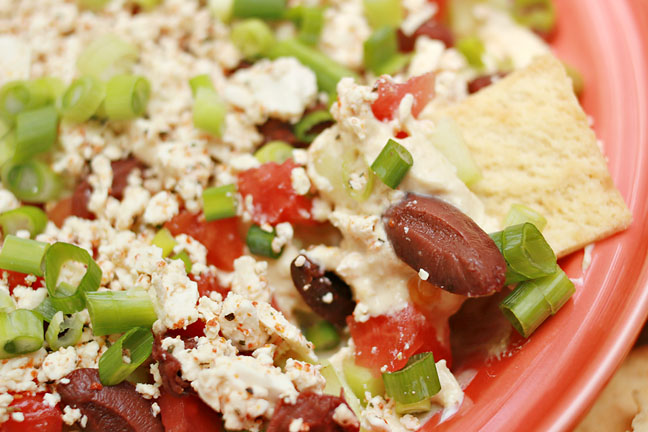 Greek Layered Dip
1 (8 oz) package cream cheese, softened
1 tablespoon lemon juice (fresh is best)
1 teaspoon Italian or Greek seasoning (I used Italian)
3 cloves garlic, minced or pressed through a garlic press
1 (6 oz) package original flavor Hummus
3/4 cup chopped cucumber
3/4 cup chopped and seeded tomatoes
1/2 cup chopped Kalamata olives
1/2 cup crumbled Feta cheese (I used sun dried tomato and basil flavor) 
2-3 green onions, sliced
In a medium mixing bowl, beat together the cream cheese, lemon juice, seasoning (Greek or Italian), and garlic until well combined. Spread the cream cheese mixture in the bottom of a serving dish (a pie plate works well for this dip). Top evenly with a layer of the hummus. Sprinkle the hummus with the cucumbers, tomatoes, olives, feta, and green onions. Cover and refrigerate until ready to serve. Serve with pita chips.
Adapted from: http://tastykitchen.com/recipes/appetizers-and-snacks/layered-greek-dip/