Posted by Mandy on July 27th, 2011. Filed under:
Breakfast
,
Brunch
,
Kids Can Help
,
Main Dishes
,
Pies
,
Pies & Pastries
,
Quick & Easy Weeknight Meals
,
Side Dishes
,
Southern Classics
,
Vegetables
.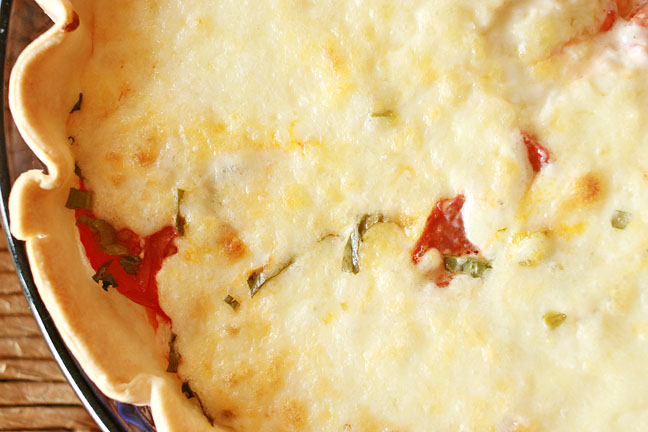 When I was growing up my Paw Paw was well known for his garden. Some summers I even remember him having a garden in two different locations. He'd get up early and water the plants in the backyard garden, then load up his bright green Chevy Luv pick-up truck (which had the most memorable horn I've ever heard and will never forget) with buckets full of water and carry it out to his other garden to water the plants there. He grew all kinds of things, snap beans (don't dare call them green beans down here), butterbeans, squash, peppers, and what he was most known for was his tomato plants. He'd have rows upon rows upon rows of tomato plants that produced the most delicious tomatoes I've ever put in my mouth. On Paw Paw's bedroom floor and the dining room floor were huge sheets of visqueen (which I could swear we always pronounced "bisqueen" but maybe that's just the way my kid-ears heard it) that were all covered in tomatoes. Each day at lunch there would be a huge plate full of the beautiful slices that I prefered to top with mayonnaise, salt, and pepper (taught to be by none other than my Paw Paw). When a person came over to visit, he or she wasn't allowed to leave without their own sack full to take home. Paw Paw was world famous (yes I said world famous…he was my Paw Paw and was famous in my world after all) for these big round, red beauties! I swear I'd probably be willing to cut off my left leg just for the chance to taste one of his tomatoes just one more time.
So now that you know all about my obsession with home-grown tomatoes, I'll just go ahead and tell you that it was no surprise that I loved this recipe. We never used this recipe growing up, and as a matter of fact I don't remember ever even hearing of Tomato Pie until just a couple short years ago. I heard a friend mention it, and have since heard several people talking of the same strange (to me) sounding pie. A family friend mentioned this savory pie a couple weeks ago on her Facebook page and I knew I finally had to give in and try it out. Mrs. Susan was kind enough to share her recipe with me (thank you Mrs. Susan!), and I'll just tell you that I was completely blown away by the flavor in this pie. The cheese melts and becomes so creamy because of being mixed with the mayonnaise, the basil is bursting with flavors and the tomatoes…well, we all know how delicious home grown tomatoes are! Needless to say I'll be making this again and again in the future. It's going on my favorites list!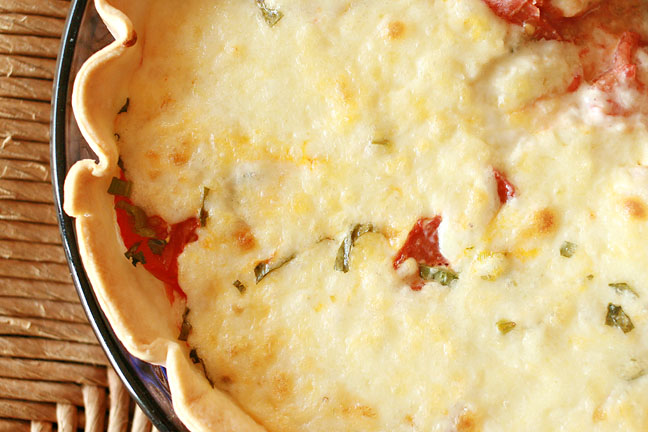 Tomato Pie
1 (single layer) pie crust
1/2 cup mayonnaise
1/3 cup sliced green onions
10-12 basil leaves, sliced finely
2 cups shredded mozzarella cheese
sliced home grown tomatoes
salt & pepper, to taste
Preheat an oven to 350 degrees F. In a pie plate, spread the pie crust out, pushing down in the sides to fit. Layer sliced tomatoes on top of the pie crust (you can drain the tomatoes so that the pie won't be so juicy, if you prefer). Layer the green onions and basil on top of the sliced tomatoes; sprinkle with salt and pepper. In a medium mixing bowl, stir together the cheese and mayonnaise. Spread the mayonnaise mixture over the top of the tomatoes. Bake for about 30 minutes, or until the crust is browned. Serve warm.