Posted by Mandy on October 19th, 2010. Filed under:
Chocolate
,
Cookies & Bars
,
Desserts
.
Does that sound like heaven or what? Peanut butter alone is enough to draw my attention, but add into that chocolate chip and you simply cannot go wrong! Adding the oatmeal just takes it completely over the top. As you'll soon find out, I'm a huge cookie fan. I could literally live off of chocolate chip cookies alone. Nothing in this world to me tastes quite that good. Yum, yum, yum…did I say yum? When I saw this recipe, I knew immediately that I just HAD to try it. The dough alone is absolutely divine, so I knew the cookies would be too. The combination of all these ingredients is simply superb. I'll advise you ahead of time not to use this dough to make some scrawny little cookie. That would be a huge mistake! Make big chewy cookies out of this and you won't be sorry! I personally used 1/4 cup of dough for each cookie. The easiest way to measure is simply with a 1/4 cup cookie scoop. That way you ensure that each cookie is the same size, and also will bake equally. Try and see if you can resist eating every last one of these…I know I couldn't!
Start with the following ingredients: sugar, flour, peanut butter, butter, chocolate chips, vanilla, brown sugar, oatmeal, salt, egg, and baking soda.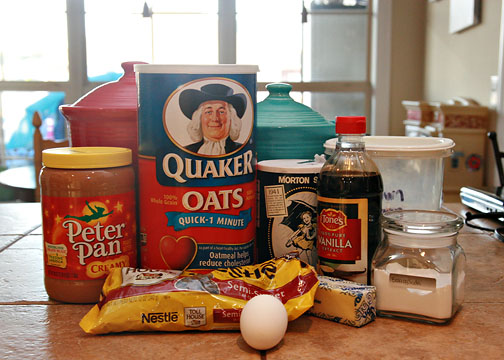 In a small bowl, mix together the flour, baking soda, and salt. Set aside. Cream together the butter, brown sugar, sugar, vanilla, and peanut butter. Add the egg and beat to combine. Gradually add the flour, just until combined. Stir in the oats and chocolate chips. Using a cookie scoop, drop dough onto parchment paper lined baking sheets, making sure to leave room for them to spread.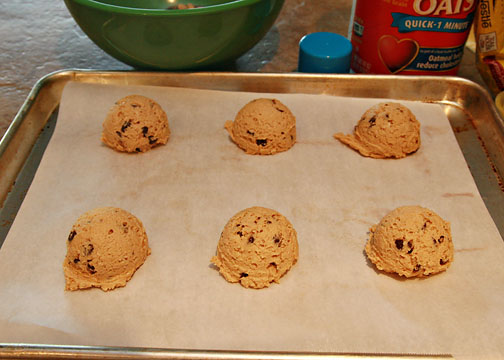 Bake until lightly golden, about 10 minutes. Cool completely on a baking rack.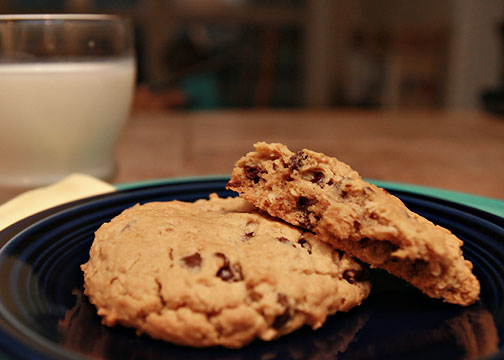 I bet you wanna make them now don't you???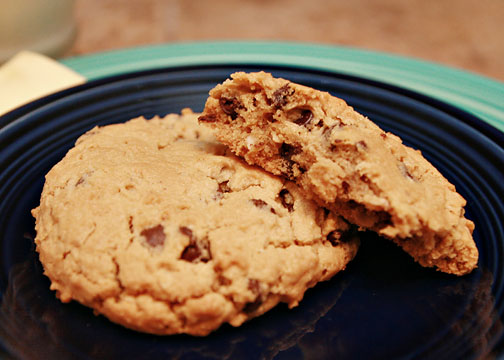 Peanut Butter Oatmeal Chocolate Chip Cookies
1 cup all-purpose flour
1 teaspoon baking soda
1/4 teaspoon salt
1 stick (1/2 cup) unsalted butter, at room temperature
1/2 cup creamy peanut butter
1/2 cup granulated sugar
1/3 cup light brown sugar
1/2 teaspoon vanilla extract
1 egg
1/2 cup rolled oats
1 cup semi-sweet chocolate chips
Preheat oven to 350 degrees. Line two baking sheets with parchment paper and set aside. Whisk together the flour, baking soda and salt; set aside. On medium speed, cream together the butter, peanut butter, granulated sugar, brown sugar, and vanilla extract, about 3 minutes. Add the egg and beat to combine. On low speed, gradually add the flour until just combined. Stir in the oats, and then the chocolate chips. Use a large cookie scoop and drop dough onto prepared baking sheet about 2″ apart. Bake for 10 minutes, or until the cookies are lightly golden. Cool completely on the baking sheet and then store in an airtight container at room temperature.
Originally recipe found here: http://www.browneyedbaker.com/2010/02/24/peanut-butter-oatmeal-chocolate-chip-cookies/