Posted by Mandy on July 21st, 2011. Filed under:
Breads
,
Breakfast
,
Muffins
,
Pies & Pastries
,
Quick Breads
.
What is more classic than a plain ole blueberry muffin? Not much, in my opinion. I remember when I was growing up my mom made two types of muffins on a regular basis…bran muffins (I'll share that recipe one day) and blueberry muffins. The bran muffins were always homemade but the blueberry muffins always were a box mix. Now I'm not knocking. Those muffins were a big part of my childhood and I remember wanting to lick the can of blueberries clean. I enjoyed them just as much as I would have if my mom had slaved all morning making something homemade. What mattered was she put the time into making us something delicious, and we enjoyed it.
I still have nothing against the boxed muffins, and still occassionally make them from time to time. But when you have a pint of fresh blueberries on your hands and are craving blueberry muffins there's no need to open a box because these are almost as simple! So the other day, after purchasing those beautiful blueberries on sale I came home on a mission to find a traditional blueberry muffin recipe. I have about a gazillion cookbooks, but even with all them I had a very hard time finding a recipe that sounded like what I was looking for. I found lots of recipes for streusel muffins and such, but not just a traditional muffin. Then I found this recipe, and it was just what I was looking for! They baked up beautiful and tasted even better than they looked! I've since made them three times because they are so delicious that I can't resist them. I even took some to my mother-in-law and she said they were just perfect…just sweet enough but not overly sweet.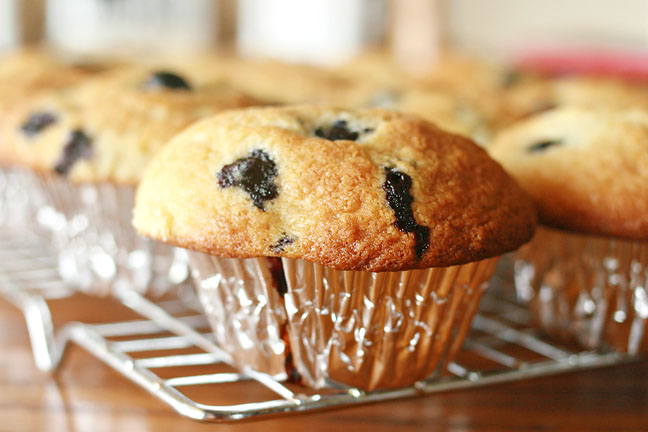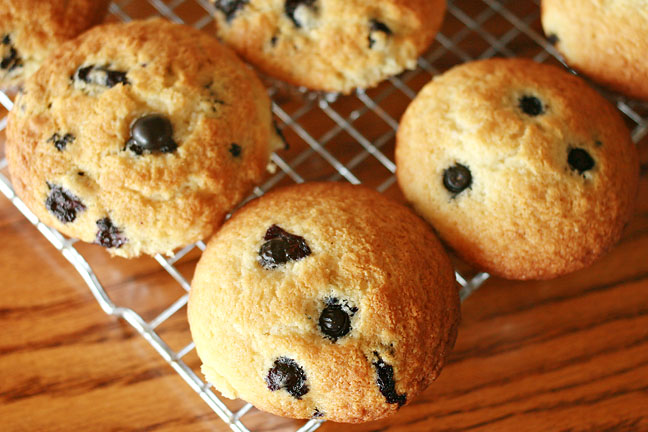 And if you're smart like me, go ahead and pull the muffin top off first because after all, isn't that the best way to eat a muffin?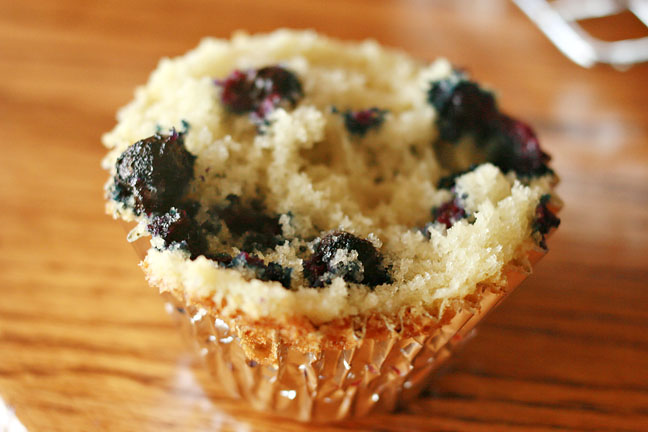 Blueberry Muffins
3 cups all-purpose flour
4 1/2 teaspoons baking powder
1/2 teaspoon baking soda
1 1/4 cups granulated sugar
1/2 teaspoon salt
1 cup salted butter, melted
1 1/4 cups milk
2 large eggs, lightly beaten
2 cups fresh or frozen blueberries
Preheat oven to 400 degrees F. Grease muffin tins or line muffin tins with cupcake liners (size will depend on what size muffins you prefer to make). In a large bowl, stir together the flour, baking powder, baking soda, sugar, and salt. In a medium bowl, combine the melted butter, milk, and eggs. Whisk the mixture until it is combined. Combine the butter mixture with the dry ingredients and mix it lightly until just moistened. Fold in the blueberries. Spoon the mixture evenly into the prepared muffin cups. (I use a 1/4 cup cookie scoop to drop my batter into the muffin wells.) Bake for 25-30 minutes (for regular size muffins) or until a toothpick comes out clean when inserted in the center of one muffin. The size of the muffin tin that you use will determine how many muffins this recipe produces, but I usually end up with about 15-17 regular sized muffins.
Recipe adapted from: Tate's Bake Shop Cookbook