Posted by Mandy on July 18th, 2011. Filed under:
Candies
,
Chocolate
,
Cookies & Bars
,
Desserts
,
Snacks
,
Uncategorized
.
Not much to really say about these yummy bars, except that they are out-of-this-world delicious! I got this recipe from a sweet friend who is a member of the Junior League of Jackson and volunteers her time at the local Children's Cancer Clinic to play with the children. They usually have tons of projects for the kids to work on and as strange as it is, my kids actually look forward to their weekly visits to clinic during the school year when the Junior League is there with their fun projects to work on. One day I overheard her talking about these bars and I immediately knew it was something all of my readers (hey y'all!) would love to eat. So I asked for the recipe and she graciously shared and now I'm sharing it with you all! Hope you all enjoy these bars as much as my family did at our family reunion. Needless to say, they didn't last long!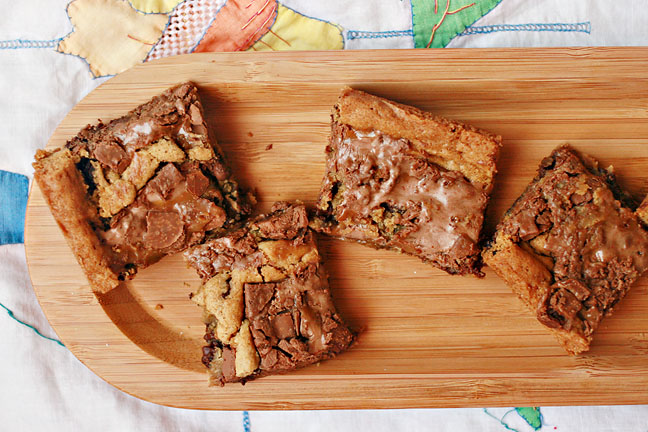 It's a caramel river! Yum!!!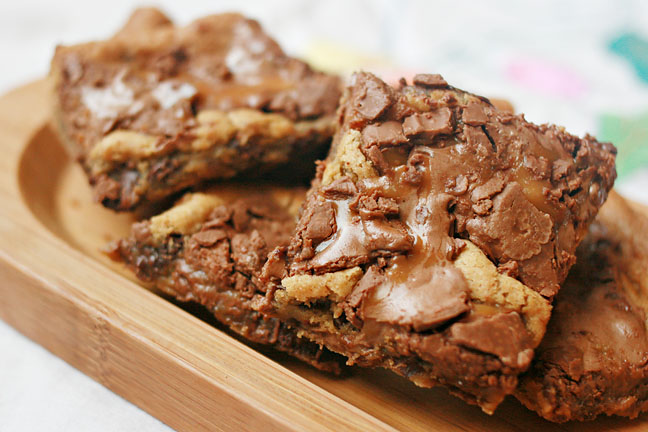 Chocolate Chip Milky Way Bars
1 large roll refrigerated chocolate chip cookie dough
1 (6 pack) full-size Milky Way candy bars, chopped
Preheat oven to 350 degrees F. Place cookie dough on the counter for about 10 minutes so that it softens some. Spray a 9×13″ baking dish with non-stick cooking spray. Spread the softened cookie dough in the dish, pressing to reach each corner so that the entire pan is covered in dough. Bake for 15 minutes; sprinkle chopped candy bars on top of cookie dough. Bake for an additional 10-15 minutes, or until the cookies are cooked through. Cut into squares after cooled to serve.