Posted by Mandy on July 5th, 2011. Filed under:
Appetizers
,
Dips
,
Pork
,
Salsas
,
Slow Cooker
,
Uncategorized
.
When I was still a part of the working world before I had my children, this dip was required at every single gathering in the office. I can't even remember who in the office originally shared the recipe, but what I do remember is that every single time it was brought it didn't last long! That's how it ended up with the name "Crack" Dip; it's just that addictive. When it was time to have a party at work, we'd say, "Who's bringing the Crack Dip?"
This dip is an updated version of the ever-so-popular rotel dip, but instead of Velveeta you use cream cheese and toss in some cooked ground sausage. Since it was always served at work, I had indulged in it more than I probably should but my hubby had never had any. So when I made it for my son's birthday party a couple of years ago, he saw me making it and if I remember right he turned his nose up and walked away. Then when the dip was ready he tried it and literally couldn't stop going back for more and more! I think I even remember him telling me to hide the dip before everyone got there so he'd have it all to himself (needless to say I didn't oblige that request). This recipe is super easy and can be kept warm in a slow cooker for hours on end. Make it for your next party, and prepare yourself to be asked over and over for the recipe.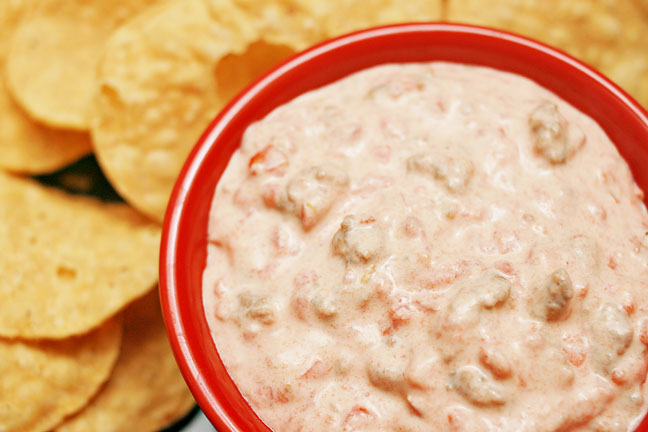 "Crack" Dip
2 (8 oz) packages cream cheese
2 cans Rotel (hot, mild, or regular depending on your heat preference)
1 (16 oz) package ground sausage*
In a large skillet over medium-high heat, cook ground sausage, breaking it apart as you do, until cooked through. Meanwhile, cube cream cheese. Add cream cheese, Rotel, and sausage to a slow cooker. Cook over low heat until cheese is melted. Set to warm until ready to serve.
*The new packages of precooked sausage crumbles can be used in place of the raw sausage, if desired. I like to puree my Rotel using a food chopper so that there are no big tomato chunks.