Posted by Mandy on June 28th, 2011. Filed under:
Breads
,
Breakfast
,
Chocolate
,
Muffins
,
Quick Breads
,
Snacks
.
Hi y'all! Sorry for a week with no posts. I was busy down South soaking up the rays of the sunshine and now I'm covered in freckles and my skin is peeling like a snake shedding its skin. Redheads (or auburn in my case) can't catch a break when it comes to the sun! And for those of you that are freaking out about a sunburn, trust me…I did all that I could do to prevent it from happening other than staying inside the entire trip. Oh well, it was certainly worth it to see the look on my kid's faces when they got to see their mom jump off the diving board, which they've never seen me do.
So about these muffins, they are delicious! I made some to take on our trip with us so that we didn't have to eat cereal every day. I was pleasantly surprised with how yummy they were! I don't think that my hubby ever tried them because he said just the name of them sounded disgusting, but what does that grumpy guy know? Just don't eat them then, more for me! You all know I'm a sucker for anything containing peanut butter and chocolate and these little muffins were no exception. I wouldn't exactly say they are healthy, but everyone needs an excuse to eat cake every now and then for breakfast, right?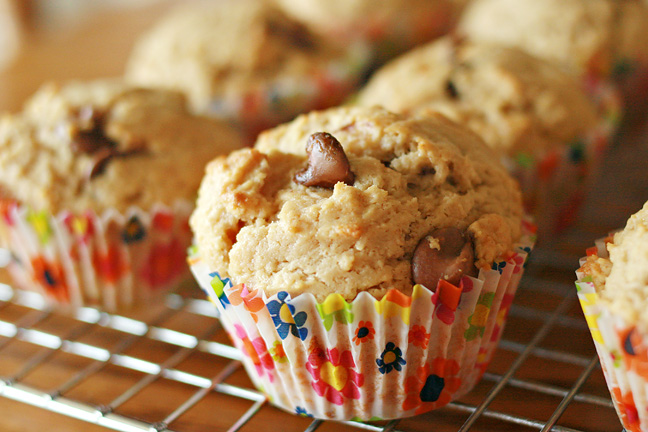 Who needs fruit filled muffins when you can have chocolate?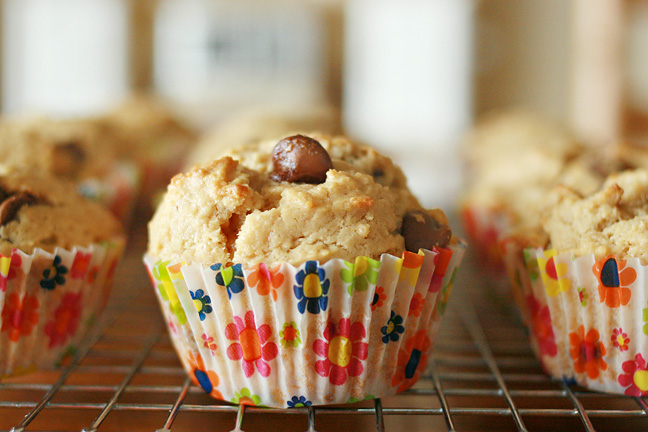 Peanut Butter Chocolate Chip Muffins
2 1/4 cups all-purpose flour
2 teaspoons baking powder
1/2 teaspoon salt
2/3 cup brown sugar
6 tablespoons butter, melted and cooled
1/2 cup creamy peanut butter
2 large eggs
1 cup milk
3/4 cup chocolate chips
Preheat oven to 375°.  Line a muffin pan with 12 paper liners. In a medium bowl, whisk together the flour, baking powder, salt and brown sugar.  Set aside. In a large bowl, whisk together the melted butter, peanut butter, eggs and milk until smooth.  Add in the flour mixture and stir until just combined.  Stir in chocolate chips.  Divide batter evenly between prepared muffin tins, filling each to the top. Bake for 17-20 minutes or until a toothpick inserted in the center comes out clean.  Allow to cool for 5 minutes in the pan, then remove to a wire rack to cool completely.
Recipe from: http://annies-eats.net/2008/10/09/peanut-butter-chocolate-chip-muffins/, who adapted the recipe from: http://bakingbites.com/2007/09/peanut-butter-and-chocolate-chip-muffins/