Posted by Mandy on October 18th, 2010. Filed under:
Appetizers
,
Dips
.
I don't know about you, but when I'm planning a party no menu is complete without Spinch Dip. It's absolutely delicious, easy to prepare ahead of time, and always a people pleaser. I also like to kid myself and tell myself it's good for me, after all it's full of veggies right?

Okay, so maybe it's not all that healthy but the total deliciousness (is that even a word?) makes up for its lack of health benefits. I personally like to substitute canola mayonnaise and light sour cream for the traditional varieties to make it a little more healthy. No one ever notices the difference!
There are a gazillion varieties out there, but this one is my particular favorite. Make it for your next get-together and neither you nor your attendees will be sorry.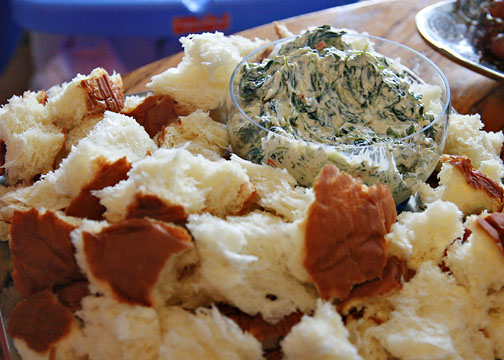 Traditional Spinach Dip
1 pack (10 oz.) frozen baby spinach, thawed
1 (16 oz) container sour cream
1 cup mayonnaise
1 package vegetable recipe mix
3-4 green onions, chopped
Drain all of the water off your spinach well. Mix all ingredients and chill. Serve cold with cubed Hawaiian bread or crackers.