Posted by Mandy on June 20th, 2011. Filed under:
Cakes
,
Desserts
,
Fruit Desserts
,
Kids Can Help
.
The first time I tasted this recipe I was at a meeting and as soon as it touched my mouth I immediately thought of my hubby. He loves strawberries and would rather have a simple dessert like this rather than a fancy layered cake with lots of decorator frosting any day. So I decided that this cake would make the perfect Father's Day gift for him (we don't usually buy each other gifts for holidays). The very next day my sweet Adee and I hit the kitchen! We couldn't stand to wait until Father's Day so we went ahead and made this last Tuesday afternoon.
This recipe was yet another great one from my cousin Kathy. I'm not sure if it's an official Pampered Chef recipe or just one that she happened to share with us while at a Pampered Chef meeting. I've tried to locate the recipe on their website to try to give credit where credit is due, but cannot seem to locate it anywhere.
Here's Adee working on her daddy's cake. Excuse the pj's and messy hair. She had taken a bath around lunch after playing outside so pj's were in order for a fun afternoon with Mommy in the kitchen.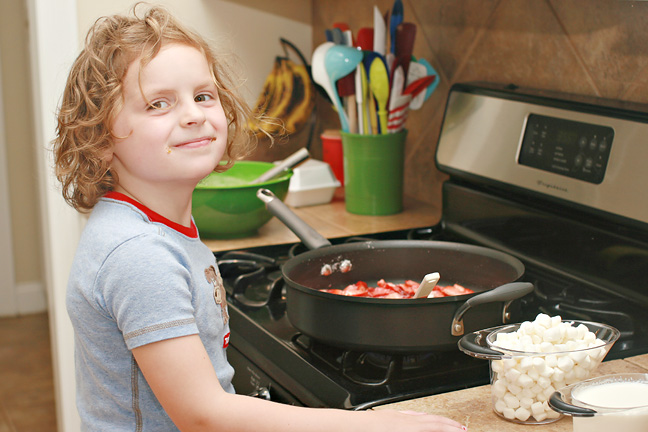 John Matthew sat by eating brownies (recipe to follow soon) while we worked on the cake. Silly boy!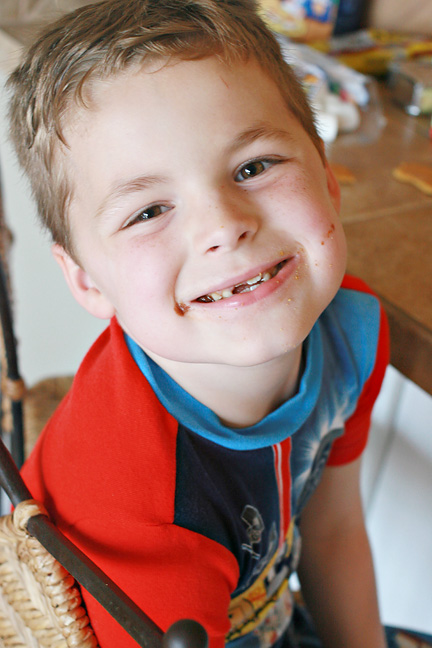 Adee sprinkling the marshmallows on our strawberries. She's such a big help in the kitchen and says she's going to be a chef when she grows up!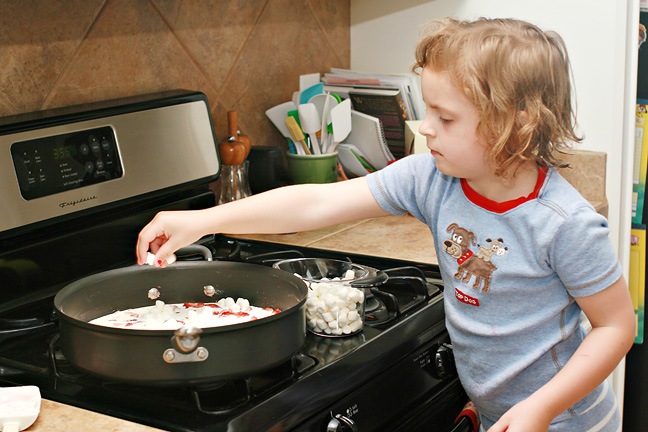 The only photo I wish I had but don't is one of Matt enjoying his cake with the kiddos. He worked late the night that we made it so when he finally got him a slice, the kids and I were in bed already.

He thoroughly enjoyed it though!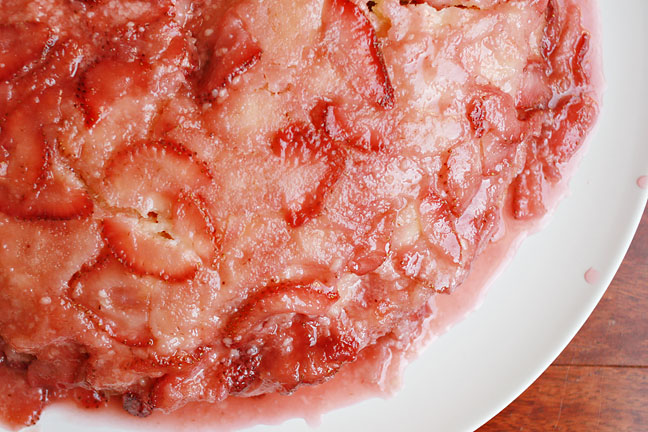 Strawberries & Cream Upside-Down Cake
1 strawberry or white cake mix and ingredients to make the cake according to the package directions
3 cups strawberries, sliced
1 cup sugar
2 cups miniature marshmallows
1 cup heavy whipping cream
Preheat oven to 350 degrees F. In a large bowl, make cake batter according to package directions. Set a large 12" skillet over medium heat; add the sliced berries and sugar, cooking slowly just until sugar is dissolved. Remove from the heat and pour cream over the strawberries, then layer marshmallows on top of berries and cream.  Carefully pour cake batter over marshmallows. Put the lid on the skillet and bake for 30 minutes.  Remove from oven and let cool in skillet for 15-20 minutes.  Turn out onto platter and serve. Serve immediately or store in refrigerator until ready to serve. Reheat in a microwave (by the slice) before serving.