Posted by Mandy on June 20th, 2011. Filed under:
Main Dishes
,
Mexican
,
Quick & Easy Weeknight Meals
,
Seafood
,
Shrimp
.
We have Mexican food at my house a lot because it seems to be something that everyone will love. So instead of the normal beef tacos that I prepare so often, I wanted to try something new. I hear a good bit these days about shrimp or fish tacos, so I decided I wanted to give them a go myself. Boy oh boy I was ever so impressed with these! They were perfectly flavored and the hubby and I both devoured them! These are also super quick to put together and you probably already have most of the ingredients on hand so it would make a great weeknight meal. I simply made some Mexican rice to serve alongside of these tacos, set out some chips and salsa, and dinner was served! Oh, and one last kicker that'll sure enough convince you to make them soon…they are actually healthy! So now you have no reason not to make them, and I promise you'll enjoy every little bite!
Don't forget to like my new Facebook page! Just type in "The Supermom Chef" in the search box, click on my page, and then click "Like". You'll get updates that are only posted on Facebook as well as a status update each time a new recipe is posted.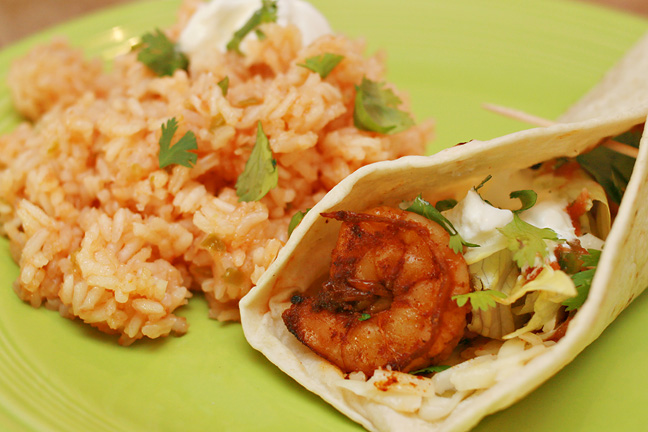 Dress yours how you like, but I like mine with lettuce, salsa, sour cream, and some fresh chopped cilantro.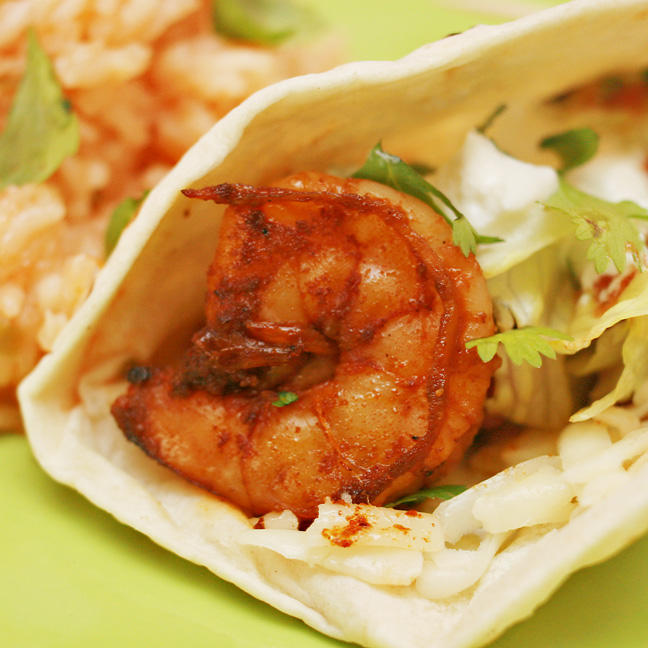 Chipotle Shrimp Tacos
2 teaspoon chili powder
1 teaspoon sugar
1/2 teaspoon salt
1/2 teaspoon ground cumin
1/4 teaspoon ground chipotle chile powder
1 1/2 pounds peeled and deveined shrimp
1 teaspoon olive oil
white corn tortillas
any fixings you'd like to serve with your tacos (grated cheese, salsa, sour cream, cilantro, lettuce)
Combine chili powders, salt, sugar, and cumin in a large zip-top plastic bag; add shrimp, tossing to coat. Heat oil in a large non-stick skillet over medium-high heat. Add shrimp mixture to pan; cook about 2-3 minutes, or until done. Remove from heat. Heat tortillas and serve tortillas stuffed with shrimp and any extra toppings you'd like such as lettuce, salsa, sour cream, cheese, and cilantro.
Recipe adapted from: http://www.myrecipes.com/recipe/chipotle-shrimp-tacos-10000001854029/