Posted by Mandy on June 8th, 2011. Filed under:
Beef
,
Main Dishes
,
Mexican
,
Pasta
,
Quick & Easy Weeknight Meals
,
Soups & Stews
,
Vegetables
.
So many children are so familiar with throw-together meals like Hamburger Helper these days that they don't know what "real" food tastes like. I'm not a fancy cook by any stretch of the imagintion, but I do like to prepare homemade meals for my family when I can. This is one of those meals that doesn't take much time longer to prepare the homemade version than it does to open a box and cook up its contents. This quick meal is so much more flavorful that its box look-a-like counterparts. And we won't even mention how much healthier this homemade version is either. If you use the lean ground beef, this meal actually falls into the "healthy" category. As a matter of fact, about 4 years ago I started a very well known diet system and lost over 80 pounds. This recipe was shared with me at one of the weekly weigh-in meetings I attended, and I must say it has been a staple in our house ever since! My kids are super picky when it comes to vegetables, so I always chop mine up super fine so that they don't even know they're in there. Sneaky, sneaky!

P.S. The Supermom Chef is on Facebook now so feel free to look me up and "like" my page!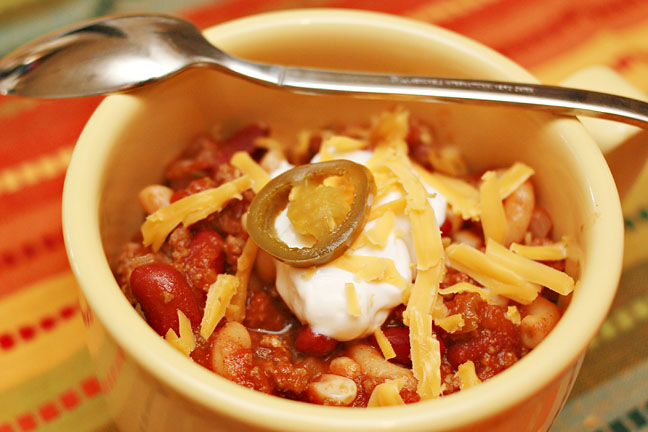 I personally like mine topped with a dollup of sour cream, some shredded cheese, and a pickled jalapeno or two. You top yours to your liking!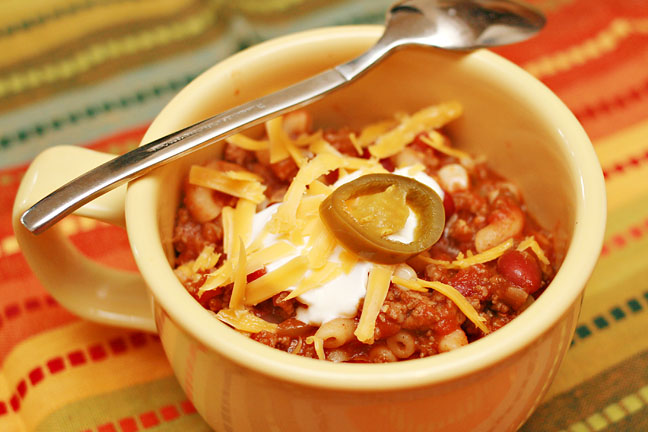 Chili Mac
1 pound lean ground beef
1 small onion, chopped
1 small green bell pepper, chopped
3 cloves garlic, minced
5 oz. uncooked elbow macaroni
3/4 cup water
1 tablespoon chili powder
1 teaspoon ground cumin
1/2 teaspoon ground black pepper
1 (15 oz) can kidney beans, drained
1 (14 oz) can diced tomatoes
1 cup frozen whole kernel corn
1 (8 oz) can tomato sauce
1 (6 oz) can tomato paste
Cook macaroni according to package directions; set aside. Meanwhile, cook ground beef, onions, pepper, and garlic over medium-high heat until browned. Drain fat, if needed. Return beef mixture to pan; stir in all remaining ingredients. Simmer until ready to serve. Top individual servings with cheese and sour cream, if desired.