Posted by Mandy on June 6th, 2011. Filed under:
Appetizers
,
Dips
,
Mexican
.
As some of you already know, my six year old son has a very serious illness that requires numerous surgeries (17 and counting), and weekly appointments to have his blood counts checked, among numerous other specialists we have to see regularly. We visit the local Children's Cancer Clinic to have his blood counts checked, and one of the nurses there shared this yummy recipe with me. She just told me what to put it in, without the amounts so I just kind of added ingredients to my taste. I'm a complete sucker for corn dip…no matter what's in it I always love it so it goes without saying that this is one of my favorites now. It is also so unbelievably easy that you won't even believe it. I made it for Memorial Day weekend to take to my family's annual family reunion and it was very well liked. At least I assume it was because there was none leftover for us to take home! I think that the addition of a few pickled jalapeno slices mixed in would send this dip completely over the top of delicious mountain. I added a few to the top for garnish for this photo but didn't stir them in since I knew kids would be eating this dip and I didn't want it to be too spicy for them. I know you're gonna love this one!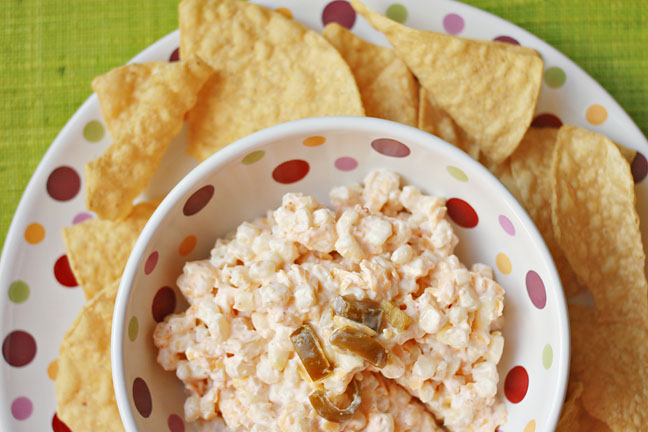 I could literally eat this entire dish myself. I'm not even kidding you!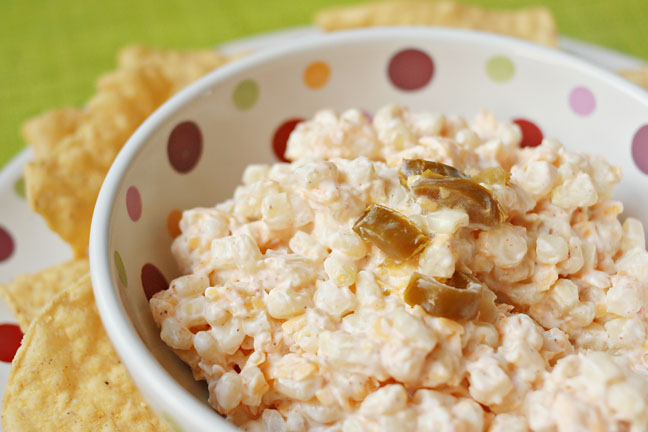 Erin's Corn Dip
2 cans shoepeg corn, drained
1/2 – 1 cup sour cream
1 1/2 cup shredded sharp Cheddar cheese
Tony's Chachere's Creole seasoning, to taste
In a medium mixing bowl, stir together corn and cheese. Mix in sour cream, starting with 1/2 cup and increasing to your desired consistency. Add Creole seasoning to taste. Serve with tortilla chips or corn chips.