Posted by Mandy on May 31st, 2011. Filed under:
Candies
,
Chocolate
,
Desserts
,
Kids Can Help
,
Trifles
.
I made five different recipes this weekend for my family's annual reunion. All of the recieps were gone in a flash, but this particular recipe was gone faster than a flash. Seriously. I had brought the dessert in and put it in the fridge while we ate lunch. After lunch, when everyone was fixing desserts I pulled it out and fixed the first serving for myself. I literally walked outside, sat down for a minute or two eating my portion, went back inside and it was COMPLETELY GONE! There were only a couple of brownie crumbs left in the bottom of the trifle dish. I was so happy that it was so well liked!
In addition to being sinfully delicious, this recipe is super easy to prepare and if served in a trifle dish, makes a beautiful presentation! I don't have a picture of the trifle dish I prepared because I knew it would be hard to take a photo of it before anyone got to it at the reunion, so I just made a tiny version for this photo. These little antique cups make the perfect presentation for individual servings too though, so if you have something like them try them out too! I feel sure that your family will enjoy this yummy summer dessert just as much as mine did!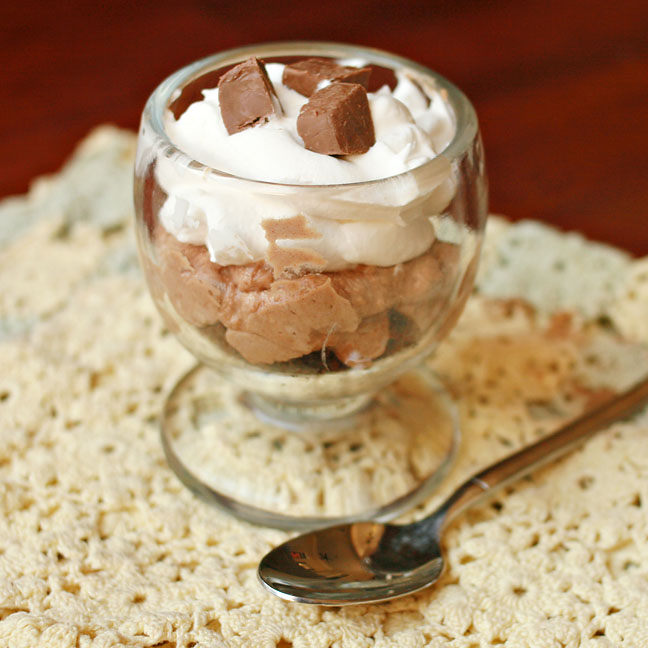 Peanut Butter and Brownie Trifle
1 (20 oz) package fudge brownie mix
2 cups whipping cream, divided
1 cup milk chocolate morsels
1 cup peanut butter morsels
2 teaspoons vanilla extract
1 1/2 cups peanut butter and chocolate candies (I used Dove brand), chopped
1 (8 oz) container frozen whipped topping, thawed
Prepare brownie mix according to package directions; cool and crumble. Cook 2/3 cup whipping cream with peanut butter and chocolate morsels in a small saucepan over low heat, stirring constantly, until melted and blended; remove from heat, and stir in vanilla. Chill 30 minutes. Beat remaining 1 1/3 cups whipping cream at high speed with an electric mixer until soft peaks form. Stir one-third of whipped cream into chocolate mixture. Fold in remaining whipped cream. Layer half of crumbled brownies in bottom of a trifle dish or bowl; top with half of chocolate mixture, half of chopped peanut butter candies, and half of whipped topping. Repeat procedure with remaining brownies, chocolate mixture, chopped peanut butter candies, and whipped topping. Serve chilled with more candies and/or morsels on top.
Recipe adapted from: http://www.myrecipes.com/recipe/peanut-butter-brownie-trifle-10000000549682/