Posted by Mandy on May 25th, 2011. Filed under:
Greek
,
Main Dishes
,
Pasta
,
Salads
,
Side Dishes
,
Uncategorized
,
Vegetables
.
This recipe comes from my cousin, Kathy. You may remember a few of her recipes that are already on here like her Mandarin Pasta Salad (http://www.thesupermomchef.com/?p=613). If you've tried it then you doubt know how good Kathy's recipes are. She's a wonderful cook, and also a pretty sweet person. We're pretty lucky to have her in our family. Not that she'll ever see this recipe to know what I'm writing, because she claims she's computer illiterate and can't find my blog on the world wide web. Anyway, here's another one of her delicious recipes. If we get lucky, she may just make some for the family reunion we are having this weekend. *fingers crossed*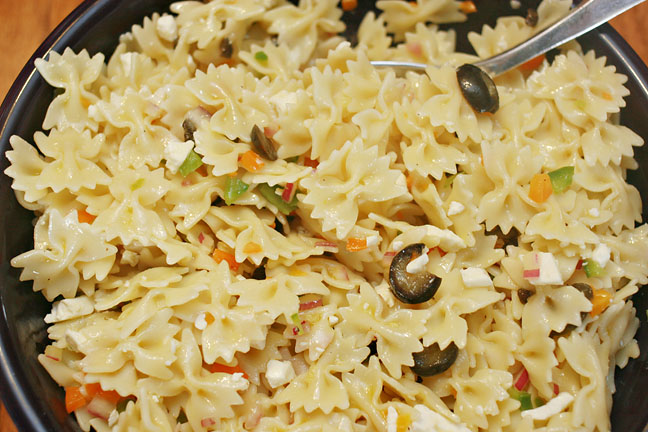 Greeky deliciousness!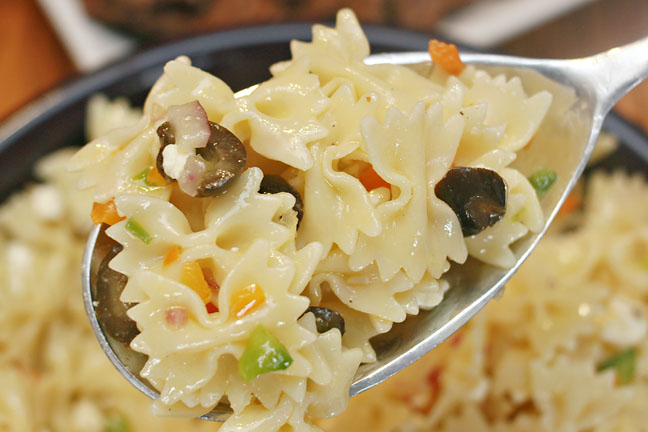 Greek Pasta Salad
1 box bow tie pasta
1 green bell pepper, chopped
1 red bell pepper, chopped
1 small red onion, chopped
1 can sliced black olives
1 package crumbled feta cheese
1 recipe Greek dressing (see below)
Boil pasta according to package directions and rinse well with cold water. Toss with all ingredients except the feta cheese. Toss the feta cheese with the salad just before serving.
Greek Dressing
1/2 cup white vinegar
1/2 cup olive oil
1 tablespoon lemon juice
2 cloves garlic, minced
dash of red pepper
Whisk all ingredients together well.