Posted by Mandy on May 20th, 2011. Filed under:
Chocolate
,
Cookies & Bars
,
Desserts
,
Kids Can Help
,
Snacks
.
Oh my heavens, this is probably one of the most delicious things that has ever come out of my oven! You all know about my crazy obsession with peanut butter and chocolate desserts, right? When I saw this recipe, I knew right away that I just had to make it. Unfortunately I saw it about two days before we left for Boston a couple weeks ago, so amidst all of the last minute things that I had to do, baking just wasn't an option no matter how bad I wanted to be doing just that.
So now that we've been home about a week, I just couldn't take it anymore. I had to get right into the kitchen and make these. I got the urge yesterday and had everything in the pantry to make it (jackpot!), but unfortunately when I tasted them they were a huge disappointment. I hate when that happens! Wasting the ingredients, the time you take to make them, the excitement you have for trying something new…and then to be let down? It's so frustrating!
So this morning when I got up, I chunked the bad batch in the garbage and decided to go with a plan that I knew would work. I loved the peanut butter cheesecake part of the recipe I had found, so decided not to change that part but the brownies needed some work. And since I've never found a from-scratch brownie recipe that I love, I decided to stick with what I knew would work and just pull out a box mix. Yes, I love to cook and I very rarely ever cook from a box, but there are some instances where you just can and not feel bad about it. And cooking brownies is one of those times because let's face it…boxed brownies are delicious! So here's the recipe that I came up with. I know you're gonna go nuts over them just like I did! Now, can someone come up with an excuse for the pan full that I made this afternoon to be half empty when my hubby gets home???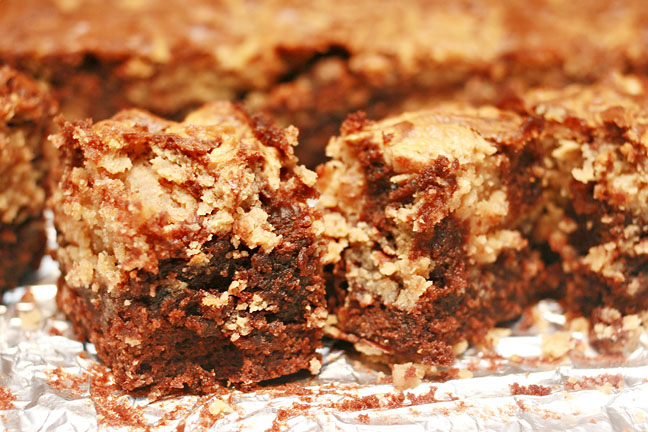 Peanut Butter Cheesecake Swirl Brownies
1 family size box brownie mix
ingredients needed for brownie mix (usually water, oil, and eggs)
1 (8 oz) package cream cheese, softened
1 large egg
1 teaspoon vanilla
1/2 cup sugar
3/4 cup creamy peanut butter
Preheat oven to 350 degrees F. Line an 8×8″  or 9×9″ baking dish with foil; spray with non-stick cooking spray. Prepare brownie mix according to package directions (follow the recipe for the fudgy brownies, NOT the cake-like brownies). Pour half of the brownie mixture into the prepared baking dish. In a separate mixing bowl, combine the cream cheese, sugar, egg, vanilla, and peanut butter; stir until completely incorporated. Drop the peanut butter cheesecake mixture by spoonfuls (using about half of the mixture) on top of the brownie mix in the baking dish. DO NOT SWIRL! Top with the remaining brownie batter and smooth so that you can no longer see the peanut butter mixture beneath. Drop the rest of the peanut butter cheesecake mixture by spoonfuls on top of the brownie batter. Using a toothpick or knife to drag through the batters, swirl the two together. Bake until the center is set and the brownies are pulling away from the sides of the dish, about an hour. Allow to cool (trust me, they are much better when they have had time to cool!) on a wire rack for 10 minutes, then remove the foil all in one piece to the same wire rack. Allow to cool completely to room temperature.
Recipe idea and peanut butter cheesecake recipe from: http://lisamichele.wordpress.com/2009/08/04/the-ummm-best-peanut-butter-cheesecake-swirl-brownies-ever/