Posted by Mandy on May 19th, 2011. Filed under:
Breads
,
Breakfast
,
Cakes
,
Cookies & Bars
,
Desserts
,
Kids Can Help
,
Pies & Pastries
,
Southern Classics
,
Uncategorized
.
Variations of this recipe are all over the place, mostly in old cookbooks that I got from my grandmother when she moved. I went to visit her one day and she had a box full of cookbooks sitting in her garage and said she was fixing to take them to give away. My goodness, my heart almost stopped! Giving cookbooks away is, in my humble opinion, a sin. Every cookbook is usable, including the old ones that have recipes that usually have to be altered in some way. So I kindly

took said cookbooks off of her hands and went to town looking through them. What a treasure for me and boy did I have fun looking through them! There were about 1,000 variations of this particular recipe in those cookbooks, and since I didn't use any one particular recipe I can't really give credit for all of them. So here's my version of this delicious, perfect-for-brunch (or anytime) treat! It reminds me of a cheese danish in some way, but without all the effort (or expense if you're buying it in a bakery).
P.S. I think this may be my hubby's second favorite thing I've ever made (his first favorite will always be my Pecan Pie Cake).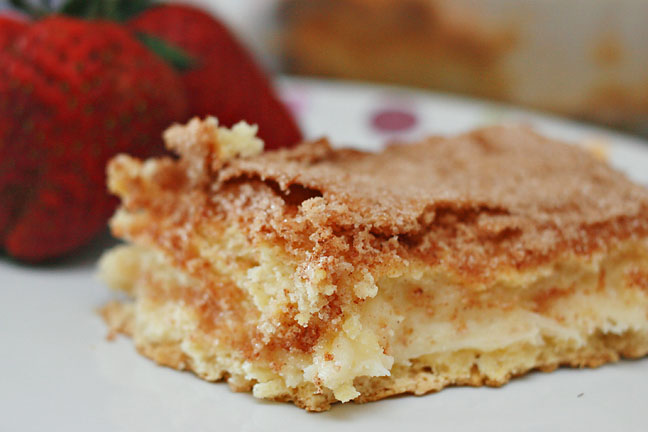 Cinnamon Sugar "Danish"
2 cans Crescent rolls
2 (8 oz) packages cream cheese, softened
1 1/2 cups sugar
1 teaspoon vanilla (don't use imitation if you love me…use the real stuff!)
1 teaspoon cinnamon
1 egg white
Preheat oven to 350 degrees F. Unroll one can of Crescent roll dough and spread it into a greased 9×13″ baking dish, pinching the seams to seal. In a medium mixing bowl, mix together (either by hand or with a mixer) cream cheese, one cup of the sugar, and the vanilla. Spread over the Crescent roll. Top the cream cheese mixture with the remaining can of Crescent roll dough in the same manner as the first can. In a small bowl, beat egg white. Brush the egg white over the top layer of Crescent roll dough with a pastry brush (you will have some leftover). In another bowl, mix together the remaining one-half cup sugar and the cinnamon. Sprinkle over the egg whites. Bake at 350 degrees until done, about 30 minutes. Serve hot if you just can't help it or allow to cool if you can.

Store leftovers in the refrigerator.