Posted by Mandy on May 17th, 2011. Filed under:
Desserts
,
Fruit Desserts
,
Holiday Favorites
,
Salads
,
Snacks
,
Southern Classics
.
I call this recipe Favorite Fruit Salad, because it's just that…everyone's favorite fruit salad. My husband is the only one that I know that has ever tasted this yummy treat and not liked it. But then again, he's a little weird so that doesn't surprise me. HA! Anyway, this is another simple dish that you can throw together in a hurry. It also makes quite a bit, so there's always plenty to share. Now that I think about it, I can't remember a single family gathering during the last 15 years when this HASN'T been on the table, sitting next to a stack of small pewter fruit bowls.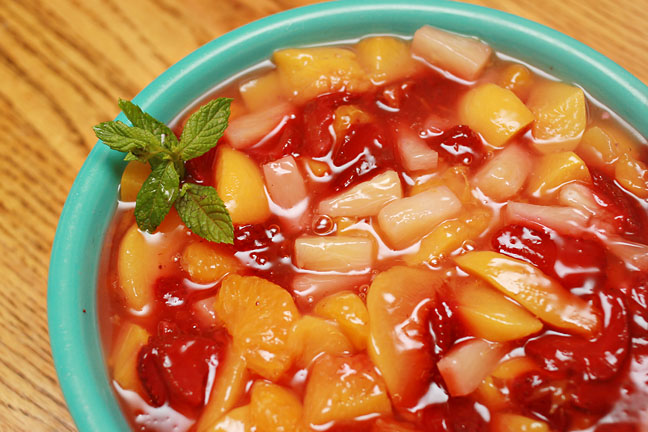 Favorite Fruit Salad
1 can pineapple chunks, drained
1 can peach pie filling
1 (10 oz) package frozen sweetened strawberries, thawed
1 can mandarin oranges, drained
2 bananas, sliced*
Mix all ingredients together and chill.
*The bananas should only be added shortly before serving the salad to keep them from browning. If you are planning on having leftovers, reserve some salad to the side without bananas, and only add them when you serve the leftovers.