Posted by Mandy on April 12th, 2011. Filed under:
Cakes
,
Desserts
,
Fruit Desserts
,
Southern Classics
.
This yummy recipe comes to you from yet another friend…I love it when friends are willing to share their recipes! This is one super easy, delicious cake. I happened to have fresh Louisiana strawberries on hand so I sliced those little babies up and topped them with some sugar, and left them to macerate. They make their own "juice" that way, but you knew that, right? So by the time the cake was done, the strawberries were all juicy and ready to be served. Only thing that could make it even better was some whipped cream. Mmmmmmmmmmm!!!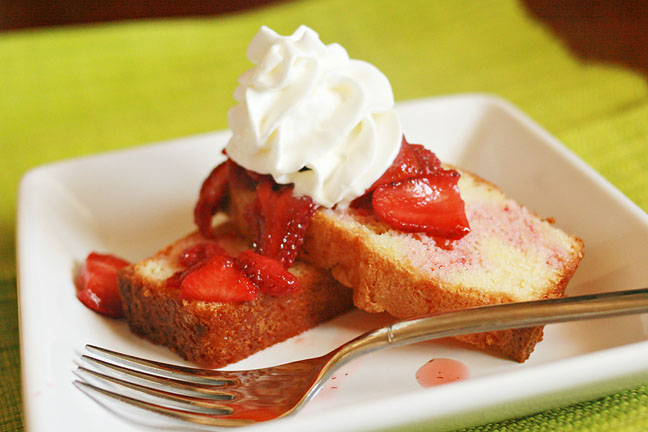 Cream Cheese Pound Cake
1 butter recipe cake mix
1/2 cup water
1/2 cup sugar
1/2 cup vegetable oil
4 large eggs
1 (8 oz) package cream cheese, softened
2 tablespoons margarine or butter, softened
Preheat oven to 350 degrees F. In a large mixing bowl, mix together cake mix, water, sugar, oilk, and eggs. Add cream cheese and margarine/butter. Stir all to combine well. Pour into a greased and floured bundt pan or two loaf pans until the cake tests done with a toothpick. A bundt pan should take about 45 minutes, but the loaf pans won't take that long.