Posted by Mandy on March 28th, 2011. Filed under:
Desserts
,
Fruit Desserts
,
Kids Can Help
,
Salads
,
Southern Classics
.
Yep, you guessed it! This is another recipe straight from my famous Mae Mae! I'm sure that you are now catching on to how great of a cook she really was. I remember, with this salad in particular, she'd go through phases. She'd make it over and over for a couple of weeks and then go for months again without making it at all. We were all happy to see this yummy salad, which is actually more of a dessert, show up on the bar (she didn't have a kitchen table) for lunch. I was sure everyone in the good ole South had had this dessert at some point, but last week when I made it I sent some with my hubby to his parents and they had never had it before. My father-in-law said if he had never been told, he'd never have known that the crunchy layer is made of pretzels instead of pecans like most people normally assume. Louisiana strawberries are at their yummiest right now, so I've made this yummy conconction twice in one week! I know without a doubt that you'll enjoy it just as much as we do!
Oh, and on a side note, I've decided to make some changes to the blog. Sometimes I think that my step-by-step photos are more annoying than they are helpful so I've decided to start posting just a final photo of the prepared recipe. If a recipe is particularly difficult, or would benefit by having step-by-step photos, I'll still be posting them but if the recipe is pretty straightforward, I'll just post the final photo.

Without further waiting, here ya go!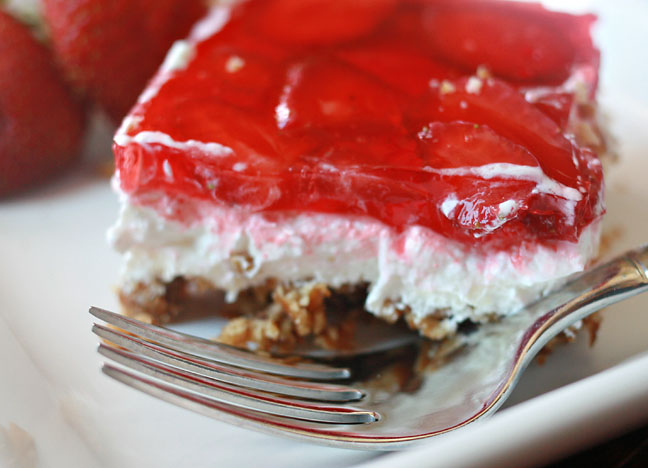 Cool, creamy, crunchy, sweet, tart goodness all in one bite…oh yeah!!!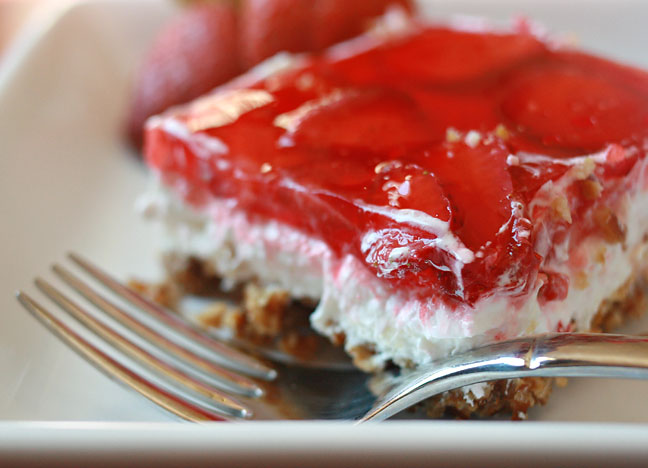 Strawberry Pretzel Salad
2 cups crushed pretzels
3/4 cup melted butter
3 tablespoons sugar + 1 cup sugar, divided
1 (8 oz) package cream cheese, softened
2 cups Cool Whip (I just use the small package and don't measure)
1 (6 oz) box strawberry Jell-O
1 quart fresh strawberries, washed & sliced
Preheat oven to 400 degrees F. Combine pretzels, butter, and 3 tablespoons sugar. Place in a 13×9″ baking dish; bake 10 minutes and set aside. Cream 1 cup sugar and cream cheese; fold in Cool Whip. Spread over completely cooled crust. Dissolve Jell-O in 2 cups boiling water. Chill until partially set. Add sliced berries and mixture over cream cheese layer. Chill until firm.