Posted by Mandy on March 16th, 2011. Filed under:
Chicken
,
Main Dishes
,
Pies
,
Quick & Easy Weeknight Meals
,
Southern Classics
,
Uncategorized
,
Vegetables
.
The first time that I had this dish was when I was in the 8th grade. We had just moved into our new house in the country and my mom had just had surgery, so I was taking care of the tasks that she couldn't do. Our new neighbors had sons in my grade in school, so they brought us dinner and this yummy dish was it. We all five sat down to eat that night and devoured it! The most wonderful thing about it was that she attached the recipe to the dish so that we could make it again whenever we liked, which we have done many times over the years. It's not your traditional chicken pot pie with a crispy crust, but this one is by far one of the best that I've ever had! Oh, and sorry 'bout the terrible pictures today. I made this last week and was apparently not paying one bit of attention to what I was doing because my camera settings were all over the place and well…none of the settings were right. Next time I make it I promise I'll update this post with a better picture.
You need these things to make it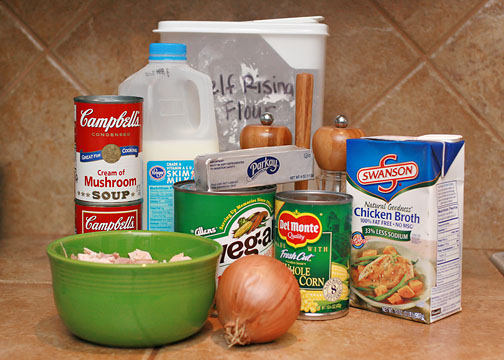 Chop the onion, combine that with the chopped chicken, chicken broth, canned soups, drained Veg-All, drained corn, salt and pepper. Pour into a 9×13″ baking dish that has been sprayed with non-stick cooking spray.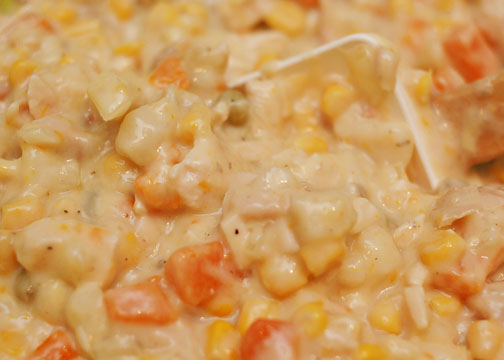 Mix together the milk, butter, and flour. Stir until well combined. Pour over the vegetable mixture and spread it out, covering the entire dish. Bake at 350 degrees until the crust is golden brown. Serve hot.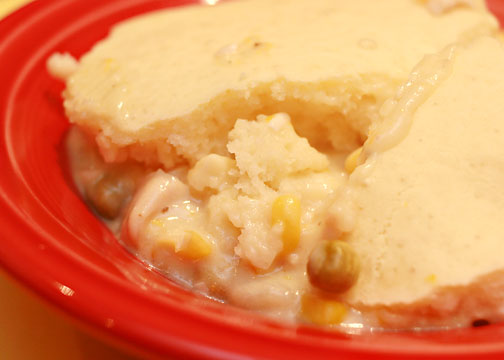 Chicken Pot Pie
2 cups chopped, cooked chicken
2 (15 oz) cans Veg-All, drained
1 (15 oz) can whole kernel corn, drained
salt & pepper, to taste
1/2 cup chopped onion
1 (16 oz) can chicken broth
1 can cream of mushroom soup
1 can cream of chicken soup
1 stick butter, melted
1 1/2 cups self-rising flour
1 cup milk
In a large mixing bowl, stir together the corn, onions, salt, pepper, soups, Veg-All, chicken, and chicken broth. Pour into a prepared 9×13″ baking dish. In a separate bowl, stir together the flour, butter, and milk. Pour over the vegetable mixture, spreading it to cover the entire dish. Bake at 350 degrees until the crust is golden brown.