Posted by Mandy on March 9th, 2011. Filed under:
Asian
,
Chicken
,
Main Dishes
,
Pasta
,
Salads
,
Uncategorized
,
Vegetables
.
Okay, before you want to roll your eyes and think, "Like I would eat that!" just give me a chance to explain. The reason why I know you're thinking that is because that's the same exact thing I thought when I first saw this recipe. My cousin, Kathy, sent it to me and it sounded absolutely disgusting to me…I won't lie to you. Then I remembered that every single recipe Kathy has ever shared with me was absolutely delicious, even though most didn't sound too appealing before trying the recipe out. So I thought I'd give it a shot, and boy am I glad that I did! Kathy held true to her reputation of sharing great recipes because this salad was to die for! If you like Asain flavors, you'll particularly like this salad. I made it for my son's birthday party last year to serve with burgers and hot dogs and everyone went NUTS! Even my aunt who is an extremely picky eater fell in love with the first taste of this delicious salad. So there…go try it and then come back to me and tell me how much you love it just like I had to tell Kathy.

We'll start by making the dressing for the salad. You'll need these items: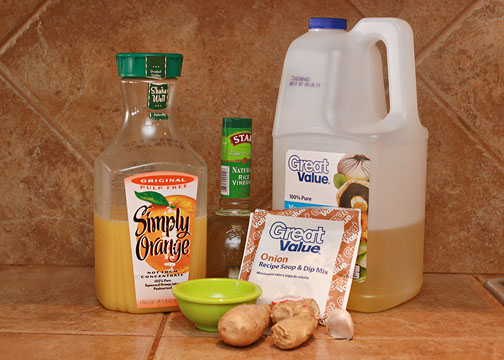 Mix all ingredients together using a whisk; set aside. It should look something like this.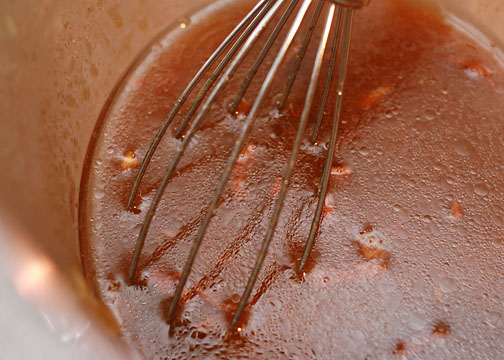 Meanwhile, boil the pasta. Rinse with cold water to stop the pasta from cooking further. Grab the items you'll need for the salad, which is pictured below: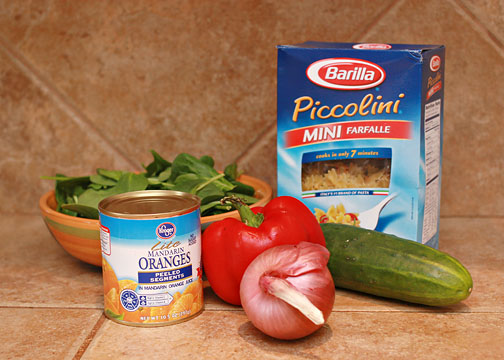 Remove the seed from the cucumbers, chop the onion and bell pepper, drain the oranges. You know, you gotta make it look pretty. Mix the vegetables and chicken (not pictured above) with the cooled pasta, and pour the dressing over all. Top with toasted slivered almonds (forgot to take a photo of this because I was so excited to eat I forgot to add them to my salad). Serve with baby spinach, take a bite, and then you've officially arrived in salad heaven!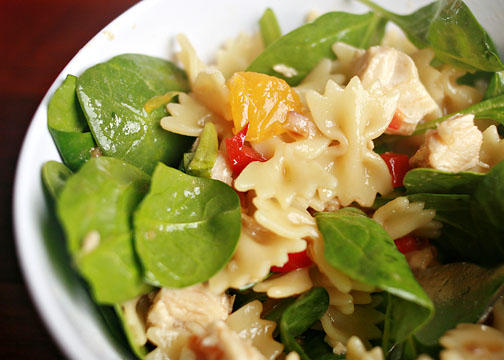 Mandarin Pasta Salad
1 (8 oz) package cooked & cooled farfalle pasta
1/2 cucumber, scored, seeded & sliced
1/2 cup diced red bell pepper
1/2 cup chopped red onion
1 (6 oz) package fresh baby spinach leaves
2 cups diced, cooked chicken
1 (11 oz) can mandarin oranges, drained
1/2 cup slivered almonds, toasted
1 recipe Mandarin Asian dressing
Mix vegetables, pasta, almonds and chicken together. Pour the dressing over the salad and toss. Serve immediately.
Note: You can prepare the pasta salad and store, refrigerated, and toss with spinach when ready to serve.
Mandarin Asian Dressing
1 teaspoon finely chopped, peeled gingerroot
1 garlic clove, pressed
1/3 cup rice vinegar
1/4 cup orange juice
1/4 cup vegetable oil
1 teaspoon sesame oil
1 envelope onion soup mix
2 teaspoons sugar
Whisk all ingredients together until combined well.