Posted by Mandy on March 2nd, 2011. Filed under:
Candies
,
Chocolate
,
Desserts
,
Holiday Favorites
,
Slow Cooker
,
Southern Classics
.
My Nana is such a little sweetheart. She made these yummy treats for my kids and gave them to us one day when we stopped by for a visit. That week I had decided I was going to start eating better, and trying not to snack between meals as much. When I arrived at her house, I had just had lunch with my mom and I was definitely past the full point. When we walked in and she gave the kids these I simply said, "No, thank you," and walked away. Yeah ummmmm….that didn't last! My baby (okay, she's not a baby anymore, but she's MY baby) was eating one and made me taste a bite of hers and after that I just couldn't stop! I was defenseless in saying no to these yummy little treats! I have had crock-pot candy before, but nothing that ever tasted like this. Most of the recipes I've tasted in the past taste like burned peanuts, which is NOTHING like these taste. She gave me the recipe and I told her that I just HAD to give ya'll the recipe for these little yummy chunks of goodness because I  knew ya'll would all love them as much as me my kiddos did. So here's the recipe so that you can make some of your own! Oh, and I don't have any progression photos of this recipe because I've never made these myself. They are so good that I couldn't wait that long to show them to you. I just took photos of the ones she gave us so that I can blog them for ya'll. Aren't I sweet?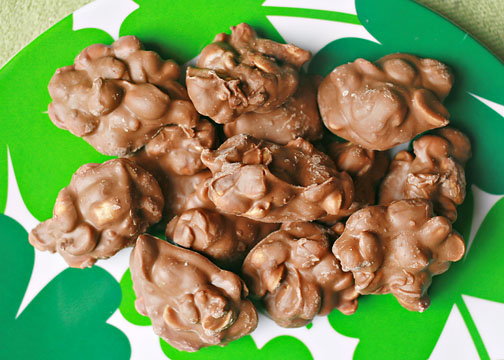 Nana's Crock-Pot Candy
1 (16 oz) jar salted peanuts
1 (16 oz) jar unsalted peanuts
1 (12 oz) bag milk chocolate chips
1 bar German sweet chocolate, broken into pieces
2 (1.5 lb) packages white almond bark, cut into pieces
Layer all ingredients in a crock-pot or slow cooker in the order listed. Cook on low for three hours without opening the lid. Stir and drop by teaspoonfuls onto waxed paper. Makes 150-160 pieces.
Note: The almond bark will appear unmelted even after the three hours, but after stirring it will blend well.