Posted by Mandy on February 25th, 2011. Filed under:
Cakes
,
Crisps & Cobblers
,
Desserts
,
Fruit Desserts
,
Holiday Favorites
,
Southern Classics
,
Uncategorized
.
My dad is a huge cherry dessert fan. Every time I think of him eating a cherry dessert, I am reminded of a hilarious story my mom once shared with me. She was pregnant with my big brother and had been put on bed rest due to hypertension. It was my parent's first anniversary and although she was on bed rest, she really wanted to make my dad something special. So she decided she'd make one of his favorites, cherry pie. After dinner, he had a slice and then later on that night he decided he wanted another slice, went in the kitchen to fix it, and a mouse was sitting there eating the pie straight out of the dish. Can you imagine? All that work and risking going into labor only to have a little mouse ruin it all for you? I am sure she was furious at the time, but hearing the story now always make me laugh.
This isn't a cherry pie, but I can promise you that it's every bit as delicious. And it's just about one of the simplest desserts you could ever make. I like to make this at family gatherings, just for my dad because I know how much he loves cherry desserts.

Yep, you'll only need a few things. I'm a simple girl like that.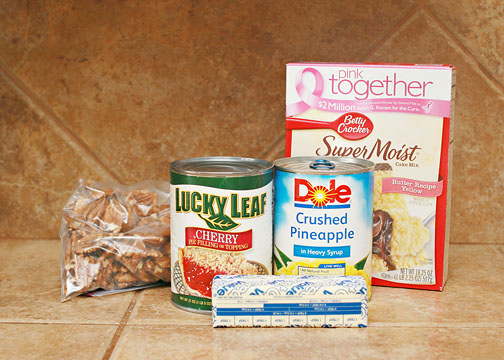 Spray a 9×13″ baking dish with non-stick spray. Pour the can of cherry pie filling over the bottom of the dish. It probably won't be enough to cover the entire bottom of the dish…just keep moving. Trust me here. It's gonna be delicious! Then spread the pineapple over the top of the cherries. And don't you even THINK about draining that pineapple. The juice adds to the flavor and moistness of the dessert!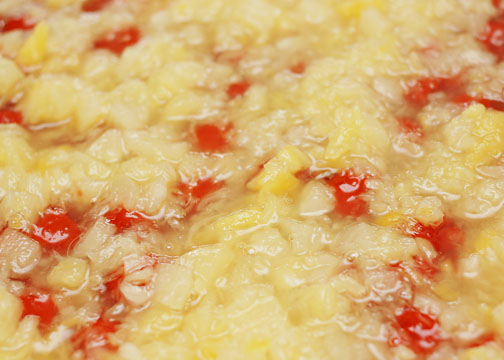 Now sprinkle the cake mix over the fruit. You're probably gonna be thinking, "That Mandy girl is crazy! This dish is gonna be way too dry!" But again…trust me! Then cut the butter into small pieces and put the chunks on top of the cake mix. Sprinkle the nuts all over the entire dish.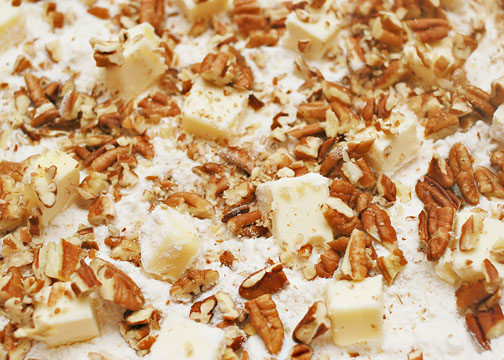 Now bake that baby at 350 degrees until hot and bubbly, about 45 minutes. Serve warm with a big scoop of ice cream, if you like it that way.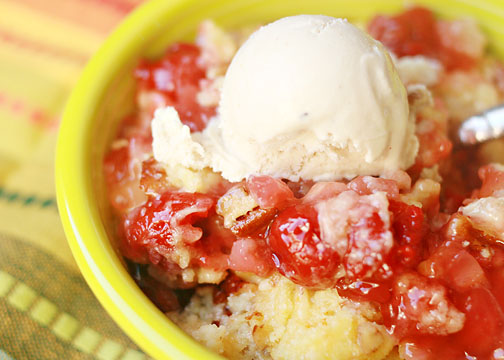 You know you want some…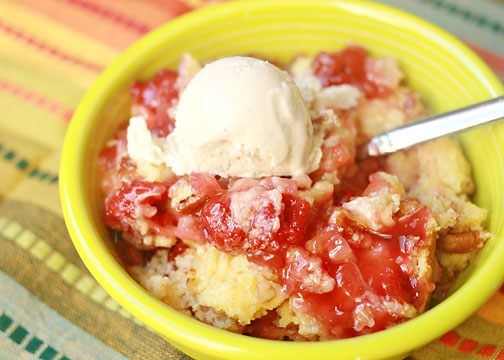 Now somebody come on over to my house and help me eat this yummy treat! I am the only one in my house that eats cherries and I DO NOT need to eat the entire dish myself.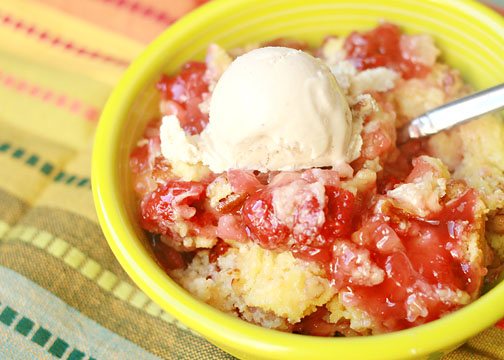 Lazy Man's Cherry Cobbler
1 (20 oz) can crushed pineapple
1 (21 oz) can cherry pie filling
1 butter recipe or yellow cake mix
1 1/2 stick butter
1 cup chopped pecans
Preheat oven to 350 degrees. Spread the pie filling in the bottom of the dish; top with the crushed pineapple (undrained). Sprinkle the cake mix over the fruit. Cube butter into small pieces and place evenly on the top of the cake mix; top with chopped pecans. Bake until golden and bubbly, about 45 minutes. Serve warm with ice cream, if desired.