Posted by Mandy on January 27th, 2011. Filed under:
Appetizers
,
Condiments
,
Dips
,
Mexican
,
Salads
,
Salsas
.
Ohmygosh! This is one of my all-time favorite things to take to a gathering of friends. Everyone devours this dip, and I always leave with an empty bowl. The freshness of this salad is unbelievable, and on top of all that, it's healthy too! This would be the perfect thing to take to a Super Bowl party! You can also double this recipe and serve it as a salad on the side of burritos or tacos. When my mom first made this salsa (this is her recipe), I was so sceptical of how it would taste since there was no oil in it, but I was blown away with the taste I got. It also lasts a long time in the fridge too, so you can eat on it for a while. Okay, I'll shut up now, as long as you'll promise me that you'll make it soon!
You need these few ingredients: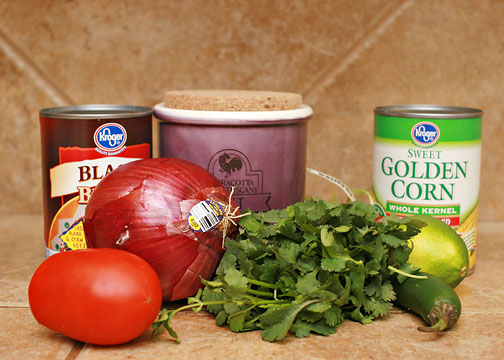 Mix all ingredients together in a bowl, easy peasy!
Store in the fridge until ready to serve. (Sorry about the change in lighting…I made the salsa last night and took the above photo then, but took the following two photos today.)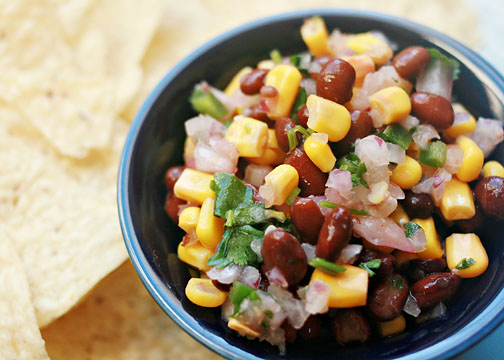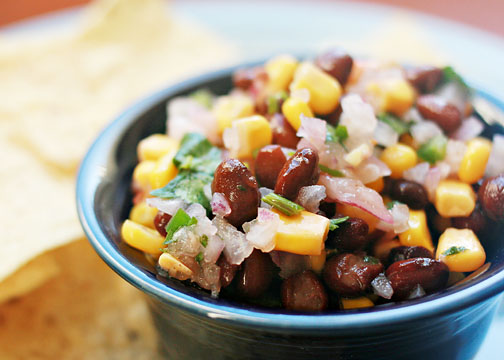 Corn & Black Bean Salsa (or Salad)
1 (15.5 oz) can whole kernal corn, drained
1 (15.5 oz) can black beans, drained & rinsed
2 plum tomatoes, seed & chopped (I leave these out)
1/2 medium red onion, chopped
1/4 cup minced fresh cilantro
1 jalapeno pepper, seeded & chopped (leave the seeds in if you like yours spicier)
1/4 cup fresh lime juice
1/4 teaspoon salt
Mix all ingredients; cover and chill until ready to serve. Great served as a salad or with tortilla chips for dipping.