Posted by Mandy on January 14th, 2011. Filed under:
Beef
,
Main Dishes
,
Quick & Easy Weeknight Meals
,
Sandwiches
,
Sauce
,
Southern Classics
.
Do you ever have one of those days when you are in the grocery store, standing in the middle of the aisle and unable to think of anything at all to fix for dinner? This rarely happens to me because once a week I make a menu for my family and we pretty much stick to it throughout the week, but I do occasionally have those days. When that happens, the first thing that always pops into my head is these sandwiches. They are delicious, and there aren't many things out there that are quicker to fix. Plus most of the items are things you already keep in your cupboard so you won't be standing in the aisle even longer trying to think of what it is that you need to fix them. Just grab some hoagie buns, deli sliced roast beef, swiss cheese slices, and a packet of au jus mix and you'll most likely have everything else at home.
You know the drill, this is what you need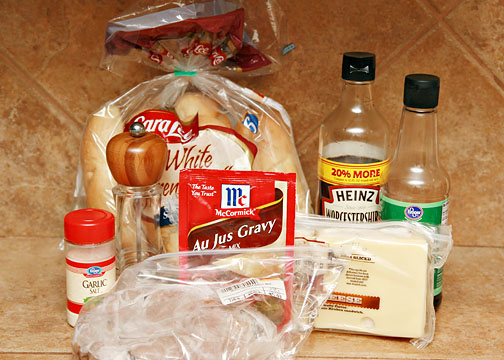 Heat a large (NOT non-stick) skillet over medium-high heat. Place small amounts of the roast beef at a time in the skillet, and heat until warm. Notice in this photo how shiny the silver skillet is. I'll explain why you want to pay attention to this later.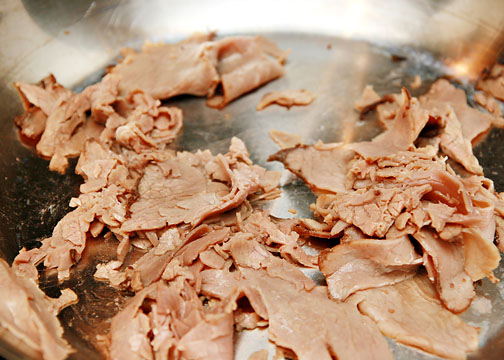 Once the meat in the pan is warm, remove to a plate and keep warm by covering it with foil. Continue cooking the roast beef in batches until done. I took this photo as I was fixing to remove the last of the roast beef from the pan. Notice how dark the skillet is now? All of those dark brown bits left on the bottom of the skillet are going to add so much flavor to your sauce!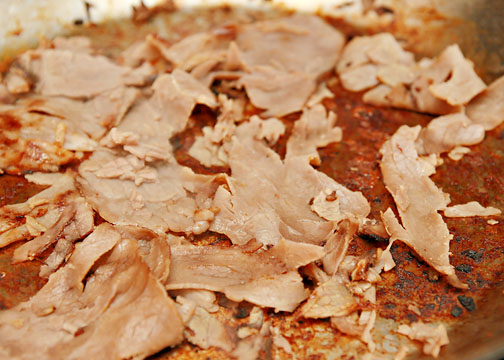 Mix up your au jus mix according to the package directions and pour into the pan, loosening the bits on the bottom of the pan with a wooden spoon as you go. Stir in the soy sauce, worcestershire sauce, pepper, and garlic salt (if using). Allow the beef to simmer in the mixture for about 10 minutes.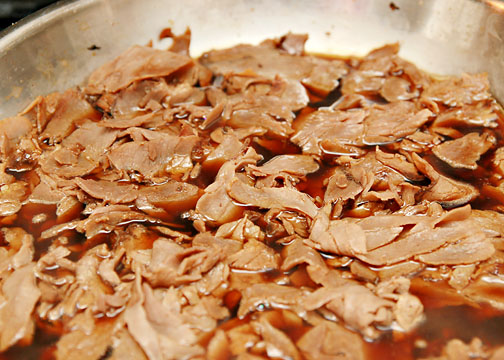 Split your hoagie buns in half, and stack the roast beef inside. Top with one slice of swiss cheese. I usually cut each slice of cheese down the middle so that it fits better on the bun. Place in a preheated 425 degree (F) oven and allow to bake until the cheese is hot and bubbly and the buns are toasted. Obviously, this photo was taken as I was putting the buns into the oven not taking them out. I forgot to take a photo after I removed them. Sorry! You can also see in this photo that I just placed our buns on top of our tater tots (hey, even Supermom uses frozen food sometimes!) so that I didn't have to mess up another dish.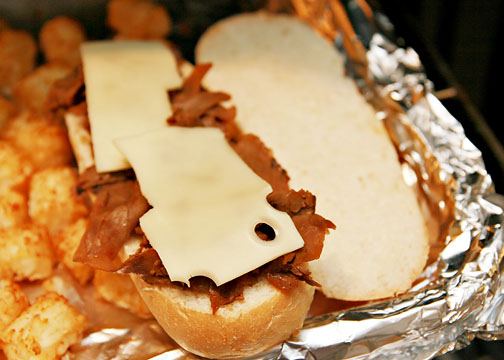 Once heated, dress as you'd like and serve hot with the au jus for dipping. Trust me, you need the dip…it totally makes this sandwich!!!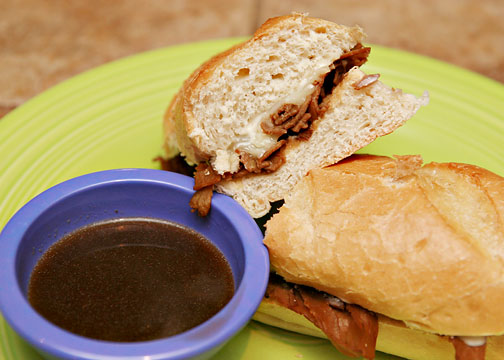 French Dip Sandwiches
1 pound deli sliced roast beef
1 packet au jus mix (we prefer McCormick)
1 teaspoon worcestershire sauce
1/2 teaspoon soy sauce
pinch of garlic salt (you can leave this out, if you'd like)
hoagie buns
sliced Swiss cheese
Place a large (not non-stick) skillet over medium-high heat. Place roast beef (in small batches) in the pan, allowing each slice to heat until hot. Remove to a plate covered in foil to allow the roast beef to stay warm while you cook the remaining beef. Prepare the au jus mix according to package directions. Pour the au  jus mix into the skillet, stirring with a spoon to loosen the brown bits stuck on the bottom. Stir in the garlic salt (if using), worcestershire sauce, soy sauce, and pepper. Return the roast beef to the skillet and allow to simmer for a short while, about 10 minutes. Split hoagie buns and top with roast beef and a slice of Swiss cheese. Bake (open faced) in a 425 degree (F) oven until the cheese is hot and bubbly. Dress as desired; serve hot with the au jus for dipping.