Posted by Mandy on January 6th, 2011. Filed under:
Beef
,
Main Dishes
,
Mexican
,
Quick & Easy Weeknight Meals
.
Hamburger meat, as we call it here in the South (elsewhere you probably call it ground beef) is a staple on the weekly dinner menu. It's easy to find, inexpensive, and cooks quickly. There are a gazillion different things to do with it, and this is one of my favorites. No matter how many times I ask Matt (my hubby) what he wants for dinner, he always answers tacos. I think he has Mexican blood, actually, because he eats Mexican food more than he eats American. So yesterday as I was heading to the store for our weekly groceries, I asked the all important question of what he wants and he once again answered "tacos!" When he got home from work, I whipped up some homemade salsa (I'll share that recipe later, it's to die for!), made some nachos for him and the kids to munch on, and I hit the kitchen making tacos. Here's our family recipe. It's just as easy as adding a few things in a pot and letting it cook!
You'll need these items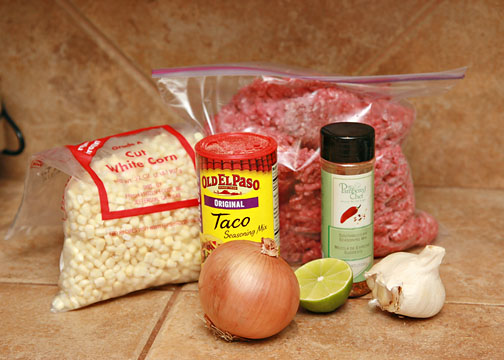 Chop the onion, and throw that along with the hamburger meat into a large pot (or Dutch oven). Brown the meat, while breaking it into smaller pieces.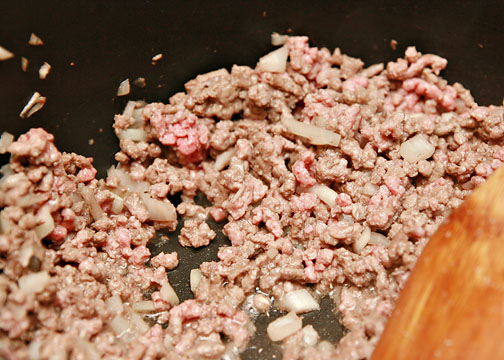 Once brown, drain the beef of the excess fat and return to the pan. Add the corn, lime juice, taco seasoning, garlic, water, and Southwestern seasoning. Cook on medium-high, uncovered until the liquid is cooked out.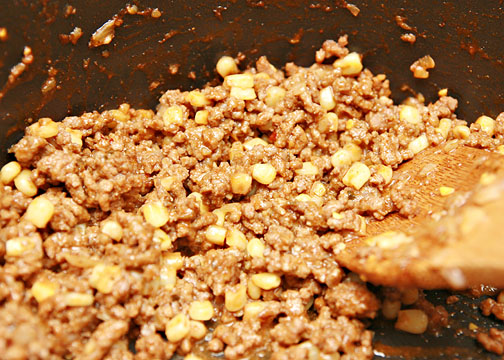 Serve with tortillas for burritos, or taco shells. Top however you like…some suggestions are lettuce, tomatoes, sour cream, shredded cheese, and salsa.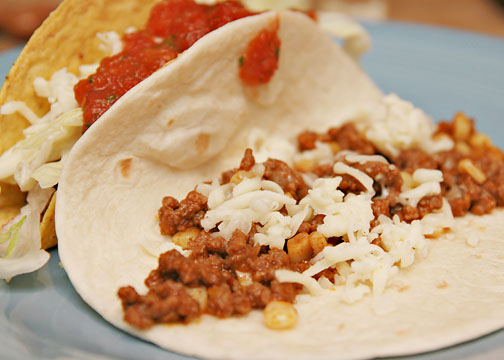 I bet you want tacos now, don't you???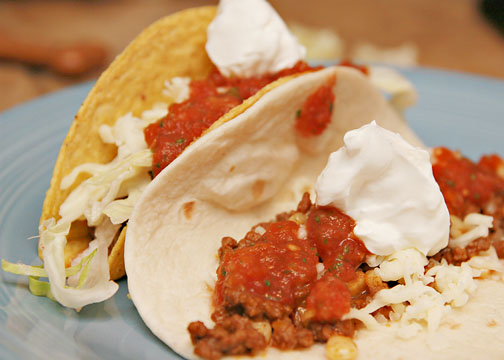 Taco Meat My Way!
1 pound ground beef
1 packet taco seasoning (I use nothing but Old El Paso…it has the most flavor)*
1 cup frozen corn kernals
1 tablespoon Pampered Chef Southwest seasoning**
Juice of 1/2 a lime
2 garlic cloves, pressed
1 small onion, chopped
1 cup water
Brown ground beef and onion in a large stockpot until cooked through, breaking it up as you go. Drain off the excess fat and return to the pan. Add remaining ingredients and cook over medium-high heat until the liquid is cooked out. Serve in taco shells or in tortillas.
*If you are using the large package of taco seasoning, as shown in the photo above, use 1/4 cup of the seasoning mix.
**You can leave this out if you don't have it, but trust me…you should have it! I use it on everything and I'm not just saying that because I sell it!