Posted by Mandy on January 4th, 2011. Filed under:
Salads
,
Southern Classics
,
Uncategorized
,
Vegetables
.
Where would you find people throwing some fatty ingredients like mayonnaise and sour cream on top of cornbread, and calling it a salad? In the good ole South, of course! If you make this get ready to eat one of the most delicious "salads" you've ever tasted! It's full of flavor and yummy goodness. This is the perfect dish to take to a pot luck or family gathering as it's got stuff in it that most everyone likes. Try it for your family today and let me know what you think!
I also want to ask those of you that are regularly reading the blog to please let me know by posting a comment every once in a while. I've been doing this blog on a trial basis, and am now realizing that it's going to be a lot of work. I am more than willing and actually happy to continue doing the work and posting as long as I know that people are reading, but if no one is finding it useful there is no sense in continuing. So just be sure to let me know if you're finding it useful. Thanks so much!
Okay, now on to the recipe…here's what you'll need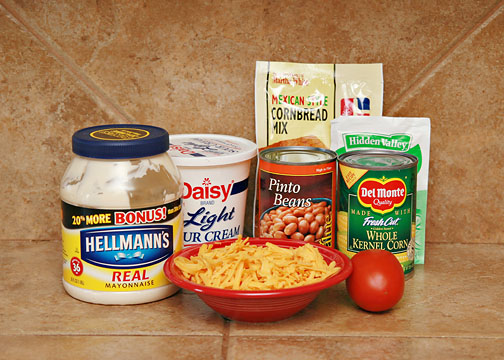 Start by mixing the cornbread mix according to package directions. Bake as directed, and allow to cool. Meanwhile, mix the mayonnaise, sour cream, and Ranch dressing packet together well. Set aside.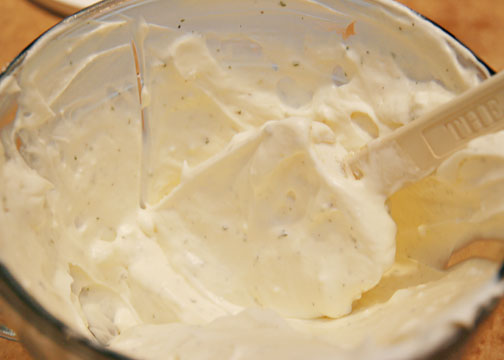 Crumble the cooled cornbread into the bottom of a bowl, baking dish, or whatever you'd like to use.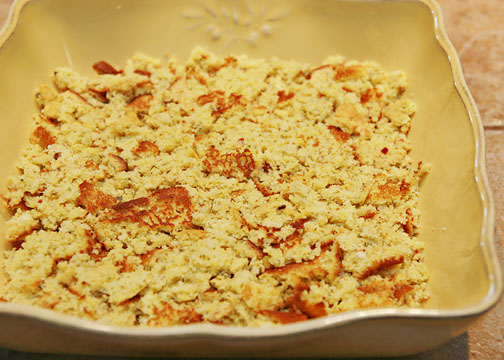 Layer the corn, pinto beans, tomatoes, and cheese (not pictured here) in order on top of the cornbread layer.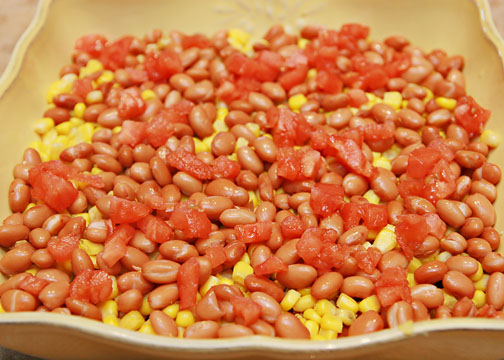 Top with the mayonnaise/sour cream mixture. Store in the fridge until you're ready to serve.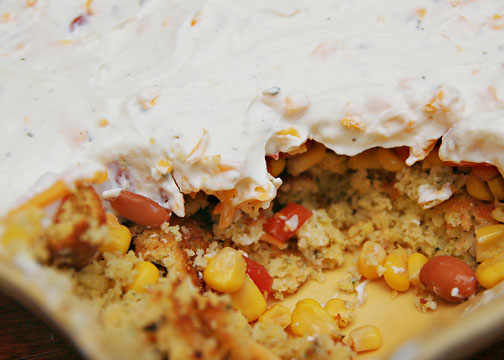 Mmmmmmmmmm….good!!!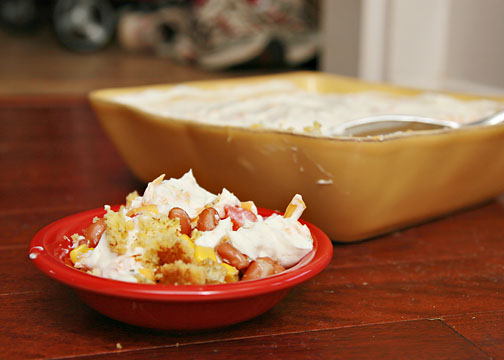 Cornbread Salad
1 cup mayonnaise
1 cup sour cream
1 packet Ranch dressing mix (NOT the dip mix)
1 can whole kernal corn, drained
1 can pinto beans, rinsed and drained
1 tomato, chopped
2 cups Cheddar cheese, shredded
1 packet Mexican cornbread mix
Mix and bake cornbread mix according to package directions. Set aside and allow to cool completely. Meanwhile, mix together the mayonnaise, sour cream, and dressing mix. Crumble the cornbread into a bowl or serving dish (a baking dish will work well). Top with layers of each: corn, pinto beans, tomatoes, and cheese. Spread the mayonnaise/sour cream over the top evenly. Refrigerate until ready to serve.
Note: You can also use any other vegetables that you'd like in this recipe. Some that I've tried and liked are bacon, green onions, and olives.