Posted by Mandy on December 18th, 2010. Filed under:
Candies
,
Chocolate
,
Cookies & Bars
,
Desserts
,
Holiday Favorites
,
Kids Can Help
.
A few days ago I posted on my Facebook asking for family recipes from friends that they like to make this time of year. A sweet friend and huge prayer warrior for my son sent me a message suggesting that I make Hello Dolly bars. Since I have never made these, but have heard about them for years I decided to look in an old, old cookbook of my grandmothers. Turns out it was in there! But, sadly it called for coconut and that's just one of my LEAST favorite things on this earth so I decided to leave it out. These turned out to be absolutely delicious! Since I made a few changes to the recipe, I decided to call them Hello Mandy bars for fun.

You'll need these items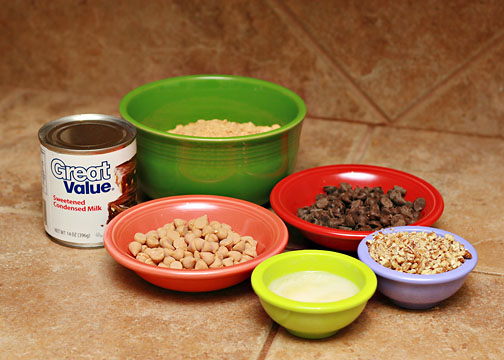 In a small bowl, mix together the graham cracker crumbs, water (not pictured), and butter. Stir with a fork to combine.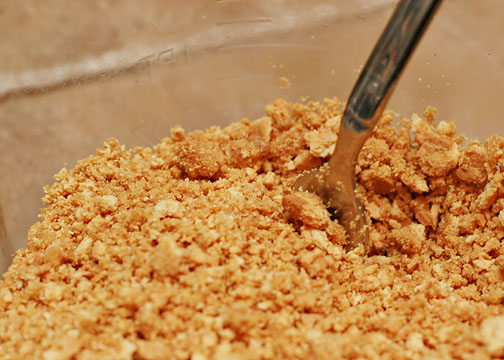 Pour into an 8×8″ baking dish. Pat gently…no need to pound it down.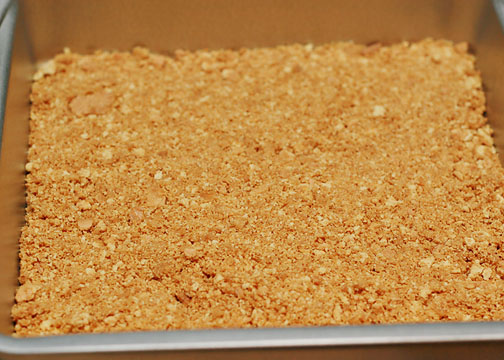 Sprinkle that layer with the chocolate chips and butterscotch chips, followed by the chopped pecans.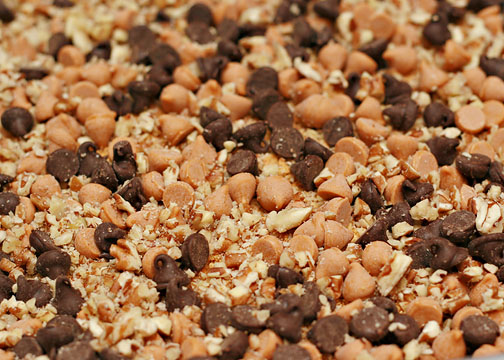 Pour the sweetened condensed milk over all of that.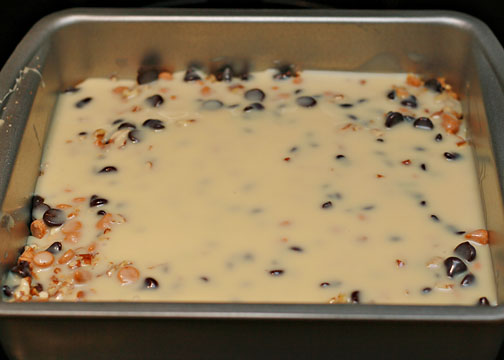 Bake 'til done! They are easier to remove from the pan if you allow them to cool completely. Or at least that's what I've heard…I can't ever wait that long to dive into them.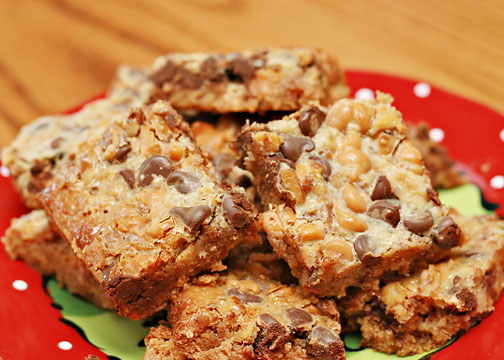 Hello Davis Bars
1 1/2 cups graham cracker crumbs (about 9 cookie sheets)
2 tablespoons butter, melted
1 tablespoon water
1/3 cup semi-sweet chocolate chips
1/3  cup  butterscotch morsels
1/4  cup  chopped pecans
1  (15 ounce) can sweetened condensed milk
Preheat oven to 350°.
Line the bottom and sides of a 9″ square baking pan with foil. Place crumbs in a medium bowl. Drizzle with butter and 1 tablespoon water; toss with a fork until moist. Gently pat mixture into an even layer in pan. Sprinkle chocolate chips and butterschotch morsels over crumb mixture. Top evenly with pecans. Drizzle milk evenly over top. Bake at 350 degrees for 25 minutes or until lightly browned and bubbly around edges. Cool completely on wire rack.
Recipe adapted from: http://find.myrecipes.com/recipes/recipefinder.dyn?action=displayRecipe&recipe_id=10000001687691