Posted by Mandy on December 6th, 2010. Filed under:
Chicken
,
Main Dishes
,
Quick & Easy Weeknight Meals
,
Soups & Stews
,
Vegetables
.
This is one my favorite quick chowders to prepare for my family, and yet another one of those recipes that I've used for so long that I can't even remember where I got the recipe. It comes together in just minutes and is absolutely delicious. Such a great meal for you family, especially on a cold day like today. According to the news, it's 43 degrees here right now, but feels like 37 degrees. I absolutely LOVE this kind of weather. This is the best time of year to put a good Christmas movie on, and curl up on the couch with your family and eat yummy comfort foods like this chowder. I apologize ahead of time for having only the final photo. The day that I prepared this meal, I was in a huge hurry baking goods for others and completely forgot to take photos of the steps as I went.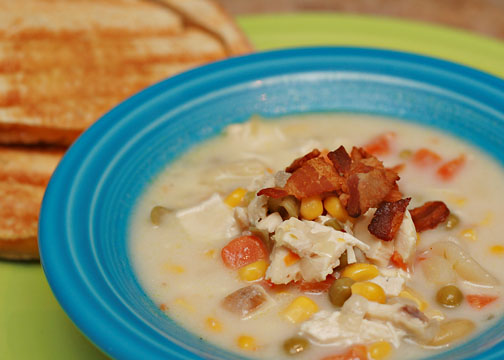 Chicken & Vegetable Chowder
3 bacon slices, chopped
3 tablespoons all-purpose flour
2 (15 oz) cans mixed vegetables, drained
1/2 cup fat free half & half (you can use the regular half & half or whipping cream, but using the FF will save you lots of calories and it tastes just as good)
1 onion, chopped
2 (14 oz) cans chicken broth
1 (15 oz) can whole kernal corn, drained
2 cups chopped, cooked chicken
salt & pepper, to taste
Cook bacon in a Dutch oven over medium-high heat about 10 minutes, or until crisp. Set aside on paper towels, leaving the bacon grease in the pan. Add onion and saute 5 minutes or until tender. Stir in flour; whisk in chicken broth until smooth. Bring mixture to a boil; reduce heat and simmer 10 minutes or until thickened. Stir in canned vegetables and remaining ingredients; cook until thoroughly heated. Top each single serving with the crisp bacon; serve immediately.
Note: You can also use other vegetables that are your favorites in this chowder. Sometimes if I am out of the canned vegetables, I will use canned potatoes in its place. That is actually my family's favorite version of this chowder.