Posted by Mandy on November 19th, 2010. Filed under:
Holiday Favorites
,
Side Dishes
,
Uncategorized
.
Green bean casserole is one of those classic Thanksgiving/holiday casseroles you see on most tables, but you won't see that on ours. We always opt for this casserole instead because it is full of flavor and so easy! Actually, to be completely honest, in our family we call this "Death Casserole". It sounds like a bad name (in that the casserole might kill you or something), but it actually is called that because my Mae Mae used to make this and take it to each family that lost a loved one. She become known for her casserole, and we still laugh about it every time we think about her making it. Try this for your holiday gathering and give that old green bean casserole the boot!
Start with a few ingredients: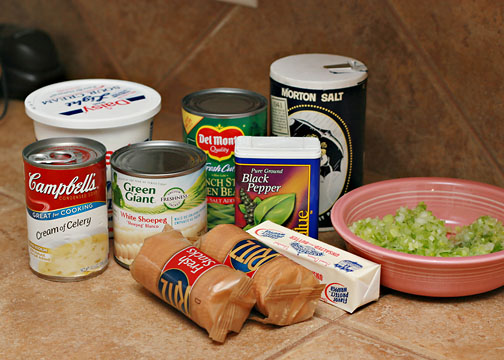 Start out by sauteing your bell pepper, onion, and celery until all are soft. One thing that I feel I should mention here is that these are the same items we always put in our homemade cornbread dressing, so if you're planning on making it as well, save yourself the trouble and go ahead and saute enough for both dishes all at once!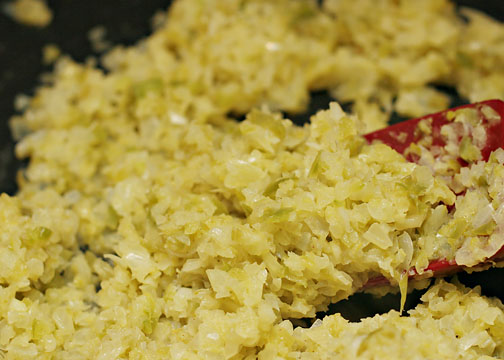 Mix together all ingredients except the Ritz crackers and butter.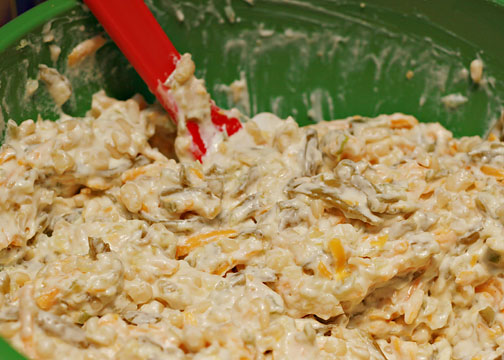 Pour into a small casserole dish (I used a loaf pan for mine). Take the roll of crackers and crush it right in the package. No need to mess up a zipper bag and waste that money! Pour on top of the casserole mixture. At this point, you can melt the butter and pour it over the cracker crumbs. I, being somewhat health conscience, choose to forgo the butter and use butter spray instead. Who wants to eat all the butter floating around in the dish anyway? Trust me, you won't need it. It's creamy and delicious enough without all those extra calories and fat grams.
Bake at 350 degrees for 45 minutes, or until the dish is hot and bubbly around the edges.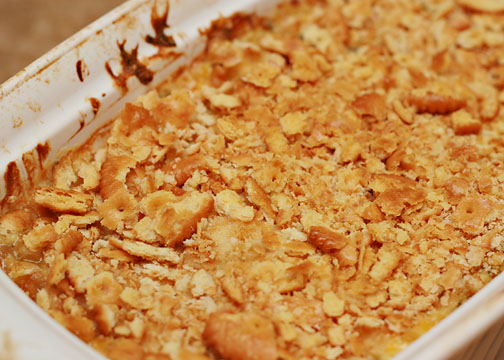 Yummy!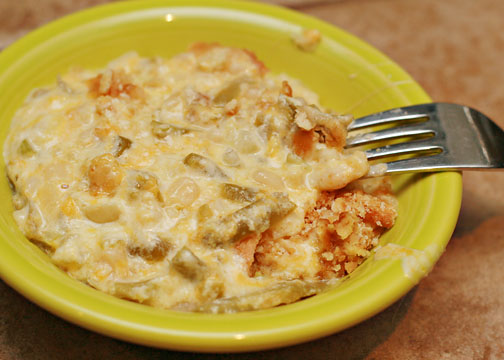 Green Bean & Corn Casserole
1 (15 oz) can shoepeg corn, drained
1 (15 oz) can French style green beans, drained
1/4 cup bell pepper, chopped
3/4 cup grated sharp Cheddar cheese
1 stick butter, melted (I substitute butter spray in place of butter)
1/2 cup chopped celery
1/2 cup chopped onion
1 (8 oz) carton Sour Cream
1 can condensed cream of celery soup
1/2  row butter flavored crackers (out of the regular size package, I use only one row of the new "Fresh Stack" packages)
salt & pepper, to taste
Saute celery, onions, and peppers over medium-high heat until soft. Crumble the crackers. Mix together the corn, beans, onions, peppers, celery, soup, sour cream, cheese, salt, and pepper. Pour into a small casserole dish. Sprinkle the crumbled crackers over the mixture. Pour the butter over the top (or spray with butter spray). Bake at 350 degrees for 45 minutes, or until hot and bubbly.