Posted by Mandy on November 19th, 2010. Filed under:
Breads
,
Desserts
,
Holiday Favorites
,
Sauce
,
Southern Classics
,
Uncategorized
.
Oh my gaaaahhh! Every single time that I make this dessert (which is usually only at Thanksgiving and Christmas) I am reminded of how absolutely wonderful it is. Words truly can't describe it…one must just try this to believe me! My dad is probably the biggest bread pudding fan I've ever met before, and I've made many, many versions of bread pudding trying to find just the right recipe we were both looking for. After never finding the recipe in a book, I decided to come up with my own version. And he says that this bread pudding is as good as any he's ever had! And trust me, he's tried it at most places he's been if they offer it. That comment meant a lot to me, because my dad is a man of few words so for him to tell me something like that really means something. I hope that I am able to have many, many more holidays sharing this dessert with my sweet daddy!
Just a few basic things, most of which you'll already have on hand probably: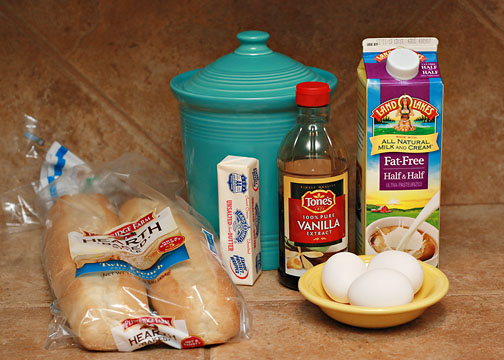 Start by tearing the french bread into big chunks and dropping them into a large mixing bowl (one that you can do without while you refrigerate the mixture you're making). Pour the half and half over the bread and allow this mixture to sit at least a few hours, but overnight is best. Once the mixture has sat, and the bread is soaking up all that yummy cream, remove from the fridge.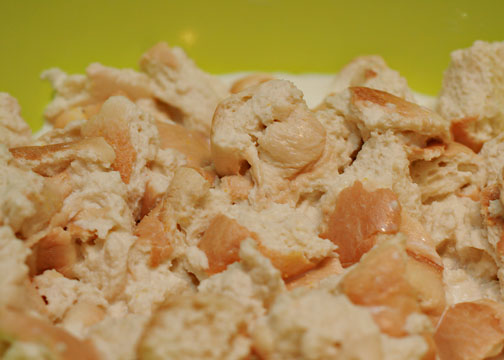 Add the remaining ingredients to the bread and cream mixture.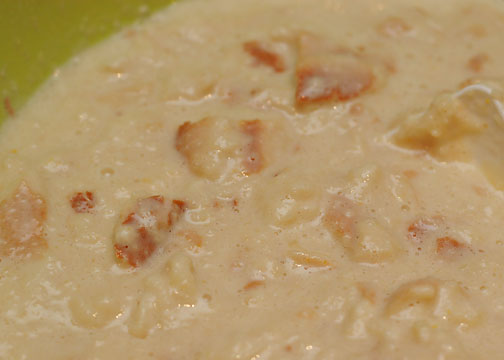 Pour the mixture into a prepared 9×13″ baking dish that has been sprayed with non-stick cooking spray. You can also use a little larger dish, if you'd like for the pudding to be thinner (and usually it tends to serve more people that way).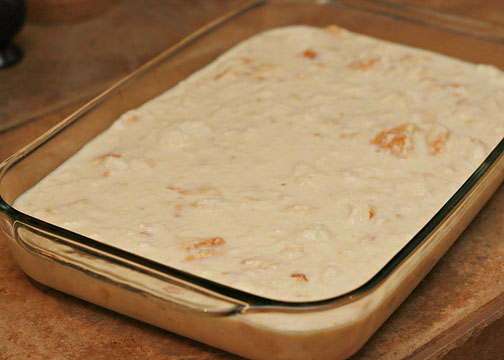 Bake at 350 degrees until it's ready! When you remove it from the oven, it will be big and puffy like this.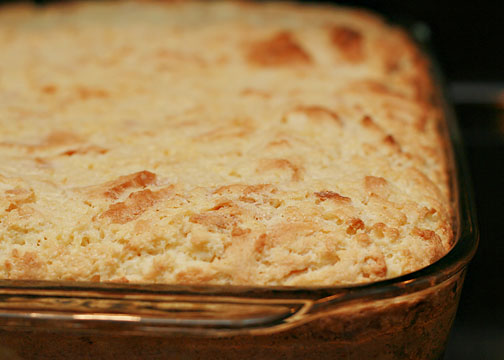 Within just a few minutes, it will deflate and sink down like this. And that's okay! Trust me, it's still going to be one of the most delicious things you've ever tasted!!!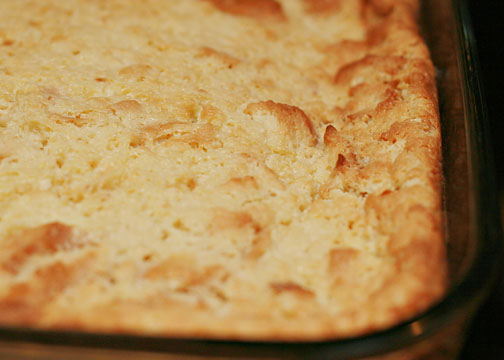 Now it's time to make your hard sauce, which is really just a more proper term for whiskey sauce.

Truth be told my daddy is a JW Dant kind of man, but my hubby is more of a Jack Daniels man so that was what I had on hand. I don't think my dad even noticed the difference because either way it's delicious! Here's what you'll need: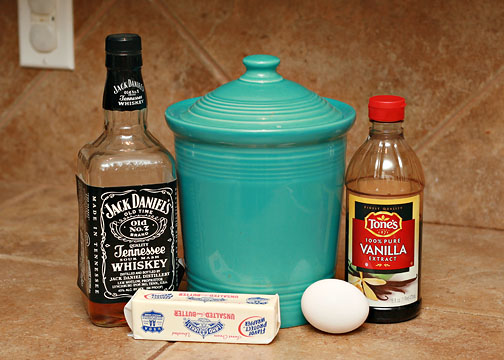 Add your butter to a saucepan and start melting it.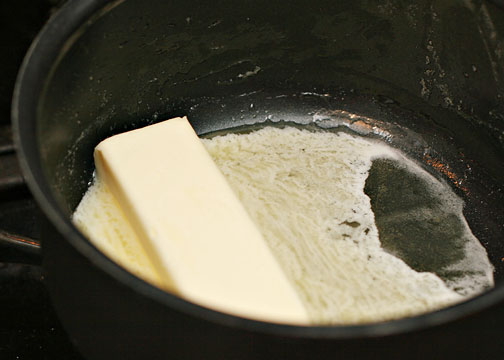 Meanwhile, blend together the remaining ingredients and add to the butter. Whisk constantly until completely combined, and then allow the mixture to simmer over low heat until it's all melted together, sticky, and yummy!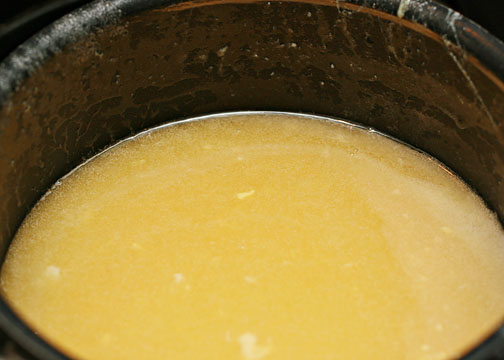 Serve hot and get ready for some kisses (and recipe requests!) because everyone around you is gonna LOVE this dessert!!!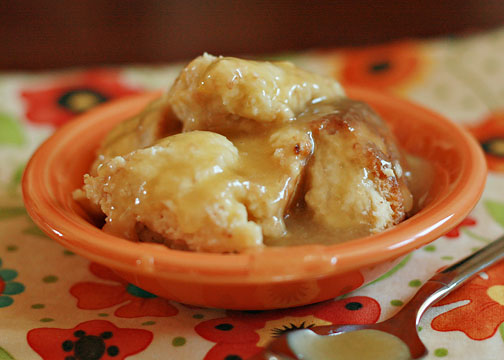 Bread Pudding with Hard Sauce
1 loaf French bread
1 quart half and half (fat free works well)
2 1/4 cups sugar
1 teaspoon vanilla extract
1 stick butter, melted
3 eggs
Break apart the loaf of bread into bite size pieces. Pour half and half over the bread pieces and soak at least a couple hours in the refrigerator, but overnight is best. Blend melted butter, eggs, sugar, vanilla with bread mixture. Pour into a 9×13″ dish that has been sprayed with non-stick cooking spray. Bake at 350 degrees for one hour, or until the center springs back. If you shake the baking dish, the pudding will appear wiggly like gelatin. Serve topped with Hard Sauce.
Hard Sauce
1 stick butter, melted
1 cup sugar
1 egg
1 tablespoon vanilla extract
*1-2 tablespoons whisky (or more, if you prefer…I usually just pour some in without measuring)
Blend all ingredients and simmer for a short while until mixture is all combined and melted together. Pour over warm bread pudding.
*Note: You may substitute other artificial flavorings such as butterscotch, almond, or rum for the whiskey if you'd prefer. You may also add pecans to the sauce for something different.