Posted by Mandy on November 16th, 2010. Filed under:
Breads
,
Holiday Favorites
,
Side Dishes
,
Southern Classics
.
A few days ago I posted on my Facebook asking which recipes my friends would most like to see recipes for with the upcoming Thanksgiving holiday. The most asked for item was homemade dressing/stuffing. Well, I don't have a stuffing recipe because that's just something we've never made in my family to date. At least not that I remember. But, I do have this wonderful, delicious, moist, delicious, tasty, delicious…did I say delicious? Ah well…it's just THAT good! It's not your traditional dressing recipe, in that it doesn't call for any poultry seasoning, sage, turkey, or thyme (or any other fancy spices for that matter). It's just plain old cornbread dressing. My hubby is super picky when it comes to his food. There better not be any items in his meals that include crunchy onions or peppers, so this dressing is right up his alley! So much so that when we attend Thanksgiving at his own mom's house, he requests that I bring this along with us because he thinks mine is better! I still can't believe he told me that! So I made a pan this week to show you all how I do it. And John Matthew (my 6 year old) is crying right now as I type this because he just realized there are no more leftovers because what we did have I sent to work with my hubby for his lunch today. Oops! Guess I better make another pan!
Oh, I almost forgot to tell you that I'm also including a recipe for gravy for the dressing. I particarly think that the dressing is delicious as-is (that's why you won't see photos of how to make this), but some people prefer having a gravy. This was Mae Mae's recipe for gravy. I still remember writing it down as she told me how to make it.
You only need a few things, simple but tasty is what's it's all about!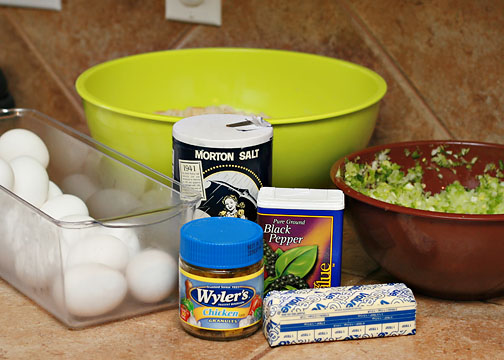 In the above photo you'll see that I've already chopped my onions, peppers, and celery. I like to do that in the beginning because that's the most difficult part of the recipe to me. I hate chopping so I use a handy "chopper" to do the dirty work for me. I did cry a while though…those dang onions burned my eyes BAD! Also go ahead and boil some water and follow the directions on the bullion package to make about 6 cups of chicken broth. You can also use the store bought kind, but I'm "low on the dough" lately so this is the cheaper route for me. Also go ahead and crumble your cornbread and biscuits together. To make our biscuits, we just make one recipe of the Bisquick drop biscuits. Mae Mae has even been known to make one single HUGE biscuit, since she would just be crumbling it up anyway she didn't care how it looked. Smart lady! I usually use 1 pan of cornbread also. It doesn't matter if you don't have an entire pan, or an entire recipe of biscuits. Just make do with what you've got. No one will ever know the difference! In a large non-stick skillet, melt about a half stick to a stick of butter, depending on how much onions, peppers, and celery you want to add. Place the onions, bell peppers, and celery in the pan.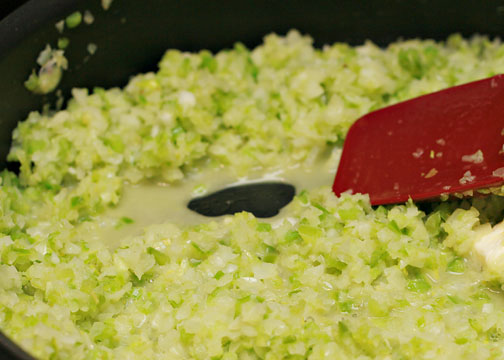 Cook over medium-high heat until soft and tender.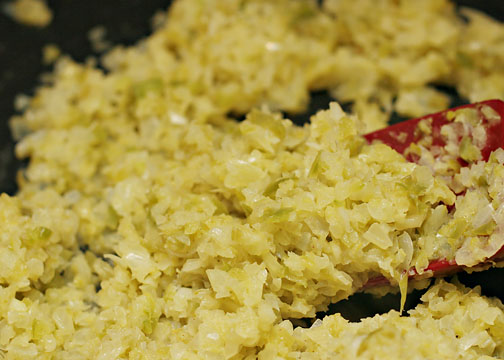 Pour the pepper, onion, and celery mixture into the bread mixture and mix well.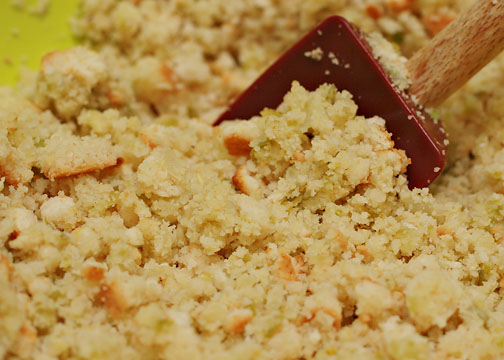 Place in the refrigerator. It's best to leave this mixture to sit at least overnight, but if you only have a couple of hours that's okay. The longer you allow it to sit, the more flavor your dressing will have. When you are ready to make your dressing, add your eggs into the bread and vegetable mixture. Add chicken broth and stir. You can add however much chicken broth you'd like. Obviously, the more you add the more moist and flavorful the dressing will be, but it'll also make you have to cook the dressing longer so that you don't end up with a watery dressing. Gotta cook out most of the liquid before serving! I like to add chicken broth to mine until moist, but not liquidy.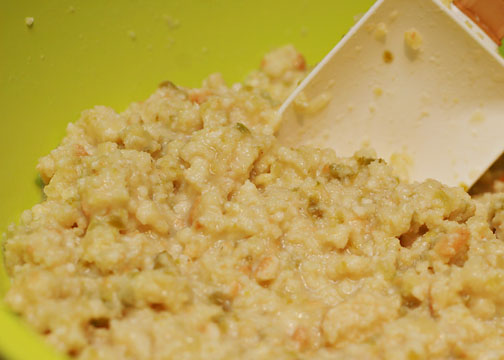 Add salt and pepper to taste; stir to combine.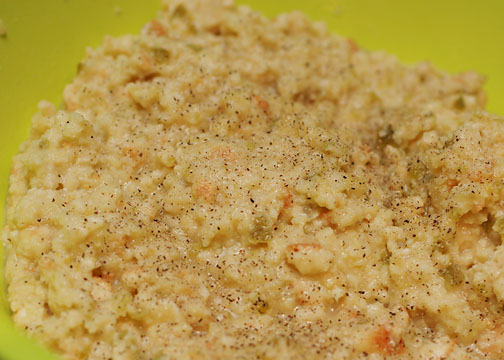 Pour into a prepared baking dish. It doesn't matter what kind you use. I used my Pyrex dish just because it was already out, but whatever kind you have on hand will work.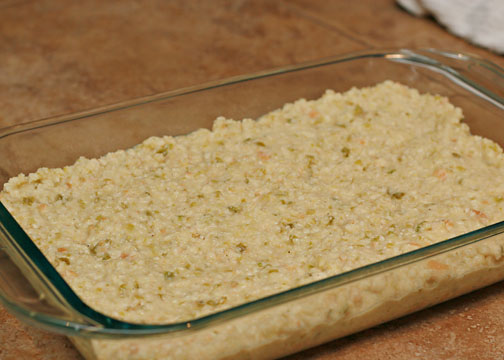 Place a few small pats of butter on top of the dressing mixture (which I forgot to photograph for you). Bake at 350 degrees until just set. Serve while still hot. If you're lucky you'll have enough for leftovers because this dish only gets better with time!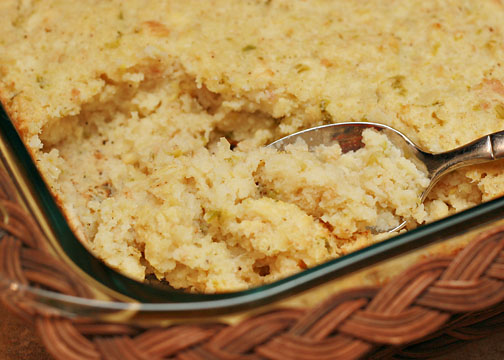 Homemade Cornbread Dressing
1 recipe Bisquick drop biscuits, prepared according to package
1 pan of cornbread (here's my favorite recipe: http://www.thesupermomchef.com/?p=252)
1-2 onions, chopped
6-8 stalks celery, chopped
1-2 bell peppers, chopped
1 stick butter
6 eggs, beaten
salt and pepper, to taste
Crumble cornbread and biscuits into a large bowl. Melt 1/4-1/2 cup butter (depending on how many vegetables you plan to use…the more veggies you use, the more butter you'll need) in a large non-stick skillet over medium-high heat. Add vegetables and saute until tender and soft. Pour the vegetable mixture into the crumbled bread mixture. Refrigerate at least a couple of hours, but up to two days. When you are ready to cook your dressing, add the beaten eggs into the bread and vegetable mixture. Stir to combine. Add enough chicken broth to make a moist mixture, but not a liquidy mixture. You want enough liquid to keep the dressing moist and delicious but not so much that you have to cook it for too long to get rid of extra liquid. I usually add 2-4 cups, depending on how much bread mixture I have. Add salt and pepper, to taste. Pour into a greased baking dish, and top with small cubes of butter all over the dish. Bake at 350 degrees until golden brown and set.
Gravy for Dressing
broth from chicken
cornstarch
2 hard-boiled eggs, chopped
Bring the chicken broth and eggs to a boil; thicken mixture with cornstarch.