Posted by Mandy on November 16th, 2010. Filed under:
Desserts
,
Holiday Favorites
,
Pies & Pastries
.
What's more Thanksgivingy (that's a word, right?) than Pumpkin Pie? Not much that I can think of. Although when I think back to Thanksgiving when I was growing up I don't remember ever having it. Then again, that was always the time of year when our family took our yearly vacation. When I was small we'd go visit family in Texas, and then as I got older we always went to Branson, Missouri to stay in my grandfather's condo. My goodness was it beautiful that time of year with all of the gorgeous lights! Anyway…back to cooking, this pie is super simple and absolutely delicious. The recipe for this pie was found in an old cookbook of my grandmother's. My sister and cousin were sitting around at my Mae Mae's one day and got the inkling to make something, pulled out the cookbook and found this recipe. The cookbook is no telling where now so I can't give credit for the original recipe. The one and only problem that I have with this recipe is that it uses 1 cup of pumpkin and I never have known what to do with what's leftover in the can, so this last time I used the remaining pumpkin to make a second pie. I just cut the milk back a little for the second pie so that it wouldn't be so liquidy. If you're looking for a delicious pumpkin pie to make for you holiday gathering next week, make it this one and you'll impress your family without having to do much work at all.

You know the drill…get out all of your ingredients.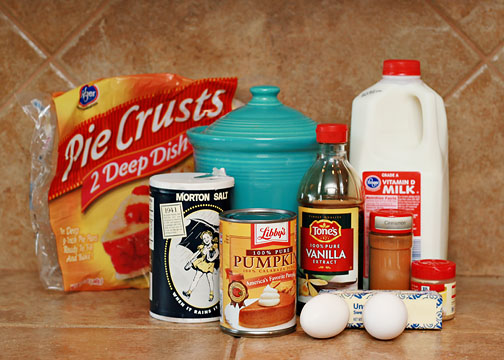 Mix together all ingredients except for the pie shell. Excuse the yellowish lump things in my mixture. I didn't completely melt the butter, so I had a few itty bitty chunks in mine. Don't worry if that happens…it'll melt while it's baking and taste just fine!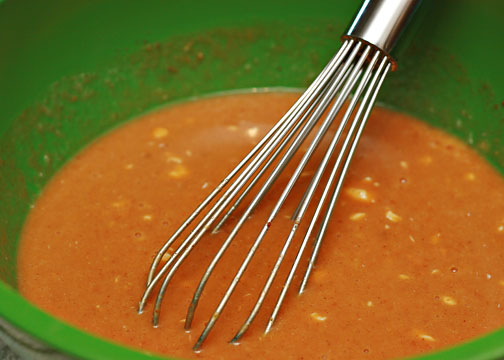 Pour the mixture into your pie shell.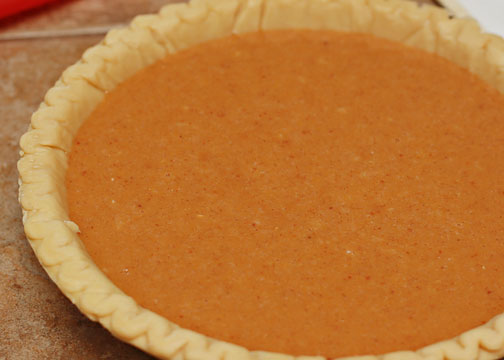 Bake for 45-50 minutes until knife inserted in the center comes out clean. I baked two at once, because I didn't want to waste the leftover pumpkin. And so I could take one to a bake sale and keep the other for myself.

You'll also notice I  baked mine on a baking sheet, just in case anything cooked too high and fell out of the pie shell.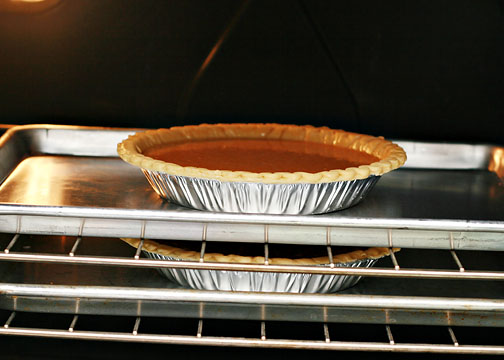 Remove and try to allow the pie to cool…but you won't be able to. It smells to yummy to force yourself to wait that long!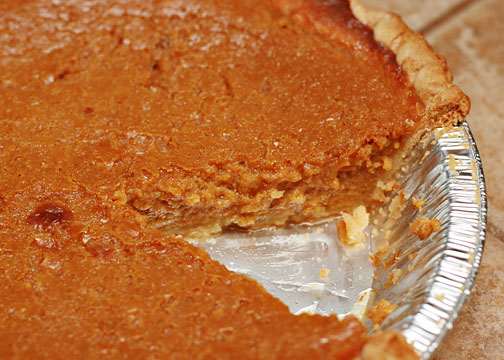 Yummy! I think I'll go eat what I still have in the fridge still!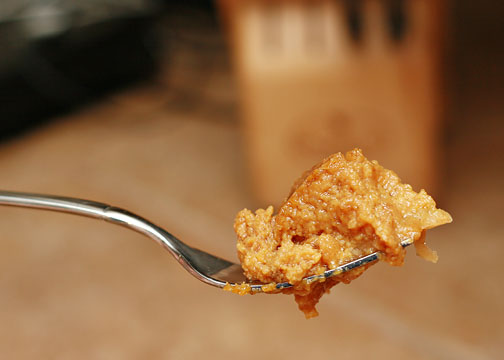 Pumpkin Pie
1 cup pumpkin puree
2 eggs, beaten
1 teaspoon ground cinnamon
1 teaspoon ground ginger
1 tablespoon butter, melted
1 cup whole or 2% milk
1 cup sugar
1/2 teaspoon salt
1 9″ frozen pie shell
Preheat oven to 425 degrees. Combine all ingredients except pie shell in a large bowl. Pour into pie shell. Place pie pan on a baking sheet to catch any runovers and bake for 45-50 minutes, or until knife inserted in the center comes out clean.