Posted by Mandy on November 11th, 2010. Filed under:
Chicken
,
Main Dishes
.
As a mother of three little ones, I am reminded each and every day of just how expensive raising kids is. They are always needing something new whether it be shoes, clothes, diapers, whatever. The list never ends! Therefore I have become a pretty frugal shopper, especially when it comes to groceries. When things are on sale, that item automatically finds its way to our dinner table that week. This recipe is one of those recipes that you can make no matter what's on sale, because the ingredients are few and things that you keep on hand. The chicken itself would need to be bought fresh, of course, but whole chickens are usually not much at all. As you can see in my photo, I found this one for just over $4. We ended up making two meals out of this one chicken by taking the leftovers after the first night, chopping the chicken and putting it in a soup the following night (I'll post that recipe tomorrow hopefully). In addition to being very inexpensive, it's also delicious! Actually the first time I made this chicken for dinner Matt said it was so juicy that he didn't believe I made it myself! He kept saying that it had to be a rotisserie chicken from our favorite deli. To top it all off, it's actually a really healthy chicken to serve your family. You can't lose with this recipe!
You'll only need a few things: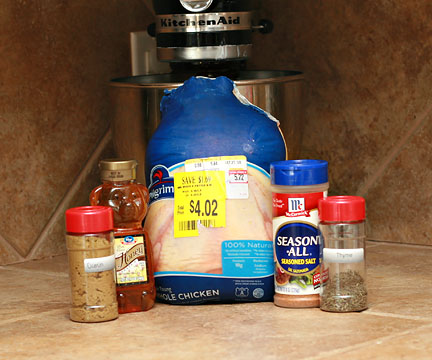 Start out by rinsing your chicken, and then dry it off really well with a paper towel. Go ahead and take out those nasty innards that come inside of it, because you don't need those. Can't imagine anyone would really eat that stuff anyway. Ugh. Place the cleaned chicken into a large Dutch oven. I like to put a little olive oil in the bottom of my dish just so that the chicken doesn't stick too bad to the pan. It doesn't matter which side you cook it on, I've done both and never had a problem with either.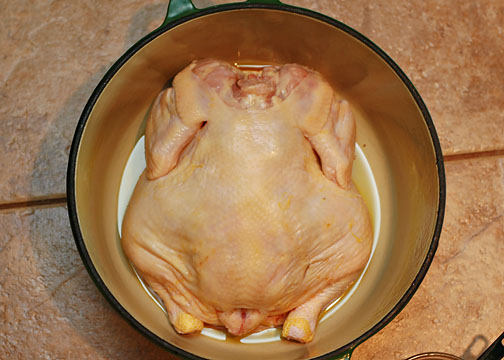 In a small bowl, mix together the honey and spices.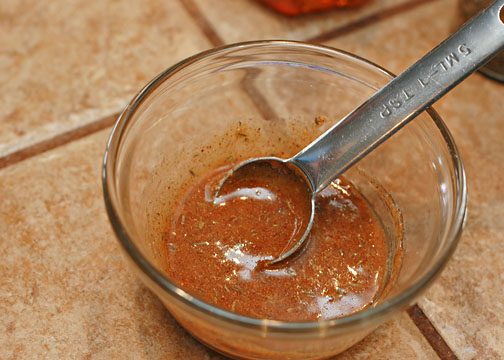 Now back to the chicken…cut little bitty slits all over the skin of the chicken, being careful not to cut the meat of the chicken. You just want a small little pocket of space between the skin and the meat where you can put your seasonings.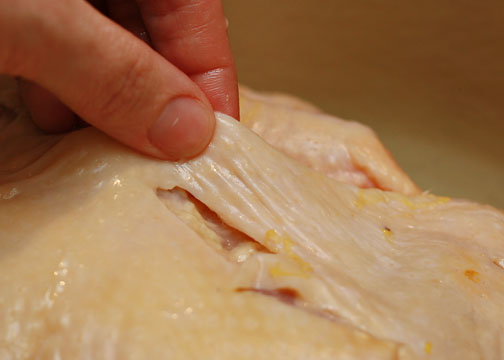 Using either a small spoon or your finger, add a small amount of the seasoning mixture inside of the slits in the skin. Try to rub it all around inside the skin as much as you possibly can, so that all of the chicken will be seasoned.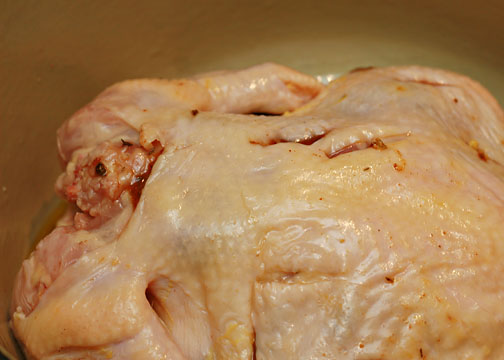 Top the Dutch oven with foil.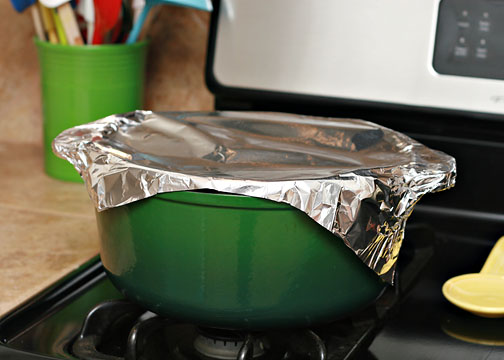 Bake for about 50 minutes and then remove the foil. This is what mine looked like at that point.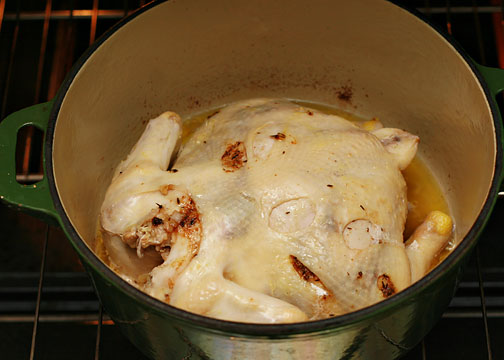 Bake for another 50 minutes or so, or until the juices run clear. Remove to a plate/platter and let it rest for about 15 minutes before slicing.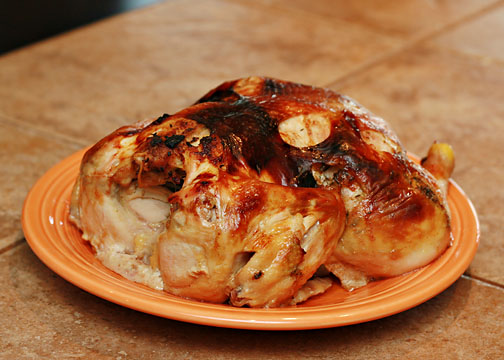 Don't worry about the skin being so dark…you don't eat it anyway. Leaving the skin on keeps the chicken as moist as possible while baking, but to save fat and calories it's best not to eat it.
Serve in any fashion you choose. We like to just pull ours off the bone and eat it.
Moist & Delicious Roasted Chicken
1 whole roasting chicken (4-5 pounds)
1 1/2 teaspoons seasoned salt
2 teaspoons honey
1/2 teaspoon dried thyme
1/2 teaspoon ground cumin
Rinse chicken well and pat dry. In a small bowl, combine seasoned salt, honey, thyme, and cumin. Using a small, sharp knife, make several slits in the chicken skin. Do not cut into the meat. Using your fingers, rub chicken all over (underneath skin) with spice mixture. Use all of the spice mixture. Set chicken on a rack in a Dutch oven. Cover loosely with foil and roast at 400 degrees for 60 minutes. Remove foil and continue to roast chicken for 45 more minutes, or until juices run clear. Remove to a plate or platter and allow chicken to rest for 15 minutes before carving. Remove skin before serving.
This recipe is adapted from the recipe titled "The Whole Chick and Caboodle" in the cookbook titled Crazy Plates by Janet & Greta Podleski