Posted by Mandy on November 2nd, 2010. Filed under:
Main Dishes
,
Quick & Easy Weeknight Meals
,
Sauce
,
Southern Classics
,
This & That
.
You probably won't ever find this recipe in any cookbook, at least not one that I didn't write. This recipe goes back in my mom's family for as long as I can remember. I remember having this as a child quite often. It's easy, inexpensive, and couldn't be anymore delicious. My grandmother made this dish on many occasions for her nursery children, and everyone always loved it. My kids call it "messy hamburgers" and devour it quickly every time I cook it so we have it quite often. The Worcestershire sauce wasn't always something we added (at least I can't remember ever adding it), but my husband suggested that it needed some "woo-woo juice", as he calls it, to kick up the flavor some. We've been doing it that way in our house ever since. I'm also going to include our family's recipe for what we lovingly refer to as "mixed up stuff". Seriously, as long as I can remember we have called it that. It's just ketchup, mayonnaise, and mustard mixed together but it's soooooo good! The only problem I find when I make it is staying out of it until the sloppy joes/hamburgers are made to have enough to dress them up! I like to dip plain old sliced American cheese or Chee-tos in this sauce. So without making you wait anymore, here's the recipe!
Start out by making the "mixed up stuff" using these ingredients (sorry about the crooked photo!):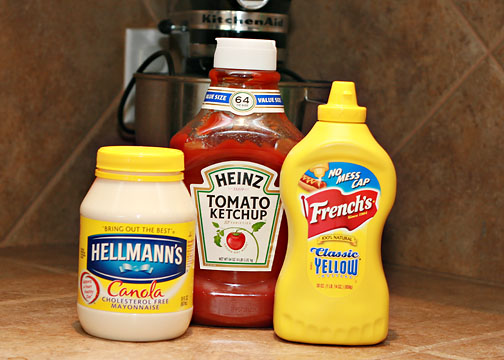 Put about 1/4 cup mayonnaise into a small bowl. Add a small amount of mustard, to taste (I usually use a teaspoon or two). Sorry for the bad photo again here…dang blurry pic!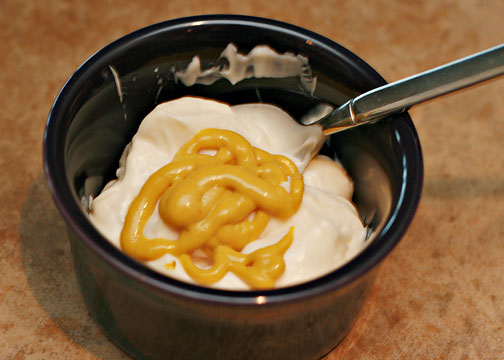 Mix these two up together really well before adding the ketchup or else you'll end up with a lumpy sauce/spread. Add ketchup (here we usually do about 3 tablespoons)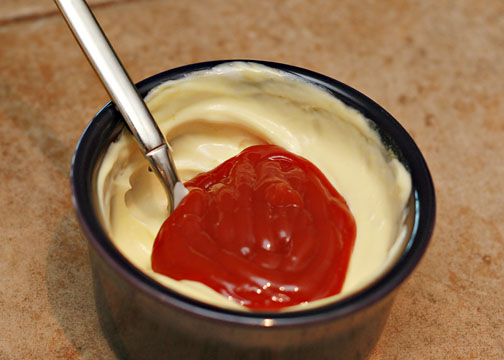 Stir it all up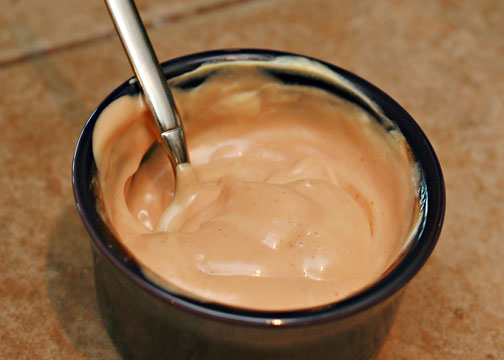 Set your sauce aside and start on the sloppy joes. You'll need these items: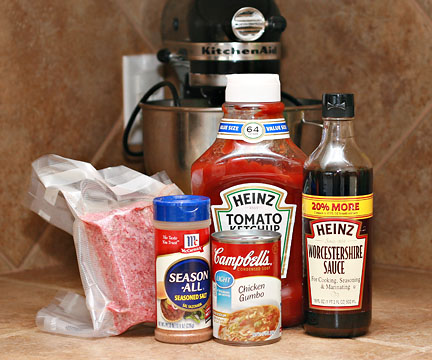 Start by browning your "hamburger meat" as we call it here in the South, but you may know it by the name of  ground beef.

I like to use the lean beef because it's so much healthier, but you feel free to use whatever you have on hand.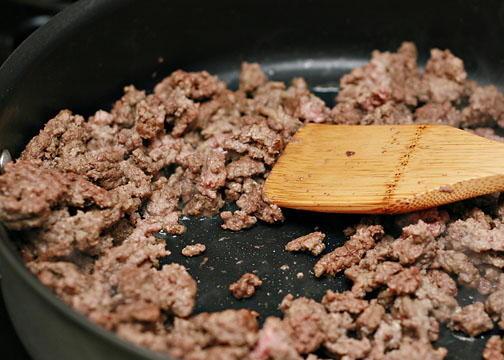 Once the beef is browned, drain off all the fat using a colander in the sink. Place the beef back in the same pan (why do more dishes?) and add your ketchup, seasoned salt, chicken gumbo (do not drain), and Worcestershire sauce.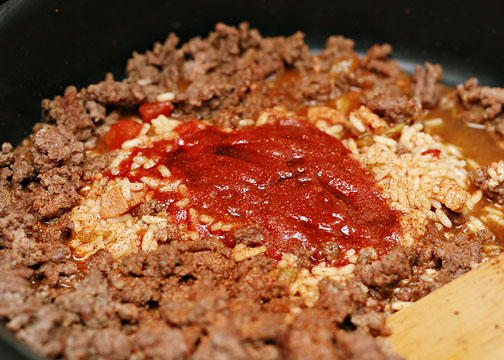 Mix it all up together and keep warm until ready to serve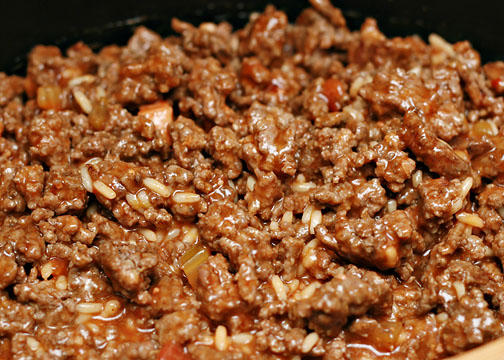 Grab your hamburger buns, and spread a generous amount of your "mixed up stuff" on each side, and spread the beef mixture in between the two buns.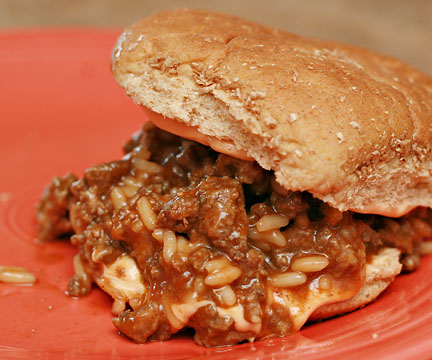 Or you can serve it like I like mine, open faced and using a fork to cut and eat. Yummy!!!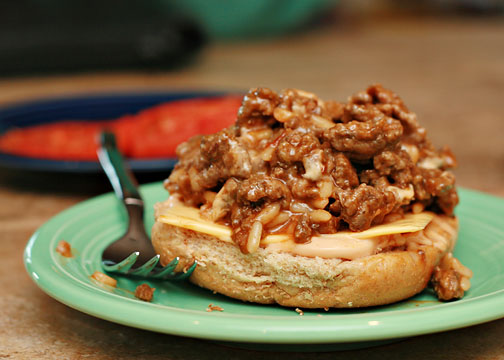 Sloppy Joes the Anderson Way
1 1/2 pounds ground beef
1 tablespoon Worcestershire sauce
1/4 teaspoon seasoned salt
1 can Campbell's Chicken Gumbo condensed soup (do not drain)
Brown the ground beef in a non-stick skillet, drain well. Add the remaining ingredients and keep warm until it's time to serve. Serve on hamburger buns with "mixed up stuff".
"Mixed Up Stuff"
1/4 cup mayonnaise
1-2 teaspoons yellow mustard
3 tablespoons ketchup
Mix together the mayonnaise and mustard. Stir in ketchup. Serve with sloppy joes.