Posted by Mandy on October 29th, 2010. Filed under:
Cakes
,
Desserts
,
Frosting
,
Holiday Favorites
.
I hope that you all have a wonderful time this weekend being out and about with all the ghosts and goblins! I'll be with two princesses and a magician myself, and they are pretty darn cute!

This past week we have made many yummy Halloween goodies including cupcakes and shaped, decorated sugar cookies. We are already on sugar overload so I thought I'd post a recipe for you all so that you can join us! We just used a box cake mix to make these cupcakes, but I made the frosting homemade. I've become somewhat of a frosting snob and usually won't eat the stuff out of the can anymore. So here's the recipe I've been using for Classic Buttercream Frosting.
Truth be told I was in a massive hurry when I was making these so I didn't pay attention to what I was doing and left my camera set to all the wrong settings. Therefore I am not posting any progress pictures or step-by-step photos for this recipe. The final phot will just have to do this time around. Sorry folks, but I promise to pay more attention next go round!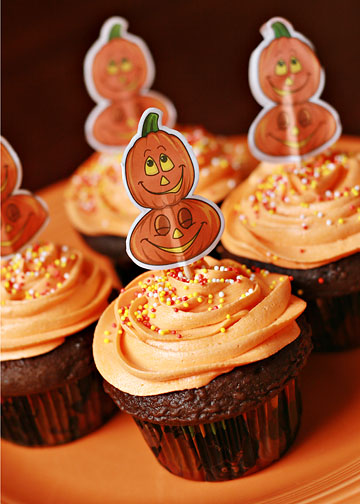 Classic Buttercream Frosting
1 cup (2 sticks) butter, softened
3-4 cups powdered sugar, sifted
1/2 teaspoon table salt
1 tablespoon vanilla extract
up to 4 tablespoons milk or heavy cream
Beat butter for a few minutes with a mixer with the paddle attachment on medium speed. Add 3 cups of powdered sugar and turn your mixer on the lowest speed (so the sugar doesn't blow everywhere) until the sugar has been incorporated with the butter. Increase mixer speed to medium and add vanilla extract, salt, and 2 tablespoons of milk/cream and beat for for 3 minutes. If your frosting needs a more stiff consistency, add remaining sugar. If your frosting needs to be thinned out, add remaining milk 1 tablespoons at a time.
Recipe from: http://savorysweetlife.com/2010/03/buttercream-frosting/