Posted by Mandy on October 26th, 2010. Filed under:
Appetizers
,
Breads
,
Chicken
.
This appetizer is one of my ALL-TIME favorite foods on this earth. I first tasted this recipe at a Pampered Chef party. My cousin, who is a rep for them, was doing a party here at my house and wanted to know what type of food I wanted to make. I told her that I'd love to make a really good appetizer but I did't care what. She chose a variation of these (I've since changed the recipe slightly to my liking) and I remember thinking, "Is she crazy? That list of ingredients doesn't sound like anything that I'd like!" Boy am I glad I didn't tell her that because I fell in love with these! I have since learned to trust her, and am always willing to try the odd-sounding recipes that she shares, and I always end up loving them!
I love making these pretty little things and having them for lunch for a few days in a row. They heat up (in the oven) and taste like they were just made fresh. Serve them with a salad for an even more delicious lunch. Seriously, you can' t go wrong with these. Try them for your next party or get-together and be sure to let me know what you think!
Start with these ingredients. I forgot to put the lime in the photo, sorry!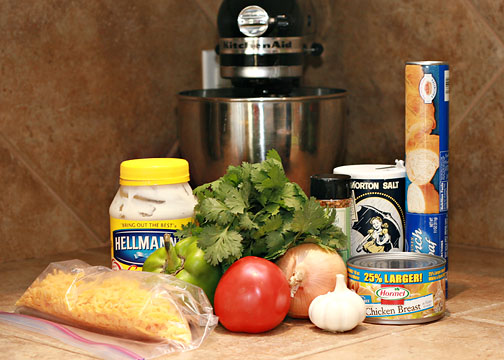 Start by baking the french bread dough. You can either follow the directions on the package, or my favorite way is to use a bread tube to bake it in so that I end up with these pretty scalloped edges. Slice the bread into 1/4″ thick slices and place, cut side down, on a baking sheet. I like to use my stone for this instead of a sheet because it keeps the bread from getting to crispy, but if you don't have a stoneware baking sheet a metal one will do fine.
Next, drain your chicken and flake it into a medium-sized mixing bowl.
Add the remaining ingredients, except the cilantro, tomato, and 1/2 cup of the cheese. (Here I used a green bell pepper because that's what was on sale this week at the store but using a red bell pepper makes this yummy appetizer look even more beautiful on the plate!)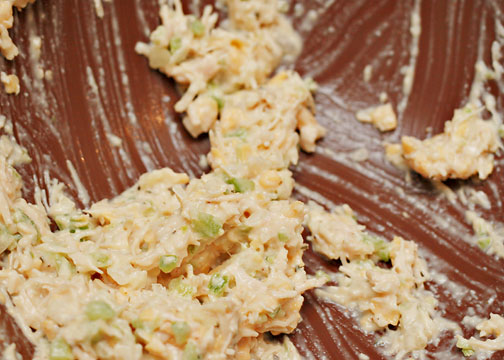 Spread a small amount onto each bread slice and flatten the filling slightly. Top each bread slice with a thin slice of tomato and sprinkle with the leftover cheese.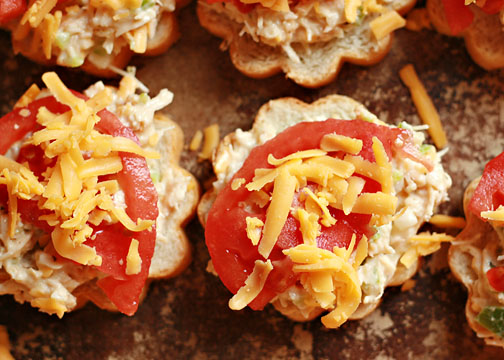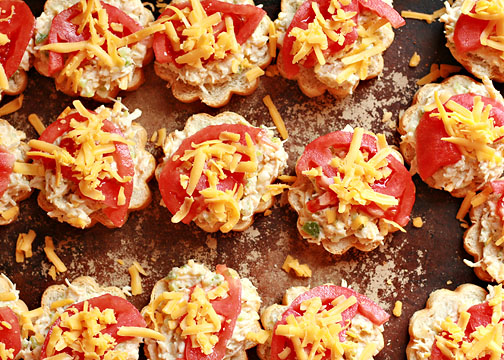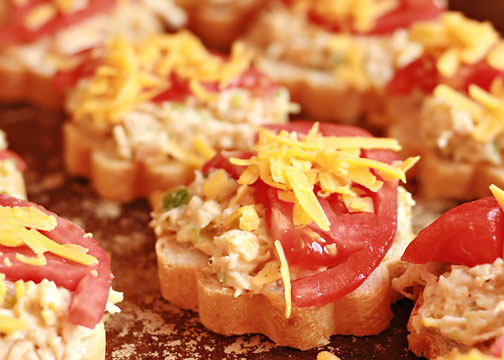 Bake 15 minutes, or until cheese is melted. Remove from the oven and sprinkle with fresh snipped cilantro. Serve warm.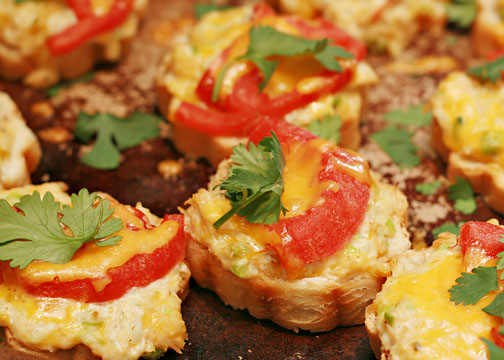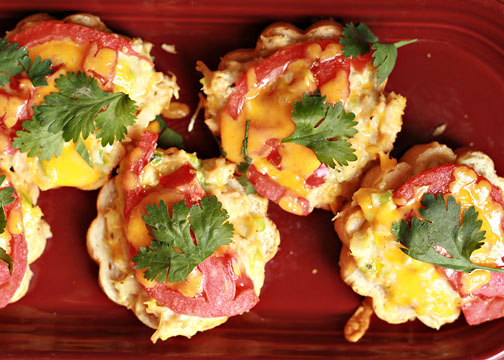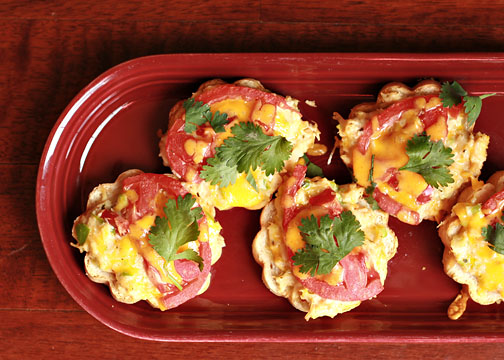 Southwest Chicken Appetizers
1/3 cup finely chopped onions
1/3 cup finely diced bell pepper
1 clove garlic, minced
1/4 teaspoon salt
1/4 cup mayonnaise (you can use light)
1 (12 oz) can chunk white chicken
1 tablespoon Pampered Chef southwestern seasoning*
1 teaspoon fresh lime juice
2 plum tomatoes, thinly sliced
1 pkg. refrigerated French bread dough
fresh cilantro
Bake bread dough according to package; allow to cool completely. Slice into approximately 1/4″ thick slices and place, cut side down, in a single layer on a baking sheet. Drain and flake chicken into a medium bowl. Add bell pepper, onion, 1/2 cup cheese, salt, mayonnaise, garlic, seasoning mix, and lime juice. Mix until well combined. Spread chicken mixture evenly over bread slices, slightly flattening the top. Top each bread slice and filling with one sliced tomato; sprinkle with leftover 1/2 cup cheese. Bake at 375 degrees, or until cheese is melted. Remove from the oven and top with freshly snipped cilantro. Serve warm.
*Note: If you do not have any of the Pampered Chef seasoning, feel free to use taco seasoning instead.
This recipe is adapted from a Pampered Chef recipe, but I do not know the name of the cookbook as it was e-mailed to me before my party by the PC rep.