Posted by Mandy on January 8th, 2013. Filed under:
Breads
,
Breakfast
,
Brunch
,
Gifts from the Kitchen
,
Muffins
,
Quick Breads
.
Life has a way of taking over at times, doesn't it? During the last two months, our family's lives have been in a whirlwind of happenings. It's been one thing after the other. We sold our house, moved to the bordering county, my husband accepted a new job (14 hours away from home) and started his rotations, I had surgery which then resulted in a terrible infection that kept me down for weeks longer than it was originally planned to, my husband's grandmother was ill and passed away during the holidays, both my husband and my son had the flu, I dealt more with my son's ongoing health issues, and all of that happened during the busiest time of year, the holidays. I feel like they passed me right by without me getting to even enjoy them! I wish we could have a do-over of the last two months. The time from Halloween until the new year is always my favorite time of year…it's the time of year when we cook more than any other time! And I missed out on most of that this year. Don't get me wrong, I have still cooked (who can afford to eat out these days?) but haven't tried many new recipes and those that I have tried aren't really worth sharing.
So because of my struggles, the blog has suffered. I could say I am sorry, but I know that my faithful readers are tired of hearing that. But really, I am. I am going to try and do better but honestly, I can't make any promises. I'm a mom first, and being a single mom most of the time these days is a bit daunting. So keep coming back because I'm not done posting recipes to share!
Today I'm sharing a recipe with you that's been in my family for years. Looking at my blog, you'd assume that my family eats very unhealthy most of the time. But honestly, that's not the case at all. My main goal is to eat lots of good-for-you stuff but not forbid myself from eating the not-so-good stuff. Now I'll be the first to admit that I'm not always the best at that…especially when there's a pan of brownies sitting on my stove, but I do my best. Life is all about enjoying the good stuff, and let's face it, chocolate is part of "the good stuff". But this recipe is for those times when you want to put a little something healthier in your life. I'm not claiming this to be a diet recipe by any means, but it's got some quite healthy things in it. I grew up eating the muffins more mornings than not and got so sick of them that I didn't eat them for years. Last year sometime, my mom had mixed up some and shared with me and when I tasted them I remembered why I loved them so, they are delicious!
You can mix up the muffins and leave the mix in the refrigerator, only cooking each day what you need. They say this mix stays good in the refrigerator for up to 6 weeks, although the mix has never lasted that long for us to be able to say that's completely true or not. I'm not sure where my mom got the recipe, because she's been making it for as long as I can remember. So if you are reading this and are the person that shared this recipe with my mom many moons ago, I thank you!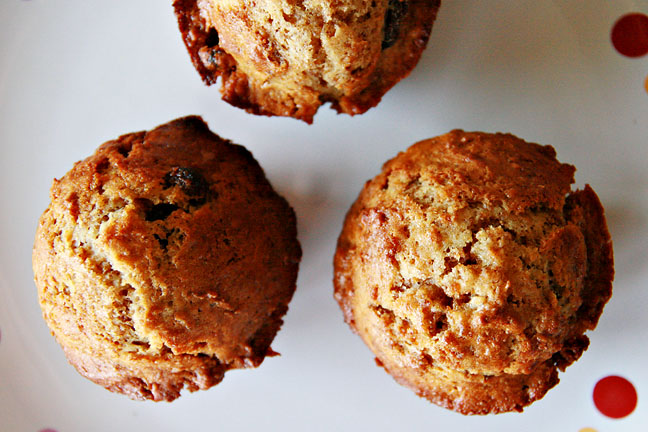 6-Week Raisin Bran Muffins
1 (15 oz) box Raisin Bran cereal
1 cup melted shortening
3 cups sugar
4 eggs, beaten
1 quart buttermilk
5 cups flour
5 teaspoons baking soda
2 teaspoons salt
Combine all ingredients. Store in refrigerator in covered container for a maximum of 6 weeks (please see above note). Bake only as many muffins at a time as you need. In a muffin pan, place about 2-3 tablespoons dough and bake at 400 degrees F in a preheated oven for 15-20 minutes.